After the London 2012 Summer Olympic Games, I wrote for The Huffington Post Five Tips for Athletes and Brands to Improve Their Online Profiles. With the Sochi 2014 Winter Olympic Games over, it is clear that more athletes are protecting their image and using social media as a way to engage with fans and promote their sponsors but there are still opportunities to improve.
For instance, Team USA's 18 yr old Mikaela Shiffrin who won Gold in women's slalom, has an active Facebook page with over 135,000 fans and over 36,000 @MikaelaShiffrin Twitter followers. In her Twitter profile Shiffrin has a list of her sponsors and when she tweets about her training, she shares messages and links from her sponsors.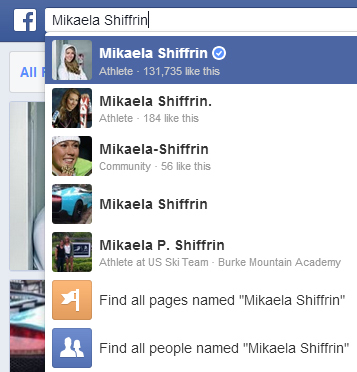 Shiffrin's Facebook and Twitter accounts are "verified" with a small blue checkbox which helps users identify her accounts as being official since there are several accounts with similar names. She also has an Instagram account with over 49,000 followers and while we can assume the account is hers since she is sharing personal photos, users can never be totally sure since Instagram does not verify accounts. Fans can take personal photos that athletes post on Twitter or Facebook and create an Instagram account pretending to be the athlete. If the athlete had a website that linked to all of their social media accounts, users and search engines would know that they found the real accounts.
The domain MikaelaShiffrin.com takes you to a page with a link where you can buy the domain from the current owner. It looks like her family or agents have not been able to develop a website for Shiffrin or a cybersquatter is waiting for money to release that domain name to her.
For her active involvement in social media I give Shiffrin a Silver search and social media medal. Once she gets a website, even if it is not MikaelaShiffrin.com and makes it a hub of official information linking to all of her assets, I will give her Gold.
Another active athlete in the social media realm is former University of Miami track star Lauryn Williams. She had the same issue as Shiffrin with the domain LaurynWilliams.com bringing you to a message that the domain is available for purchase.
In the search optimization industry we call domains like MikaelaShiffrin.com, or LaurynWilliams.com Exact Match Domains or EMD. Six years ago, having an EMD would help with your search ranking. By September of 2012, Google updated their algorithm to prevent exact match domains with what Google considers low quality content to rank above domains that had better content.
For this reason, if you Google Lauryn Williams today, the results are the assets that Google feels have the best information about Williams, even if the domain is not an EMD. In fact, her domain is Lauryn-Williams.com (with a hyphen between her first and last name). Other ranking assets on the Google results page are quality content articles about Williams becoming the 5th athlete to medal in both Summer and Winter Games. Google can also find her different social channels even when they have the letter C for her middle name (Chenet) instead of the hyphen.
Sochi Olympics and Unknown Search Results
Google continues to improve how they provide search results to users. "Keyword stuffing" was the term used when content creators would add a lot of keywords that were not related to the content in order to trick the search engines. Today, Google does a better job at understanding the signals that webmaster create as well as the links from other websites to your domain. This way if your website has the information the user is looking for, you have an opportunity to rank, even if your page does not have the keywords the user typed in the search box.
Those of us in the search industry know that quality content and following Google's guidelines are the best way to improve search ranking and traffic. At our SocialShelfspace.com agency, we use proprietary tools to identify the updates to Google's algorithm. In the summer of 2013, we found that the domain SochiPhotos.com was available. Google's EMD filter should not give the brand new domain a top rank for those searching for "Sochi photos" but we registered the domain to test how Google was encrypting the search query when someone searched on Google.com.
Two years later the percent of what we call "unknown search results" took a huge jump with the latest Google algorithm update and many website owners reported that 80% of the keywords that drove traffic to their website are now "unknowns."
With the SochiPhotos.com test, we were surprised that in less than a week the domain was a top five search result on both Google.com and Microsoft's Bing.com. We did not have content about Sochi or photos since it was only mid August but we did have a search friendly structure for the content that would be added during the Sochi Olympics six months later. So this makes me think that EMDs play some importance again with a combination of quality content and following Google's guidelines.
As we look at visits to SochiPhotos.com, the day of the Opening Ceremony had the most traffic, with Google search sending 56.1% of the visits and Facebook sending 2.6%.
36.3% of all of the keywords that drove visits to the SochiPhotos.com that day were "unknown."
Traffic dropped each day and had a spike on February 23rd, the day of the Closing Ceremony. Google search was responsible for 24.4% of the visits that day while Facebook sent 35.7% of the traffic. The number of Google unknown keywords that drove visits to the website increased from 36.3% to 46.5%.

Our next blog post will cover how we were able to prepare for unknown keywords, increase the traffic from Facebook and how users were able to find the content we created for a few athletes like Canadian freestyle skier Travis Gerrits, Russian figure skater Yulia Lipnitskaya and her coach Eteri Tutberidze even when our pages did not have the keywords from the user's search query.
We will also cover the role of Instagram during the Olympics and how posts with #Sochi2014 almost doubled those from the 2012 London Games. But while you wait for the next blog post, make a list of your social channels and have one web page that links to all of them the way Lauryn Williams did.
Calling all HuffPost superfans!
Sign up for membership to become a founding member and help shape HuffPost's next chapter