I have "Left My Heart in San Francisco" and had another "Beer in Mexico." I've sat down on the "Coast of Marseilles" and had more than my fare share of gnocchi "On an Evening in Roma." So as I sit on this most perfect palm-lined beach in Costa Rica, with scarlet macaws flying overhead and the surf crashing upon dried coconuts long since fallen, I am searching my iPod in the hopes of capturing it with a song.
I've scrolled through my playlist twice. No selections.
My fellow travelers aboard National Geographic Sea Lion have described a near "No Shoes, No Shirt, No Problems" feeling that Kenny Chesney ascribed to the Virgin Islands, but with a few cups of rich Costa Rican coffee in our system, we're slightly more alert. Maybe some inspired songwriter somewhere can take Kenny's tropical rum-fueled sway and give it a side of beans and rice too.
Jerry Jeff Walker of "Mr. Bojangles" quasi-fame recorded an entire album on the pleasures, oddities and sometimes drunken disappointments of ex-patriot life in Belize. Having been there a few times I can honestly say he nailed the vibe. But that's not Costa Rica.
The Panamanian border is only a few dozen miles away. However, Van Halen's anthem "Panama" falls short of capturing anything to do with the tropics. "Hot shoe, burnin' down the avenue. Got an on-ramp comin' through my bedroom." Lead singer David Lee Roth and his trademark leather pants wouldn't have lasted 10 minutes in this jungle.
Traveling through Costa Rica is musical in every way. Not two days into the voyage our group has found our own distinct pace. Call it a meter. It's slightly more upbeat than island time, but isn't a Puerto Rican pulse either. We are moving to an inspired, slightly syncopated, but not taxing beat. We say "Tico time."
We immerse ourselves in the backing track of cicadas, whose constant chirp has turned from annoying to expected, to what some might call comforting. Our naturalist guide calls it a "chorus." Other sounds of the jungle are wed to sights and emotions in a symbiotic relationship not too dissimilar from that of certain plant and animal species it hosts.
The bark of a howler monkey is nothing without the excitement one gets from anticipating the monkey springing out from behind a tree seconds later. Locals describe the call of a chestnut-mandibled toucan as "Dios te dé," which loosely means "God bless you." Once you hear the call and see the incredible yellow beak, you'll have no doubt why they named it so.
I've just been told that we're moving on to our next spot for exploration. For now I'll put the iPod away, content that a song simply cannot capture Costa Rica. Our group and everyone else who visits will have to accept that. The sounds of the cicadas will be our song. The squawking macaws will be the horn section and each wave a splashy symbol. It's a song we can listen to forever and incredibly, we don't have to pay 99 cents to download.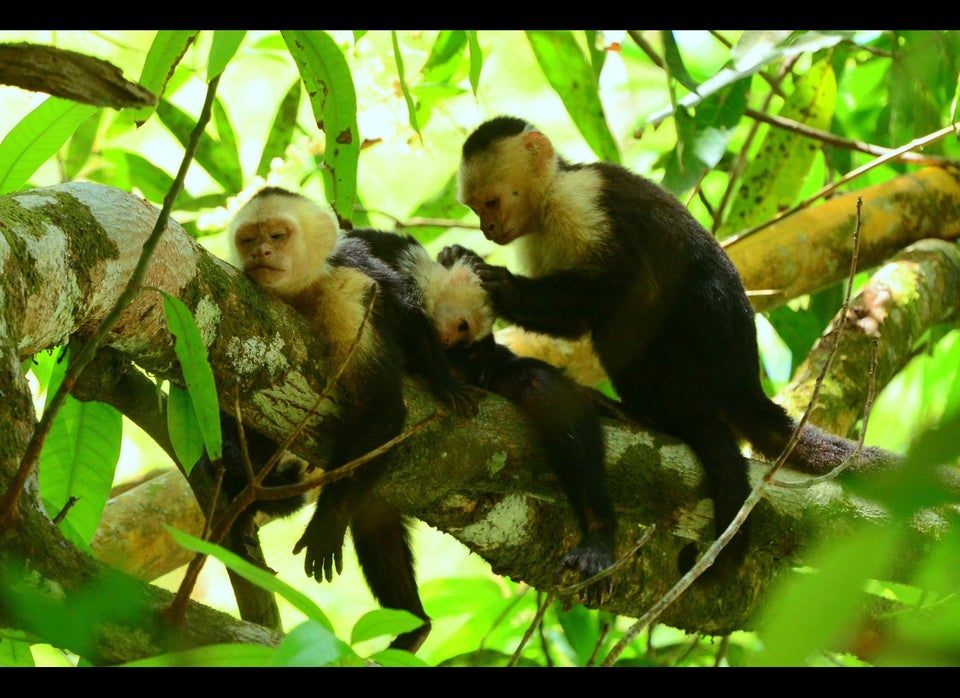 Costa Rica with Lindblad Expeditions-National Geographic