By Blake Selzer, CARE Advocacy Director for Syria Crisis
Refugee: A person who is outside their home country because they have suffered or feared persecution, or because they are fleeing war.
Sadly, as we recognize World Refugee Day, we live in a world with more refugees than any time in history; over 50 million people are forcibly displaced, including nearly four million refugees from Syria, according to the United Nations. These staggering numbers risk becoming meaningless, unless we focus on the faces and stories behind them. Refugees are sometimes spoken of in a certain way, how resilient they are, as if they are another species. The truth is they are just like you and me, they are simply facing different circumstances.
Last fall, I left a comfortable life and home in Washington, D.C. to come to Amman to work for CARE's Syria crisis response. In the months since arriving, I have met many dedicated people, including colleagues and partners from Jordan, Turkey, Lebanon and Egypt, all working to address the crisis. But most compelling to me has been the opportunity to hear from people, the refugees, themselves.
On this World Refugee Day, we need more than symbolic platitudes, speeches and statistical references, we need international community action. The Syria crisis, or more to the point, war, is approaching its fifth year with devastating consequences. Over 220,000 killed, millions fleeing their homes with nothing more than the shirt on their back.
On World Refugee Day, I think of the teenager I met at Azraq refugee camp outside of Amman. Khaled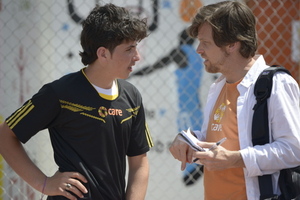 is from Dara'a and was forced to flee Syria with his family two years ago. He is a gifted soccer, or as the rest of the world calls it, football player. The day I visited him at Azraq, he was playing in a tournament at the camp organized by CARE and was recognized as player of the tournament. The day marked the dedication of a new sports facility, celebrated by residents of the camp, UNHCR, CARE and others. However, while we celebrated this facility, which did bring smiles and the sounds of laughter to the pitch that day, I could not help but think: Khaled and others should have the opportunity to play soccer whenever he likes. When I asked him what he missed most about Syria, he simply said, his friends, playing football and going to school. Khaled was one of the best students in his class back in Syria, yet as a result of the conflict he was just short of completing high school and has not had the opportunity to continue his studies since fleeing his country.
I think of Mohammed, a refugee living in southern Turkey, who gave me and my colleagues roses proudly grown from his garden, the "best around" he mentioned. Mohammed invited us to sit for tea and coffee in the home he is able to rent and provide for his family through CARE's cash assistance program. He shared wrenching stories of his recent time in Syria. Mohammed has been able to find odd jobs and rely on the kindness of strangers, but would much rather be working as he did back in Syria. Both he and his wife had worked at a hospital before fleeing Syria by ambulance after their home was destroyed. Mohammed spoke of horrific events he and his family endured before escaping, including the killing of his two sisters and five brothers. As he explained to me, he has nothing to return to. I think of a Syrian woman living in Amman, who told me that she missed her balcony, the sound of the doves flying over her house, the voices of children playing in the streets, conversations with her neighbors -- normal things.
CARE is trying to make the lives of those living in Azraq, as well as refugees in communities throughout neighboring countries as "normal" as possible. But the fact is living as a refugee is not normal and as we mark World Refugee Day, we have a responsibility to change this situation. We must work to provide opportunities for Khaled, and the other four million refugees from Syria to return home, but in the interim to live as "normal" lives as possible.
On World Refugee Day, CARE is calling on the international community to increase desperately needed funding for humanitarian assistance to refugees and host communities affected by the Syria conflict; provide increased opportunities for refugees to resettle and seek other forms of humanitarian admission in countries around the world; and finally to end the conflict. While humanitarian assistance and livelihood opportunities are critically needed for Syrian refugees, there will not be a humanitarian solution to the crisis, humanitarian assistance will not stop the barrel bombing or the executions.
Global leaders must exert pressure on all parties to the conflict to come up with a political solution to the crisis, otherwise we will be here again next year marking another World Refugee Day citing increased numbers, all with stories to tell.
REAL LIFE. REAL NEWS. REAL VOICES.
Help us tell more of the stories that matter from voices that too often remain unheard.