At certain moments in our lives, we all succumb to feelings of nostalgia. Whether we suddenly pick up the scent of a grandfather's pipe tobacco or taste a dish that's been prepared "Just like mother made it," nostalgia is a powerful emotional force.
As part of his 1832 opera, Clari, Maid of Milan, John Howard Payne included a song whose lyrics have charmed Americans from Abraham Lincoln to Walt Disney. They read as follows:
"'Mid pleasures and palaces though we may roam,
Be it ever so humble, there's no place like home;
A charm from the sky seems to hallow us there,
Which, seek through the world, is ne'er met with elsewhere.
Home, home, sweet, sweet home!
There's no place like home, oh, there's no place like home!

An exile from home, splendor dazzles in vain;
Oh, give me my lowly thatched cottage again!
The birds singing gayly, that come at my call --
Give me them -- and the peace of mind, dearer than all!
Home, home, sweet, sweet home!
There's no place like home, oh, there's no place like home!

I gaze on the moon as I tread the drear wild,
And feel that my mother now thinks of her child,
As she looks on that moon from our own cottage door
Thro' the woodbine, whose fragrance shall cheer me no more.
Home, home, sweet, sweet home!
There's no place like home, oh, there's no place like home!

How sweet 'tis to sit 'neath a fond father's smile,
And the caress of a mother to soothe and beguile!
Let others delight mid new pleasures to roam,
But give me, oh, give me, the pleasures of home.
Home, home, sweet, sweet home!
There's no place like home, oh, there's no place like home!

To thee I'll return, overburdened with care;
The heart's dearest solace will smile on me there;
No more from that cottage again will I roam;
Be it ever so humble, there's no place like home.
Home, home, sweet, sweet, home!
There's no place like home, oh, there's no place like home!"
Anyone who has traveled to Egypt knows how easy it is to spend a day browsing through the stalls in the Khan el-Khalili, the huge souk in Islamic Cairo. As they travel the globe, adventurous tourists will frequently seek out restaurants "where the locals eat." Instead of heading to high-priced fashion outlets (owned by multinational corporations with branches in every major city), some prefer to hunt down a local bazaar or farmer's market.
But what about the taste of something you've left behind? Put a group of Indian-American rock musicians in a van and send them out to find some of the best dosas available in New York, and you get a laid-back hipster's approach to Indian cuisine. Amrit Singh's freewheeling short film, Dosa Hunt, features a group of his friends including Vampire Weekend's Rostam Batmanglij, Das Racist's Himanshu Suri, Ashok "Dapwell" Kondabolu, Yeasayer's Anand Wilder, Neon Indian's Alan Palomo, and jazz pianist Vijay Iyer as they set off in search of the best South Indian crepes in areas like Jackson Heights, Queens.
The high point of the film is a stop at a local Indian supermarket for all the ingredients required to make dosas. Dosa Hunt also features a unique rating system not yet seen on television's cooking shows. Each dish is awarded a certain number of "Bobby Jindals" with the lowest score indicating the best dosas -- and a suggestion that since Bobby Jindal is such a negative value that they allow "minus Jindal" ratings for the best dishes.
Many Americans have seen the devastating effect on a community after a manufacturer closes its plant and relocates its business to take advantage of a cheaper labor market. But what happens when an island culture's bumper crop suddenly loses its value, becomes irrelevant, and the bottom falls out of its economy?
In areas that have been ravaged by floods, hurricanes, and tornadoes there is a feeling of being powerless against the forces of nature. In a new documentary by Shasha Nakai and Rich Williamson, viewers discover how an island culture that had become extremely wealthy on the success of its sugarcane industry was quickly reduced to poverty when cheaper sources of sugar were developed in America and other locations.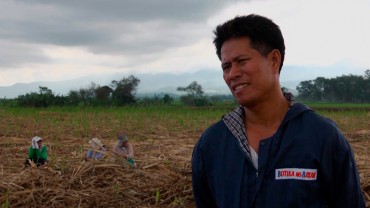 A farmer from The Sugar Bowl
As director Shasha Nakai recalls:
"The idea for this project came from my childhood memories. I was born in Bacolod City (on the island where the film takes place) and I lived there when I was 9 to 13 years old. I have very strong memories of my older brother playing airsoft in an abandoned sugar mill. The smell of decaying molasses, the overgrown train tracks, the personal effects left behind inside the mill -- these were all things that stuck with me. With this project I wanted to embody the haunted feeling I felt as a little girl exploring the abandoned mill. I wanted to express the feelings of loss and abandonment that were so commonplace on the island while also exploring the larger issue of the island's connection to the outside world. I wanted to present a portrait of a place I hold very dear to me and share it with others. Filming in the Philippines itself was a mentally taxing process. Nicole, Rich, our sound recordist Max, and I filmed for 12 long days and drove all over the northern half of the island. Being able to speak Ilonggo fluently was something that definitely gave us an advantage."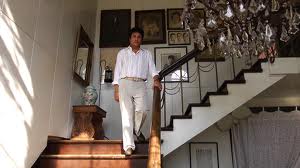 A descendant of one of the island's sugar barons
The Sugar Bowl does a fascinating job of contrasting the remnants of former wealth with the poverty now common among the inhabitants of Negros. Viewers are introduced to local farmers as well as the aging descendants of local sugar barons. Here's the trailer:
As a followup to 2010's Old Places, filmmaker Royston Tan has created the ultimate travelogue for armchair adventurers. Rather than concentrating on the major tourist sites of Singapore, he has instead chosen to record images of businesses and activities that are fading from his island nation's daily life.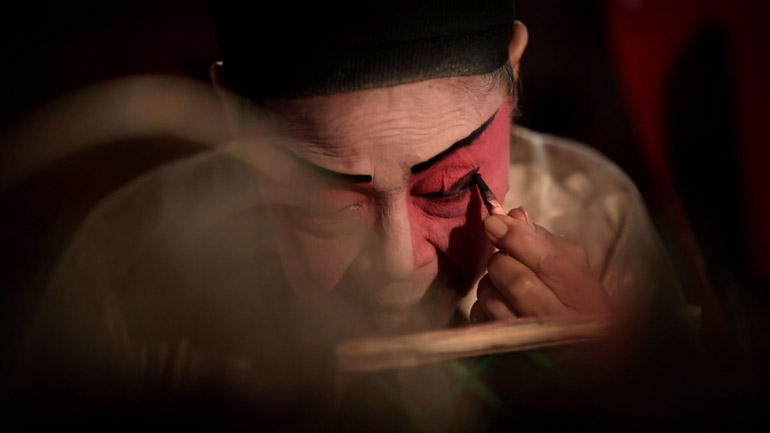 A Chinese opera performer applies makeup in Old Romances
This is a film dripping in personal nostalgia. Whether aimed at a favorite teahouse, dentist, a railroad, or a former crocodile farm, Tan's camera captures memories that are deeply personal for Singaporeans while giving viewers a spectacular tour of his country. Odd voices pepper the narration, from old ladies to the interior designer who describes what it was like to be given a chance to design a playground.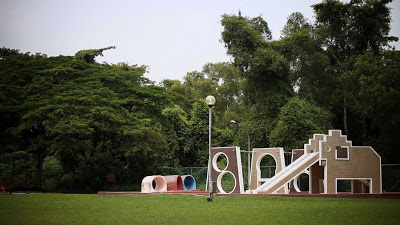 A playground created by an interior designer
From beauty salons whose owners have retired to a bakery specializing in the production of Chinese moon cakes, Tan's film is narrated by people who recall their first date, their service to a local church, or why they always went to a certain restaurant to celebrate special occasions. As the filmmaker explains:
"I received an email recently from a lady who was taking the MRT. As she looked out the train at everything that seemed so familiar, she realized that they were really places that were being lost by the minute. It's almost as if we Singaporeans are suffering from a societal dementia due to our rapid urban development. With this, I feel the need to archive all the stories and old places. What also triggered me to do Old Romances was the great public response to Old Places and people asking for a sequel. I believe that in every old place, there is always a story waiting to be told. How great it is to have this story told by ordinary Singaporeans from all walks of life."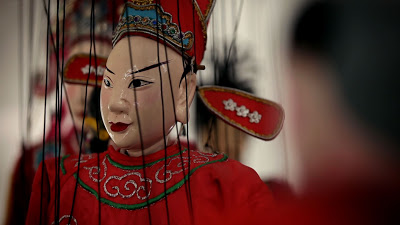 One of the puppets from an outdoor children's puppet show
Viewers watching Tan's documentary will be faced with a tough choice. Some of the narration is in heavily-accented English; other parts are in various Asian dialects. Because many of the titles flash by very quickly (or make it difficult to catch all the action taking place in front of the camera), I'd suggest ignoring anything that you can't follow aurally and simply soaking up the sights and sounds of old Singapore. Here's an appetizer.
REAL LIFE. REAL NEWS. REAL VOICES.
Help us tell more of the stories that matter from voices that too often remain unheard.