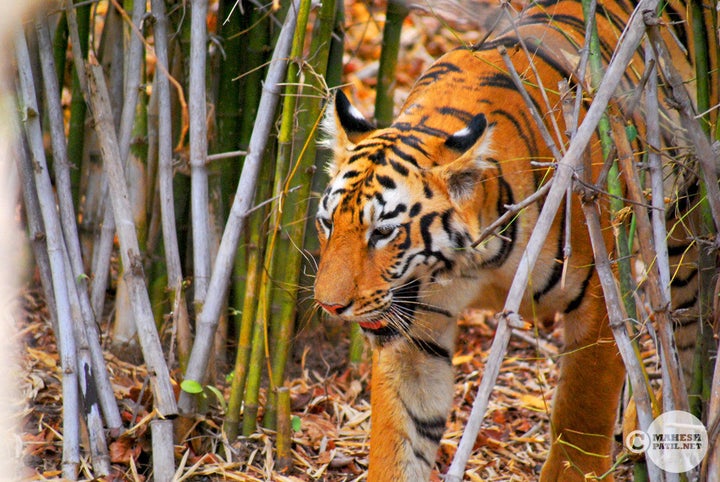 "Tigers, schmigers, who cares?" I thought as our car pulled into Kanha Jungle Lodge at the edge of Kanha National Park, the first of our two stops in the tiger reserves of central India. After several days of the barely managed chaos of Delhi, Jaipur and Agra, my wife and I were ready to embrace a little quiet and fresh air and leave it there.

From Agra, the home of the Taj Mahal, we took a 14-hour rail trip and a 4 and a half hour drive. The first thing I noticed as we entered the park was the absence of sound. The lodge and its setting were so soothing and peaceful, I would have been happy to just stretch out on the deck and chill for the next few days. But we were here to see tigers.
Although tiger sightings are a hit or miss affair in most of India's national parks, Kanha has one of the largest populations of Bengal Tigers in the world and our next stop, the significantly smaller Bandhavgarh, has the greatest concentration. The odds looked good. We were further encouraged by the stories and photos of several guests who just that morning had witnessed a tiger trying to climb a tree to get to a leopard on a branch high above the forest floor.
On five game drives over the next two and a half days we had no such luck. But from the open seats of the tiny jeeps we saw beautiful scenery and lots of wildlife - monkeys, deer, Indian bison, wild boar, peacocks, and lots of other birds. Our sunrise drives were chilly, misty and hushed; our afternoon drives were bathed in warm breezes and sunlight.
The absence of tigers didn't mean an absence of excitement. On our first morning game drive, I heard a rustle off to the side of the road as we drove by and turned around to see what was up. What was up was one pissed off cobra standing straight up like a stick, hood spread wide. That black tube of sinister muscle framed against the clear blue sky was one of the most chilling sights I have ever seen.
After three days in Kanha it was on to our next stop, Bandhavgarh Jungle Lodge, a seven hour drive away. Bandhavgarh National Park is even more beautiful than Kanha, with steep cliffs overlooking forests, meadows and ponds. As much as I had enjoyed the last three days, now I really wanted to see a tiger.
Our first morning drive started out dark, cold and misty. After only a few minutes our guides spotted fresh tracks heading up the dusty road. We stopped by a wide meadow when we heard alarm calls from the jungle at the far edge of the meadow. I aimed my binoculars where the guides pointed and held my breath. As my heart pounded a female tiger emerged from the jungle and glided across the meadow like a rippling engine of efficient grace.
When she disappeared into the jungle at the other end of the meadow, we moved a hundred yards down the road and waited for her to reemerge. About a minute later she did, walking toward us just 50 yards away before disappearing again behind a rise.
Anticipating her path, we drove another 100 yards down the road hoping to catch her when she crossed. We stopped and waited. Less than a minute later, the guide urgently pointed and there she was, only a few feet off the side of the road alongside our jeep, partially shielded by grasses and brush. I was just about even with her. We stared at each other for a moment, eye ball to eye ball. Then she lunged at me and hissed. It happened so fast, I didn't even have time to wet my pants.
She moved a few feet ahead and crossed the road just 10-15 feet away, stopping on the other side for a moment to glare at me again before slipping back into the jungle.
"It was a mock charge," the guide explained later. "We were blocking her path."
We were never in danger as long as we were in the jeep since we looked both formidable and inedible, like parts of the car. If we were standing on the ground, it would have been another story.
We had two more tiger sightings that morning, plus a fleeting glimpse of a leopard running across the road, but it was the glaring, hissing and mock-charging tiger I remember most vividly and the memory I most cherish.

That day was also our last in the tiger reserves. I was now rested and relaxed, had a great photo of a glaring tiger and an even better memory. I was ready to venture out once again into the bubbling, honking stew of India's cities.
For photos and information on other places to visit in India, see Don's blog on his website.
Related