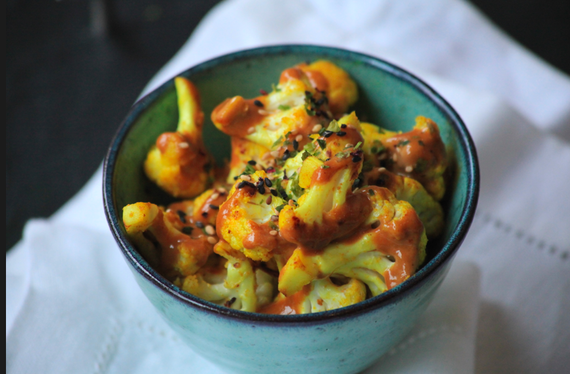 Turmeric stirred through cauliflower always makes it taste and look like a curry, but here, while using turmeric in cooking the cauliflower, I've then added a tahini and miso sauce over the top, which alters the flavor entirely. And lastly the furikake mix, which is one of my favorite seasonings these days - the salt and pepper of Japan, a mixture of sesame seeds, nori seaweed and red shiso leaves which can be added to absolutely anything. I quite love this as a starter or a side dish... a delectable fusion of sorts.
¼ teaspoon turmeric powder
Mix of sesame seeds or Furikake mix
Cut the cauliflower into small pieces, heat the oil in a pan on low heat and add the cauliflower pieces. Now add the turmeric and salt and stir thoroughly. Leave this to cook on low heat for around 15-20 minutes, stirring and checking every few minutes. While this is cooking, you can make the sauce by mixing together all the ingredients for the sauce. Pour the sauce over the cauliflower pieces and garnish with the furikake mix before serving.