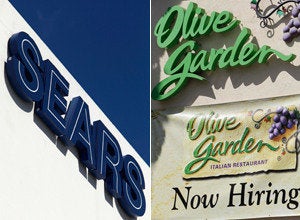 Two major employers are offering workers more control over their health benefits, a switch that could mean less coverage.
Sears and Darden Restaurants -- the parent company of the Olive Garden, Red Lobster and other chain eateries -- plan to start giving their employees a pot of money and letting them choose both their insurer and level of coverage from an online marketplace, The Wall Street Journal reports. The move may mean that employees end up paying more for their coverage out of pocket if the sum provided by their employers doesn't go up as quickly as health care costs.
In a statement to The Huffington Post, Sears' spokesman Chris Brathwaite disputed the WSJ report and clarified the change.
"We are ABSOLUTELY still providing health care benefits and we are not giving employees money to buy health insurance. In fact, in 2013 we will be subsidizing eligible associates and their family members' medical benefits at the same level that we are this year." Brathwaite wrote in part in an e-mail. "The corporate exchange model brings increased flexibility to group health coverage for our associates, giving participants a chance to choose both the level of coverage and the insurance company that best meets their needs."
Darden spokesman Ron DeFeo also clarified the company's changes to its health plan in an e-mail to The Huffington Post.
"For 2013, our employees are not being offered money in lieu of benefits," DeFeo wrote. "Employees will receive a lump sum credit – the same as they received in 2012 plus the cost of healthcare inflation – to use when selecting benefits for 2013."
Employees at Darden and Sears may not be the only workers buying their coverage with newly employer-provided money. More companies may drop health benefits and let their workers buy coverage through online exchanges that will be set up as part of President Obama's health care reform law, the Congressional Budget Office estimates. The exchanges will give individuals and small businesses the opportunity to sort through their states' offerings and figure out if they qualify for tax credits or Medicaid.
Half of employers say they plan to offer employees cash to buy coverage through these exchanges, according to a June survey from J.D. Power and Associates, cited by the Hartford Courant.
That could be because the companies are concerned about costs under Obama's plan. More than 60 percent of employers say they expect their health care costs to rise under Obamacare, according to a survey released last month by Mercer.
Workers are facing rising health care costs as well. Already, employees are paying almost double what they paid in 2002 for health insurance, according to a survey of more than 2,000 released earlier this month. Health care costs for a family of four covered by an employer-based plan are estimated to exceed $20,000 for the first time ever this year.
UPDATE: This post has been updated to include comments from Sears' spokesman Chris Brathwaite as well as from Darden spokesman Ron DeFeo. The headline of the post has also been updated to reflect the spokesmens' comments.
Related
Before You Go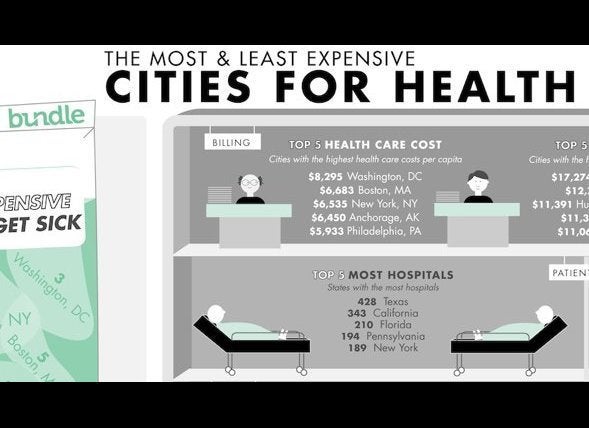 10 Cities With The Highest Health Care Costs
Popular in the Community