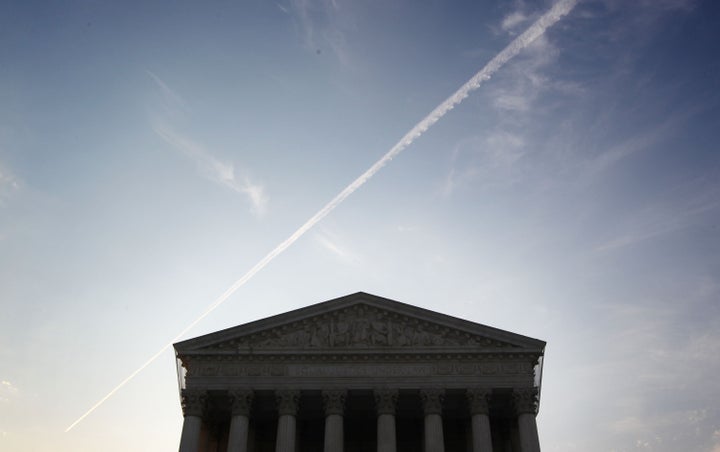 A new term is about to begin at the U.S. Supreme Court, and it could be a blockbuster one for lesbian and gay rights. We eagerly await word on whether the Court will consider one or more of several cases currently presented to them for review that involve the rights of same-sex couples.
In its history, the Supreme Court has only decided about a dozen gay rights cases, so any of the pending cases it reviews this term will likely be important in the development of sexual orientation law. Just how significant that will be will depend on which case or cases the Court decides to hear, which issues it reaches, and, of course, the final outcome. But with so many important cases ready for review, this year is sure to be a historic one on the path toward equality for the lesbian and gay community.
Section 3 of the so-called Defense of Marriage Act (DOMA) forces the federal government to deny recognition to the legally valid marriages of same-sex couples. This discriminatory law mandates unequal treatment of same-sex, married couples in every program of the federal government, including Social Security, veterans' benefits, health coverage for federal employees' families, federal taxes and tax protections, and immigration.
There are four separate cases that ask the Supreme Court to strike down DOMA Section 3, arguing that it violates the Constitution: Lambda Legal brought one of the cases, Golinski v. Office of Personnel Management, on behalf of a lesbian federal employee in California who was denied spousal health insurance coverage that her heterosexual co-workers receive. Two DOMA cases were brought by Gay & Lesbian Advocates and Defenders (GLAD) -- Gill v. Office of Personnel Management and Pedersen v. Office of Personnel Management -- and a fourth case, Windsor v. United States, was brought by the ACLU. Any one or more of these cases could be granted review by the Court this year.
In the DOMA cases, Lambda Legal and the other LGBT legal groups are arguing that such discrimination by the federal government is unconstitutional. We are also urging the Court to make clear that judges should apply "heightened scrutiny" when reviewing any law, like DOMA, that treats people differently based on their sexual orientation, putting the burden on the defenders of the unequal treatment to prove it necessary to further an important government interest.
If review is granted, we think the likelihood of Section 3 of DOMA being struck down is quite high. The last five courts to review Section 3 of DOMA have all held it unconstitutional. And in a recent survey of constitutional law professors, 69 percent who responded concluded that Section 3 of DOMA is unconstitutional.
The Supreme Court has also been asked to review the Prop 8 case, Hollingsworth v. Perry, formerly known as Perry v. Brown. This case, brought by the American Foundation for Equal Rights (AFER) and attorneys Ted Olson and David Boies on behalf of two same-sex couples in California, is a challenge to Proposition 8, which amended the California Constitution to exclude same-sex couples from marriage.
The federal court of appeals in California has already declared Prop 8 unconstitutional, ruling that because Prop 8 did not repeal California's comprehensive domestic partnership law, the state had no legitimate reason to take away the right to marry from same-sex couples and relegate them to an unequal, inferior status.
If the Court accepts the case for review, we will all have to wait for oral arguments and the Court's decision, which likely would be issued by June 2013, to know the outcome.
But if the Court declines to hear the case, it will be over, and the prior federal court decision striking down Prop 8 will stand. If that happens, the freedom to marry will be restored in California! Same-sex couples will be able to marry again there, but the decision will have no immediate, direct impact on the marriage laws of other states.
Equal Benefits for Arizona State Employees
In Diaz v. Brewer, Lambda Legal represents seven lesbian and gay state employees -- including from state universities and the State Department of Game and Fish -- who are challenging a move by the Arizona legislature to eliminate the equal health-care benefits that those employees rely on to safeguard their families' health -- just as their heterosexual colleagues do.
The equal health coverage plan had been put in place in 2008, but Arizona lawmakers subsequently eliminated it for domestic partners -- including those of lesbian and gay state employees -- while retaining spousal benefits for heterosexual workers, in a budget deal signed by Gov. Jan Brewer in 2009.
This case is about equal pay for equal work and protecting medical benefits for the same-sex domestic partners of state employees. The federal district court and the Ninth Circuit Court of Appeals have already ruled that we are likely to prevail on the argument that selectively taking away the ability to obtain this family health coverage would violate the rights of these employees. Governor Brewer and other state officials have now appealed these losses to the U.S. Supreme Court.
If the Supreme Court declines to hear this case, then the injunction that currently protects state employees from losing the benefits will remain while Lambda Legal continues to fight in the lower courts to permanently reverse the discriminatory withdrawal of benefits. If the Supreme Court agrees to hear this case, then we will be ready to defend the lower court decisions -- and the workers and their families -- at the high court.
Announcements Coming Soon
The Supreme Court meets in conference throughout the fall to decide which cases it will accept for review, and its decisions are announced on its website soon after they are made. For example, decisions may be announced about some of these cases as soon as Sept. 25, or on other key dates throughout October and November. Stay tuned to Lambda Legal, and we will announce the news about these cases as soon as it's available.
Popular in the Community