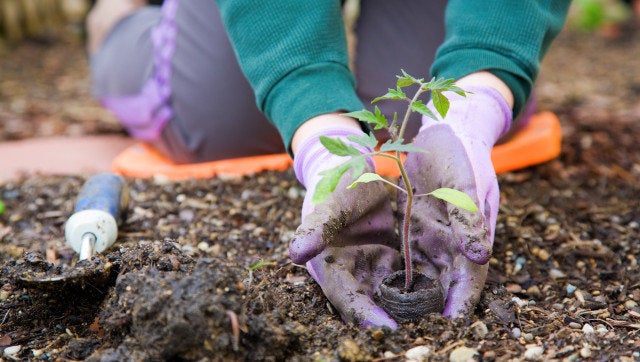 Autumn's one of my favorite times of the year -- the cascading colors from browns to reds and ambers, leaves crunching under my feet and cozy nights in spent watching Downton Abbey. For many though the start of autumn and winter can be a traumatic time, it marks the start of dark nights and a feeling of gloom triggered by little light caused by the change of the season. Easily dismissed by many as a bout of the winter blues, Seasonal Affective Disorder (SAD) is a serious and frightening condition, and it's now estimated that 7 percent of the population of the UK live with it. Grey skies, cold snaps of weather and pounding rain can trap people in their homes and leave them with little contact with the outdoors. Gardening has always been a therapeutic experience for me, I find it relaxing and calming particularly after a busy and stressful day. However, in the winter it's hard to spend time outside tending to your flowers, even more difficult if you live in the middle of a busy city with no outdoor space. There are plenty of ways though to create a small garden even if you have no real green space -- window boxes, cool house plants and ways to grow your own herbs, fruit and vegetable indoors.
Digging a bit deeper, I've found that there's plenty of evidence to suggest that gardening can -- and should -- be used as a real therapy. Scientifically, it's been proven that getting your hands dirty can boost serotonin (the happy chemical) levels: contact with soil and a specific soil bacteria mycobacterium vaccae actually triggers the release of serotonin in our brain. After 200,000 years of hunting and gathering food, humans naturally experience a high and a feeling of reward when we spot fruit and vegetables. A euphoric flush of the natural high dopamine is released in the reward center of the brain, and this is often triggered by the sight, smell and action of picking a piece of fruit.
Emotionally and mentally, gardening is a huge release and the NHS have started prescribing gardening courses. President of the Royal College of Physicians, Sir Richard Thompson, is a big advocate, "Drug therapy can be really expensive, but gardening costs little and anyone can do it, I would much rather a doctor had time to listen to their patients and instead of prescribing anti-depressants, prescribed a course of gardening." Cancer charity Macmillan has often found that gardening has helped cancer patients manage feelings of sadness and depression, they conducted a small survey and found that four in five gardeners living with cancer said that gardening helps reduce stress and anxiety, and helps take their mind off treatment. Joe Swift, president of the National Gardens Scheme and a Chelsea Flower Show gold medal winner, says: "We know from experience how watching plants grow can really help someone feel more positive when they are going through a difficult time as well as bringing back a sense of control to their lives."
If you suffer from SAD there are ways to remedy yourself with gardening at this darker, chillier time of year -- even if you don't have actual outdoor space. Window boxes are easy to maintain and a lovely addition to your flat. Pick evergreens such as berry plants, heurachas, camelias, verbenum, irises, crocuses, winter violas and boxus plants: all grow well at this time of year and are easy to care for. A blossoming camelia always brings a smile to my face. Indoors, grow herbs in the kitchen - pick out small containers, a vintage box or trinket to house them in and start growing for your cooking. Herbs that grow well indoors include: basil, parley, sage, thyme, chives and rosemary; again with just a little love and attention you can watch your herbs grow and blossom. They can all be grown in window boxes as well. I love bringing the outdoors inside, and find that indoor plants improve the air quality. My personal favorite at home is a money tree (crassula) that sits proudly next to my desk. Other good houseplants to start with are campanulas, orchids, roses and azaleas: all are beautiful plants for your home. With a watering can, a few containers and some compost, it's easy to create an indoors garden to cultivate.
Recently I spoke to someone who had battled mental depression and had turned to gardening as a means of therapy, she told me "I found that not only was I able to escape from the tough reality of what I was going through at the time but it also gave me something to hope for, and that I could believe there was going to be another day to work towards."