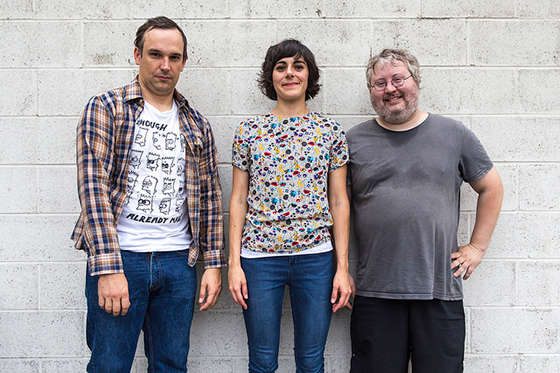 (Photo Credit: Matthew B. Thompson)
The Seattle-based indie rock band Wimps has this impeccable way of make short, vivacious songs about the most specific of things that happen to all of us in our everyday lives, but we sometimes don't even acknowledge its presence. Many of the topics of Wimps' songs are those naggings thoughts and feelings we all have that we either bury down because we think they are not important, or we let float away in whimsy like it shouldn't matter even though it might.
With their sophomore album Suitcase, the three-piece comprised of Rachel Ratner on guitar and lead vocals, Matt Nyce on bass and backing vocals, and Dave Ramm on drums immortalizes more of those regular, everyday occurrences on record with sound that grabs on that old school lo-fi punk energy with a more spirited take. Recently, I was able to chat with Rachel Ratner while on their way to Philadelphia on their current tour and we talked about their live show, touring, and what influences their music.
What's a Wimps show like?
I think it kind of varies. We play a mix of all ages, DIY venues, and bar shows, it depends on that. Our particular show is usually pretty high energy. We play a lot of 2-minute songs so we can only last for about half hour. Its like a half hour that's like pretty fast and if the kids are younger, they're moving around. If they're an older crowd, they're nodding approvingly. We usually play with a mix of bands that are some punk, some indie, whatever, garage. A typical show I guess.
How do you pass time by on tour?
We mix it up. We do a lot of podcasts. We were just listening to the WTF Podcast or we'll watch YouTube music videos of our friend's bands. We like to play a game where we talk about what city we are coming up to and what we know about it. It's not really a game but it's a neat way to learn about the cities, then try to research at least one thing to do in that city if we can. Its hard to see the city you're in sometimes, like we were in New York and we were like 'Oh! We should take the Staten Island ferry for free and see the Statue Of Liberty.' Just stuff like that to try to figure out little things to do to like slip in during the date and see a bit more of the country.
Wimps is such a fun band while at the same time a bit self deprecating while not being depressing. Where does that come from?
I think its just kind of how we are. I think we're like realists. We're regular people so we're not trying to sugarcoat anything. We try to write songs about what we are going through and what we're thinking about, but at the same time, the kind of music we all like is in the punk realm so we still like music that is fast. We wanted to be the band that we would want to see live, that's fun to see live, that's high energy. A mix of liking fast, high energy stuff with writing about things that happen in regular life that results in being anxious or depressed, but the marriage between the two is how our sound ended up getting made I guess.
I love that so many of the songs are about those super specific thoughts and feelings that we all have in life that we might not talk about let alone make a song about. Why are these ideas for songs good ideas in your mind?
Usually its like what you said, maybe I just made a point to write those things down when I think about something. I just got little ongoing notes in my phone or we'll be talking about something in conversation, like we were just driving one day and was like 'Man! Everyday feels like a Monday. We should write a song about that.' Just being aware of the things that we are thinking or we talk about at practice and writing them down. Lets try to write a song about this. We'll have a general idea and then maybe jam on it a little bit, and then work the lyrics to make more concrete sense.
The sound of the band is very old school punk, but not so much with the sort of fuck you angry attitude to it. What influences the sound of the band?
I think we all have different influences. I think the drummer, if I may speak for him, he tends to like a little more proto-punk, like The Who and more classic bands that were pre-punk that had that kind of attitude. He also likes a lot of what would be 90s college rock. I grew up really liking bands like Devo, more kind of playful punk but Devo was kind of similar of what we're talking about, kind of serious stuff but in a weird, playful manner. We all like listening to lots of music. In the car, its everything from old country to hip hop. I like a lot of hip hop too because the lyrics kind of tie into how punk lyrics are, people singing/rapping about their day-to-day life.
Wimps play the UFO Factory (2110 Trumbull) in Detroit on Friday, April 8th along with Brothels, Sneaky Creeps, and Primativ Parts. Wimps new album "Suitcase" is available now. For more information, visit thesewimps.com.
Calling all HuffPost superfans!
Sign up for membership to become a founding member and help shape HuffPost's next chapter