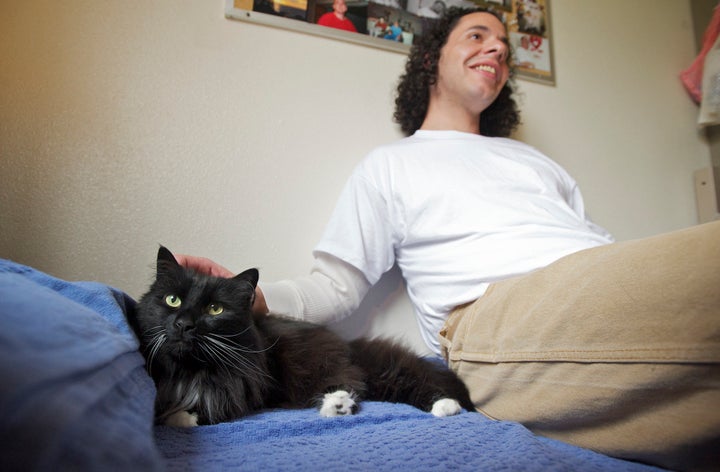 Prison officers at Larch Corrections Center near Yacolt, Wash., say they have already seen positive changes in two inmates who were given a pet cat two weeks ago as part of a new animal foster program.
After passing a rigorous screening test, Contreras and Walter received a long-haired black cat named Princess Natalie that wasn't getting along with other cats at her foster home and was likely to have been sent to the pound and euthanized.
Cuddly Catz volunteer Marsha Thomas-Carney told the Columbian that in the two weeks Princess Natalie has been at the center, her behavior has improved immeasurably thanks to the care and attention she has received from the inmates, who "literally ... rescued her from death."
Joey Contreras, who will work with his cellmate Walter to take care of Princess Natalie until she can be adopted, said the cat has changed their lives as well.
"When you're doing prison time, you get set in certain ways and forget what it's like to have everyday interactions and be compassionate," Contreras told the Columbian. "It's a little different when you have an animal depending on you to survive. Animals bring out the best in people."
Today, 75 inmates at the maximum-security prison are involved in the program. All participants have met the prison's strict requirements for cat ownership, which includes having a job to pay for the animals' food, spay or neuter procedures, and medical bills, according to the paper.
In an interview about the program for the blog "Cat Odyssey," an inmate known as "Bear" said the program gives him an incentive to be on his best behavior. He said that he and the other men on his floor were devastated when the first cat he adopted from the program died of pulmonary disorder, and were thrilled when Bear was given a cat from a local shelter named Ziggy.
"When I arrived here, I had nothing to lose," Bear told Cat Odyssey. "When you have nothing to lose—you can get yourself into a lot of trouble. When I got my first cat, it changed me. There is something about holding a cat that makes your anger melt away. And if someone does something that upsets me—I have to remember my cat. I can't keep my cat if I get into trouble."
Watch MSNBC's report on prison cat therapy programs below:
Related
Popular in the Community