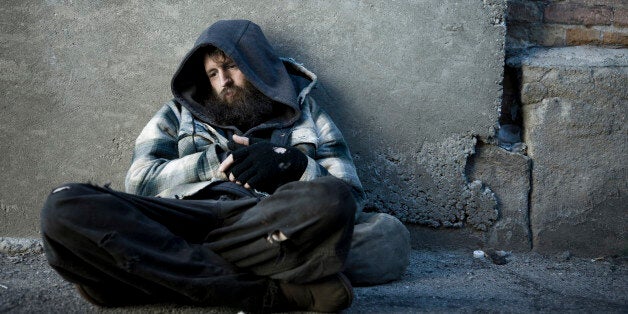 To make a difference in the life of a homeless person, you can donate money or…you can pay $2,000 to live on the streets of Seattle for three days.
After living on the streets for two months, Mike Momany, 62, decided he wanted to give privileged people a "crash experience" into what it's really like to not have a roof over your head, according to his website. As the guide for the "Course in Applied Homelessness," Momany says that over the course of three days, he'll give participants insight into homelessness that they would never otherwise experience.
On the first day, Momany gives participants a makeover, and simple life script, so that they can look and feel the part. They spend the day touring "favored homeless spots" and sleep in a homeless shelter for the night. Participants panhandle, eat at Fare Start, a program where homeless people are trained by professional chefs, and then wind down at a hotel on the second day. On the final day, participants begin wandering the streets at 3 a.m. and wrap up the program with cocktails (you read that right) and a conversation about the experience.
According to seattlepi, Momany hadn't signed anyone up since he launched the program a few weeks ago, but he's already collected a number of critics who have taken issue with pretty much every aspect of the program.
Some are concerened with the fact that well-off tourists will take up precious space at shelters and others are bothered by the fact that Momany is making money off of people's misfortune.
"The people who live on the street in Seattle are not there by choice," Caitlin Bancroft wrote in an op-ed for PolicyMic. "Their circumstances and appearance are the result of necessity. It is cruel to dress up and playact their lives. It stereotypes and mocks the people and the community. To add insult to injury, the guide commodifies the experience by charging people to participate."
"How much of that $2,000 gets donated as you claim?" a commenter wrote on his Facebook page. "I'm worried about the homeless being exploited for profit and individual gain. Not the money itself."
To Momany's credit, a number of advocates across the world have tried replicating the homeless experience in order to better grasp what it's like to live in such dire conditions.
Back in 2009, Prince William -- who serves as the patron for UK homeless charity Centrepoint –- slept in a frigid alley in central London for a night, the Associated Press reported.
"I cannot, after one night, even begin to imagine what it must be like to sleep rough on London's streets night after night," Will told the AP. "I hope that by deepening my understanding of the issue, I can help do my bit to help the most vulnerable on our streets."
Former "Bachelorette" star Jillian Harris also took to spending a night on the cold streets of Vancouver to raise funds and awareness for Covenant House, a local nonprofit that helps homeless youth. She raised close to $5,000, according to her fundraising page.
But these advocates, and other brave ones like them, didn't pay for the experience, which is what most critics find problematic with the program. Still, Momany insists that the cost is worth it in order for people to develop more empathy for people on the streets.
"I learned that homelessness is nothing to fear; albeit nothing to aspire to either," Momany wrote on his site. "In three days I will give you a crash experience of the homeless lifestyle. You will gain a new respect for the folks that find themselves in this predicament."