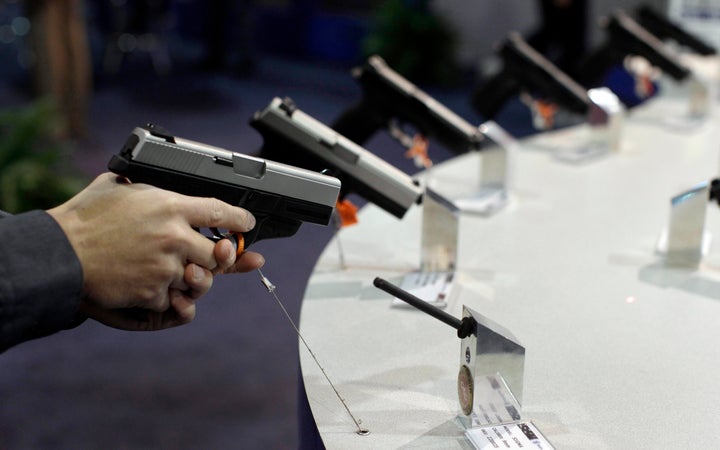 Another day, another mass shooting committed by a private citizen legally allowed to carry a concealed, loaded handgun in public.
This time it was 40-year-old Ian Stawicki, who entered a Seattle cafe on Wednesday and opened fire, killing four people. He then left Cafe Racer, killing another person during a carjacking before taking his own life.
The pro-gun reaction to this most recent slaughter by a concealed handgun permit holder? That's life.
As pro-gun advocate Dave Workman, a loyal foot soldier in the pro-gun publishing and lobbying empire of convicted felon Alan Gottlieb explained to local NPR affiliate KUOW:
"I don't know that there's anything you can do in these situations. We can't treat him like a child, he's got his own life to live and he can make his own mistakes no matter how horrific those mistakes turn out to be."
"Those mistakes" happen all too often. According to a running tally maintained by my organization, the Violence Policy Center, since May 2007, nearly 450 people have been killed in 334 non-self defense incidents by private citizens legally allowed to carry concealed handguns.
Not including this week's attack in Seattle, 20 of those incidents have been mass shootings of three victims or more, resulting in the deaths of 89 innocent victims.
Listed below, they run the gamut from family annihilators to workplace shooters, murder-suicides to attempted political assassination:
In July 2011, in Texas, Tan Do, 35, opened fire at his son's 11th birthday party being held at the Forum Roller World in Grand Prairie, Texas, killing the boy's mother and four members of her family before taking his own life.
In June 2011, in Arizona, Carey H. Dyess, 73, went on an hours-long shooting rampage in two communities, killing five before taking his own life.
In January 2011, in Arizona, Jared Lee Loughner, 22, opened fire at a "Congress on Your Corner" constituent event held by Arizona U.S. Representative Gabrielle Giffords outside a Tucson Safeway supermarket. Loughner killed six people, including a federal judge and a nine-year-old girl, and injured 13, including Giffords, who was shot once the face.
In August 2010, in Connecticut, Omar Thornton, 34, went on a shooting rampage at the beer distributorship where he worked, killing eight co-workers before taking his own life.
In June 2010, in Florida, Gerardo Regalado, 38, committed Hialeah, Florida's worst mass shooting: killing four women and wounding three others at the Yoyito Cafe-Restaurant.
In March 2010, in Tennessee, Michael Joe Hood, 49, shot and killed his sister Susan Hood Binkley, 44, her ex-husband Dale Binkley, 42, and their 13-year-old son Jackson Binkley.
In January 2010, in Virginia, Christopher Speight allegedly shot and killed eight people including his sister and her husband, their 15-year-old daughter and four-year-old son, as well as two teenagers aged 15 and 16.
In December 2009, in Utah, Justin Matern shot and killed his wife and two sons, ages six and four, before turning the gun on himself.
On Thanksgiving Day 2009, in Florida, Paul Michael Merhige allegedly opened fire at his family's Thanksgiving dinner shooting six relatives, killing four. The deceased victims were his twin sisters (one of whom was pregnant), his 76-year-old aunt, and a six-year-old cousin. As he left the scene, Merhige was quoted by one witness as saying, "I have been waiting 20 years for this."
In November 2009, in North Carolina, William Maxwell shot and killed his wife Kathryn and their teenage children Conner and Cameron before killing himself.
In August 2009, in Pennsylvania, George Sodini, 48, opened fire at an LA Fitness Center in Collier, Pennsylvania, killing three women and wounding nine others before turning the gun on himself.
In April 2009, in Pennsylvania, white supremacist Richard Poplawski shot and killed police officers Stephen Mayhle, Paul Sciullo, and Eric Kelly while injuring another.
In March 2009, in Alabama, Michael McLendon, a self-proclaimed survivalist, killed his mother at their family home, beginning a shooting rampage that stretched across 24 miles. By the time McLendon took his own life in the midst of a police shootout at a factory where he had previously worked, he had shot four more relatives, including his 74-year-old grandmother, and five strangers, including the wife and 18-month-old daughter of a local sheriff's deputy.
In February 2009, in New York, Frank Garcia opened fire with a .40 Glock pistol in the Lakeside Memorial Hospital parking lot in Brockport, NY. He had recently been fired by the hospital. He shot three people there, killing two, before killing a married couple at their home in Canandaigua.
In September 2008, in Michigan, Troy Brake, 31, shot to death 52-year-old Sharmaine Zimmer, her sons, Tyler, 17, and Jeremy, 20, and beat to death Jeremy's girlfriend, university student Katherine Brown, 18.
In May 2008, in Virginia, Aaron Poseidon Jackson, 24, shot and killed his two children, one-year-old Aaron Neptune Jackson and two-year-old Nicole Aaron Jackson, and their mother Latasha Nicole Thomas, before taking his own life.
In March 2008, in Georgia, former substitute teacher Charles Johnston entered Doctors Hospital in Columbus, Georgia, carrying three handguns: a .32, a 380, and a 9mm. Johnson allegedly killed two people in the hospital and a victim in the parking lot.
In September 2007, in Florida, Guillermo Zarabozo and another man hired a charter boat, later killing the boat's crew of four. Zarabozo was found guilty of the four murders.
In July 2007, in Ohio, firefighter Terrance Hough Jr. used a 40 caliber pistol to shoot and kill neighbor Jacob Feichtner as well as Bruce Anderson and Katherine Rosby as a result of a dispute over fireworks the three were setting off on the Fourth of July. Hough also shot and injured two others. Hough's fellow firefighters described him as a "ticking time bomb that finally exploded."
Because most states don't release detailed information on crimes committed by concealed handgun permit holders, the incidents listed above are from news reports. The actual number of lethal non-self defense incidents involving private citizens legally allowed to carry concealed handguns is most likely far, far higher.
And yet, according to concealed carry advocate Dave Workman, concealed handgun permit holder and mass shooter Ian Stawicki had "his own life to live."
What about his victims and their families?
Calling all HuffPost superfans!
Sign up for membership to become a founding member and help shape HuffPost's next chapter