This morning, I brushed my teeth, took a shower, drank some tea, washed some dishes. This evening I washed my face, brushed my teeth again. In between, I drank lots of water, flushed toilets, watered plants ... and hardly thought once about how easy it is to just turn on the tap. When I need clean, fresh water, it's there.
But that's not the case for almost eight hundred million people around the world -- one in nine people -- who do not have access to clean water. Or the one billion people -- one billion! -- around the world who still carry water every day.
This Sunday, May 31, students from Seattle's Washington Middle School will gather at the Seattle Center with others from around the area to carry water for five kilometers for one afternoon, in solidarity with those one billion people around the world who do so every day.
ACROSS THE WORLD...
Two hundred million women and girls spend up to five hours a day collecting water for their families
Five million girls cannot attend school because they are carrying water
Five thousand children die from preventable, water-related diseases every day
Selma Powers is a seventh-grade student at Washington Middle School in Seattle, and is on the Middle School Board for Water1st. I chatted with her briefly about Water1st, her participation, and what people can do to help.
Q: What is Water1st? Who do they help? Why does it matter?

A: Water1st is a nonprofit organization that helps get water to people in developing countries. In some places in the world, people do not have easy access to clean water for drinking, cooking, and bathing. Often people have to walk to get the water they need to survive. For the most part, this job falls to women and children. Some walk over five kilometers to get to clean water. They then carry up to five gallons of water back to their homes for their families. Many women and children spend up to five hours each day carrying water. Because they are spending their time carrying water they do not have time to go to school or to work to earn money.
Q: You are on the Middle School Board. What does that mean?
A: As part of the Middle School Board, I meet with other board members every other month. We learn about the work the organization is doing to provide access to clean water to communities in developing countries throughout the world. We also discuss and make plans for ways to raise funds to end people's every-day walk for water. As a member of the Middle School Board, I have given presentations about Water1st to elementary and middle school students in Seattle.
Q: Tell me about the event you are raising money for.
A: Every year Water1st has an event called Carry 5 Walk for Water. It is an event held at the Seattle Center where people carry up to five gallons of water for five kilometers to represent what many people without access to water do each day. The idea is to experience for one day what one billion people in the world do every day. As part of Carry 5, we ask friends and family to donate to help Water1st be able to provide clean water to more communities throughout the world.
Q: Where can people go to donate?
A: If you are interested in donating, you can go to my Carry 5 fundraising page.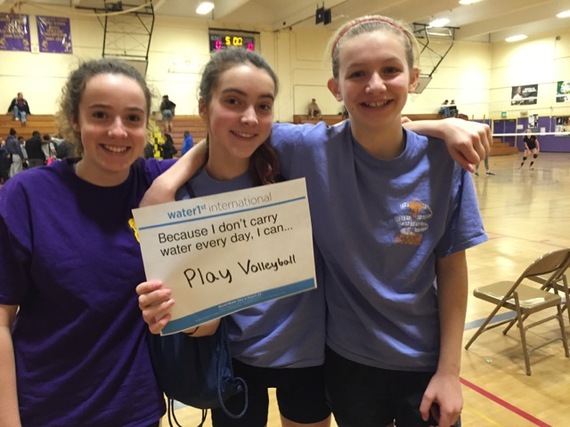 Says Selma: "One of the activities we did as part of the Middle School Board was to think about activities that we can do because we don't have to carry water." Because they don't have to spend five hours a day carrying water, they can do things like play volleyball with their friends.
Calling all HuffPost superfans!
Sign up for membership to become a founding member and help shape HuffPost's next chapter