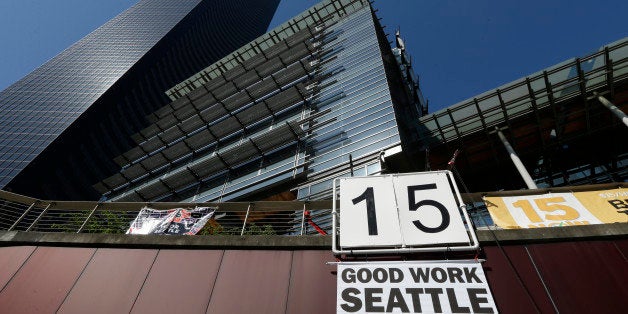 Minimum wages have been rising across the U.S. lately. Seattle just reminded us that many of those raises aren't nearly enough.
Seattle's minimum wage will increase to $11 an hour on Wednesday, making it one of the highest in the country. By 2017, large employers in Seattle will be required to pay workers $15 an hour. Small employers will have until 2019 to reach that minimum.
Seattle is one of several cities, states and companies that have raised wage floors in recent months, as the federal minimum wage of $7.25 an hour, last increased in 2009, has grown ever more painfully inadequate. President Barack Obama has proposed raising the federal floor to $10.10 an hour, but that initiative is stalled in a Republican-controlled Congress.
Still, the momentum for higher wages has been growing, driven by popular opinion. Voters in four Republican-leaning states passed laws last November setting minimum wages higher than the federally mandated $7.25.
But Seattle is one of the few entities -- San Francisco is another -- that plans to give labor activists what they actually want: a minimum of $15 an hour.
More modest, but much farther reaching, pay raises are also being enacted by companies. Walmart, the country's largest private employer, announced in February that it would raise its workers' base wage to $9 an hour starting next week, and that it would begin paying current employees $10 an hour in 2016. Target, Ikea and many other companies have followed suit, raising their own wage floors to $9 or $10 an hour. The Gap announced last year it would pay its employees at least $9 an hour, rising to $10 an hour in 2015.
Unfortunately, for many families, $9 or $10 an hour is still not enough to climb out of poverty or get off government assistance programs, noted a report released Wednesday by the advocacy group Americans for Tax Fairness.
Currently, many low-wage workers are eligible for programs like Medicaid and food stamps, despite working full-time jobs. Bloomberg reported in 2013 that employees at fast food companies received $7 billion in public aid.
The ATF report singled out Walmart's wages for criticism. The same critique would also apply to any other company paying a minimum of $9 or $10 an hour. Still, Walmart's sheer size means its pay policies have a big impact. The company has 2.2 million employees, and an estimated 500,000 will be affected by its pay raise. For comparison, the city of Seattle has 650,000 residents. About 38,000 workers in Seattle will see their wages rise due to the new $11 minimum wage. Just over 100,000 will be affected once the $15 wage is fully phased in.
At $9 an hour, a worker might make $15,912 a year, ATF calculated. At that income, a single worker would qualify for Medicaid, housing aid and heat assistance. With one or more children and a single income, such a worker would qualify for those programs, along with food stamps, the Earned Income Tax Credit, child care credits, and the national school breakfast and lunch programs, the report said. At $10 an hour, an employee's annual income rises to $17,680, but a single-income, two-person household would still qualify for all eight of those aid programs.
The ATF report also noted that, because almost half of Walmart's employees quit each year, many workers will continue to earn $9 an hour when the $10 wage goes into effect in 2016. (To qualify for $10 an hour, workers have to complete a six-month training period.)
ATF recommended Walmart raise its wages to $15 an hour, which "would lift many of its workers above the income level at which they would be eligible" for anti-poverty programs.
That $15 figure is not an isolated recommendation. Fast-food workers have been calling for that wage in protests around the country for years. That organized campaign has since been broadened to include other low-wage occupations.
A wage of $9 a hour is well above the federal minimum wage of $7.25, and equal to or above all but four states' current minimum wage. Hourly pay of $10 is above any state's current minimum wage. (California and Massachusetts have enacted increases to $10 an hour that will take effect in 2016.)
Walmart spokesman Kory Lundberg told The Huffington Post that he believed ATF "formed a conclusion first and then created a report to match it."
Walmart is also "giving associates more control over their scheduling," Lundberg noted. By next year, Walmart employees who want more hours will be able to see what shifts are open in their store and will know their schedules at least 2-1/2 weeks in advance. An unspecified number of workers will have fixed schedules, the company says.
As reporter Jodi Kantor documented in The New York Times in 2013, simply knowing when you will have to work is a benefit that many working poor people do not have. After Kantor's story, Starbucks revised its policies to end irregular schedules for its employees.
Knowing what your schedule will be does give workers more power. Having a stable, predictable schedule and a job that pays $15 an hour gives even more, and would go a long way toward eradicating the concept of "working poor."
Calling all HuffPost superfans!
Sign up for membership to become a founding member and help shape HuffPost's next chapter
BEFORE YOU GO
PHOTO GALLERY
9 Things Walmart Would Like You To Forget