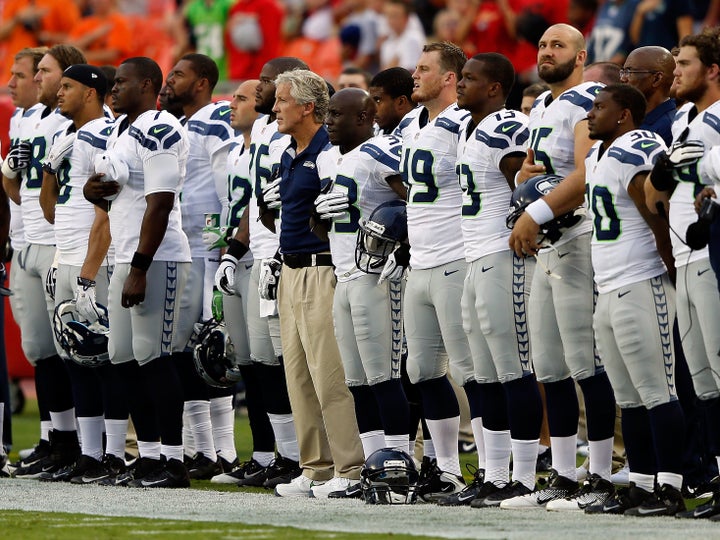 Two weeks after San Francisco 49ers quarterback Colin Kaepernick's national anthem sitdown grabbed headlines, the Seattle Seahawks could be ready to join him.
Seahawks defensive back Jeremy Lane has already done so. Lane sat down during the national anthem before Seattle's final preseason game against the Oakland Raiders last week. But now, it seems the entire Seahawks team is planning something during their season opener against the Miami Dolphins on Sunday. What that something is, though, remains unclear.
The first sign that more Seahawks players may join Lane and Kaepernick came from veteran wide receiver Doug Baldwin, who told the Seattle Times on Wednesday that he has considered sitting through the anthem.
"I have [considered it]," Baldwin said. "I want to make sure I get all of my ducks in a row before I do so.''
Linebacker Bobby Wagner told the Times that whatever the team decides to do, "it's not going to be individual. It's going to be a team thing. That's what the world needs to see. The world needs to see people coming together versus being individuals."
Wagner added that it would be "a big surprise."
On Thursday afternoon, Baldwin posted a cryptic tweet about the team's plans:
Meanwhile, Lane has repeatedly said that he plans to continue sitting through the pre-game ritual, and Seahawks head coach Pete Carroll has expressed support for his right to do so.
Kaepernick's protest first drew attention at the 49ers' Aug. 26 preseason game against the Green Bay Packers, when he did not stand for the anthem. He explained after the game that he is "not going to stand up to show pride in a flag for a country that oppresses black people and people of color."
"To me," he continued, "this is bigger than football, and it would be selfish on my part to look the other way. There are bodies in the street and people getting paid leave and getting away with murder."
The protest has drawn a negative response, however, from people inside the NFL and out who believe Kaepernick is dishonoring the U.S. military ― even as he has made clear that he's trying to highlight police violence against African-Americans (many veterans have supported him). The controversy will likely intensify if and when the sitdowns continue on Sunday, the 15th anniversary of the Sept. 11 terrorist attacks.
Baldwin told the Seattle Times on Wednesday that the date "absolutely" factored into the team's plans. Nate Boyer, a former Green Beret and onetime member of the Seahawks practice squad, told Fox Sports Radio on Thursday that he had talked with the team about the symbolism.
"I spoke with the players, and they realize that 9/11 is a very important day in our nation's history," Boyer said. "The Seahawks, and probably every team, will be honoring those who serve in camouflage, and also those in blue who served on such a difficult day. Shortly after 9/11, our country seemed more unified than I had ever experienced and was the most unified it has been since I have been alive. Since that date, we have grown farther apart in our unity. Standing together this Sunday is key to making progress. What the team will do is a powerful sign of unification."
But it seems we'll have to wait until Sunday to find out exactly what the Seahawks have planned.
CORRECTION: The first name of Seahawks linebacker Bobby Wagner was wrong in an earlier version of this story.
Related
Popular in the Community