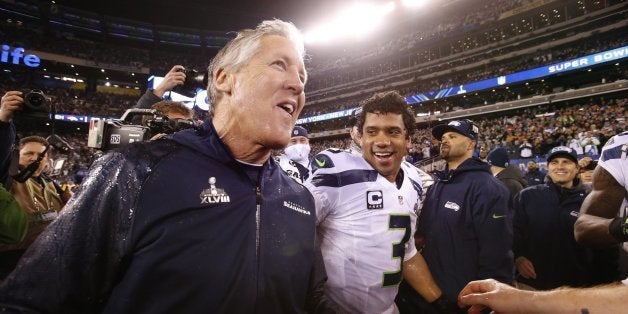 The Seattle Seahawks are led by a quarterback who was too small, a cornerback too brash and a coach that supposedly was too rah rah because he played rap music during practice. Their Skittles-obsessed running back, who nobody wanted, made earthquake-inducing runs a normal occurrence. And the defending Super Bowl champs return nearly every starter on both sides of the ball, along with the most electric fan base in football. The NFL has not had a repeat champion since New England a decade ago, and in the 48 years of the Super Bowl, there have been just nine repeat champions. But the Hawks don't care.
Here are five reasons Seattle could help that number reach double digits.
Russell Wilson earned a second consecutive Pro Bowl berth and won a Super Bowl in year two, but he's still just scratching the surface of his robust talent. The 25-year-old is the heartbeat of this team. "Human nature wants you to naturally relax and not improve," Wilson told USA Today. "One of the things I'm trying to do -- and our team collectively -- is to fight that and to continue to improve." A simple quote like that speaks volumes about Wilson's maturity. This was a kid who went to Madison for a summer and learned the entire Badgers playbook to lead Wisconsin to the Rose Bowl. He's been told his entire life that he's too small to play quarterback, and slipped to the third round despite a sensational collegiate career at two schools. I told you he was a huge sleeper then, and that he would lead the Hawks to a title last season. I'm telling you now that his 26 touchdowns and nine interceptions from a year ago will only improve in 2014. Remember, Wilson already owns 10 game-winning drives and eight fourth-quarter comebacks.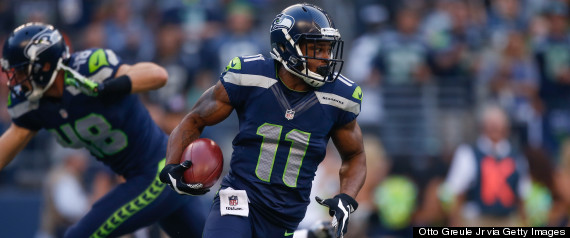 Seattle's most notable free agent loss was probably wide receiver Golden Tate, who signed with pass-happy Detroit. Tate led the Seahawks with 898 receiving yards, but was also known for his inconsistency and strange antics. Replacing him in the slot will be Doug Baldwin, an undrafted free agent who enjoyed a stellar postseason and has emerged as one of Wilson's favorite third-down targets. Baldwin doesn't have Tate's athletic ability, but that's where Percy Harvin (above) comes into play. If Harvin -- who missed most of last year with a labrum tear in his hip -- can stay on the field, he will resume his role as one of the league's most dynamic talents. All reports from camp have been highly positive, and the emergence of Jermaine Kearse, another undrafted free agent, as a third option, is crucial.
Pro Bowler Marshawn Lynch finally got paid, but his brief holdout also paved the way for young runners Robert Turbin and Christine Michael to enter the spotlight a bit more. Turbin is a one-cut guy who catches the ball very well. And Michael, in his second year out of Texas A&M, is equal parts flash and power. He has real home ability, and whether it's this season or next, looks to be on the verge of heavy touches. The 28-year-old Lynch remains the clear-cut first option, but both of his backups give yet another twist to Seattle's already strong offense, which ranked second in the league last year.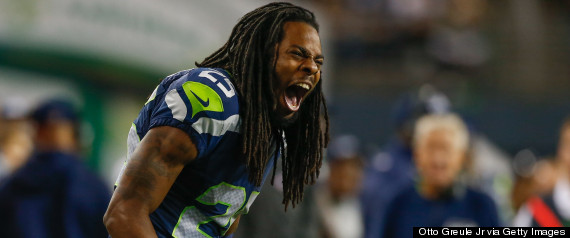 "LOB!" You have probably heard Richard Sherman (above) chanting that by now, and if you are confused, it means, "Legion of Boom." That's what the Seahawks sensational secondary quartet calls itself, and rightfully so. Sherman and free safety Earl Thomas are All-Pros, while Kam Chancellor might be the hardest-hitting strong safety in football. (Just ask Demaryius Thomas and the Denver Broncos about that.) Pete Carroll loves big, physical corners who can press. That perfectly describes Byron Maxwell and Tharold Simon, Seattle's second and third cornerbacks, both of whom enjoyed excellent preseasons. Scariest of all? The Seahawks record-setting pass defense may be better this year. The Seahawks have allowed the fewest points in the league over the past two seasons.
If you think that winning the first Lombardi Trophy in franchise history will make these fans complacent, think again. The game's most devastating home field advantage has produced noise levels mentioned in the Guinness Book of World Records -- and most importantly, the second-best home record in the NFL since the stadium's inception in 2002. Furthermore, no home field has created more false start penalties since 2005 than Century Link. The 12s will be ready to feast once again.
Email me at jordan.schultz@huffingtonpost.com or ask me questions about anything sports-related at @Schultz_Report and follow me on Instagram @Schultz_Report. Also, be sure and catch my NBC Sports Radio show, Kup and Schultz, which airs Sunday mornings from 9-12 ET, right here.
Related
Popular in the Community