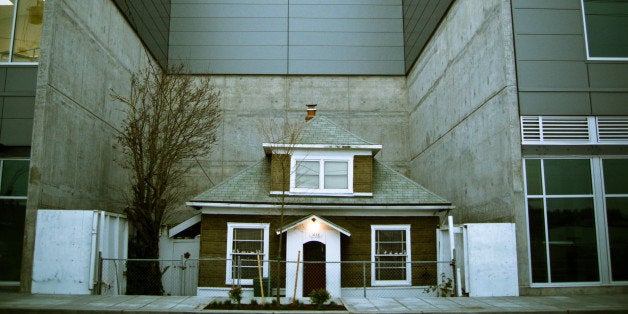 Edith Macefield's Seattle home, the famous "Up House" surrounded by stores and offices on three sides after the elderly woman refused to sell it to developers, may finally meet the wrecking ball.
A broker representing the home says it could be knocked down in 90 days unless a nonprofit organization is willing to take it for free and move it, according to the Ballard News Tribune.
Earlier this year, a woman bought the home in hopes of turing it into a pie shop, to be called Edith Pie, according to Curbed Seattle. However, real estate broker Paul Thomas told the website it would be "virtually impossible" to bring the 115-year-old home up to the city's current code.
"It is really discouraging that developers can find ways to build multiple tall and skinny houses on a single residential lot, but bringing new life to Edith Macefield's house isn't financially viable because there are so many hurdles," he said.
The home is currently boarded up:
Macefield made news in 2006 when she turned down a $1 million offer from developers, who then designed a complex that towers over the home on three sides.
The home is often called the "Up House," after the 2009 Disney/Pixar film "Up" in which an elderly widower refuses to sell the home he had shared with his late wife to developers.
However, Curbed notes that the home didn't actually inspire the movie.
As the development rose around her home, Macefield eventually befriended Barry Martin, the superintendent of the project. He would check in on her, make her meals and take her to doctor appointments.
When she died in 2008 at the age of 86, she left the home to Martin.
Popular in the Community