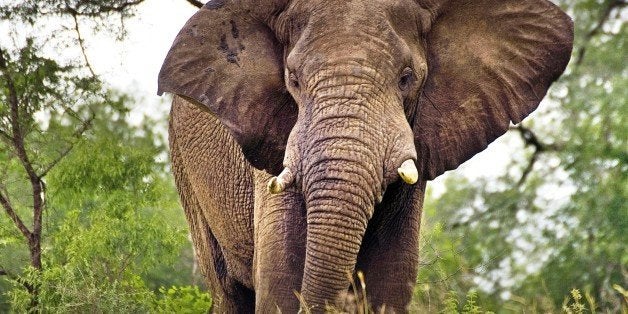 A 45-year-old African elephant's unexpected death at Seattle's Woodland Park Zoo has fanned the flames of the ongoing debate about the humaneness of elephant captivity.
Watoto was euthanized after she was found on her side in an outdoor elephant exhibit yard on Friday. Attempts to place her back on her feet had failed. Zoo medical staff assessed that her health was rapidly declining so they made "the difficult decision" to humanely euthanize her, according to the zoo's press release.
"This is a very difficult time for our zoo family as we mourn the loss of Watoto, a beloved animal and dear friend to our staff and volunteers, members and community," said Bruce Bohmke, Woodland Park Zoo's Chief Operations Officer, in a statement. "Watoto has lived a long, healthful life at Woodland Park Zoo under the care of dedicated keepers and staff. We will all miss her greatly."
According to the Associated Press, Watoto was born in Kenya around 1970 and brought to Seattle in 1971. She was living with two other elephants. Zoo staff are expected to conduct an animal autopsy to determine her cause of death, however staff believe the cause was old age.
Yet animal rights activists contend Watoto's living conditions in captivity were a factor in her death.
"In the wild at 45 years old they're still having babies," Alyne Fortgang, a Seattle resident and critic of the zoo's elephant exhibit, told the AP. "Watoto was lame. She had arthritis, chronic bouts of colic and skin conditions, all caused by her environment."
For years, activists have lamented the continuation of elephant exhibits at zoos and called for the animals to be relocated to sanctuaries. They assert that the confined living quarters negatively impact the well-being of elephants.
Friends of the Woodland Park Zoo, an advocacy group that advocates for the relocation of the zoo's elephants to sanctuaries, said in a post on their website that "Watoto's life must not be in vain" and "confinement in a zoo takes a physical and psychological toll on these far-ranging and intelligent animals."
FWPZ added that "Woodland Park Zoo is an exceptionally poor environment. The elephants are locked outdoors in less than 1 acre. Indoors, the elephants are locked in barren cages, standing on hard substrate and only able to walk a few steps in any direction. This lockup, due to our climate, lasts 16 to 17 hours a day, every day, for over half of the year."
Calling all HuffPost superfans!
Sign up for membership to become a founding member and help shape HuffPost's next chapter
BEFORE YOU GO
PHOTO GALLERY
Elephant Overload