As part of its 25th anniversary season, Seattle's Book-It Repertory Theatre recently premiered the theatrical adaptation of Chris Cleave's best-selling novel Little Bee. The play focuses on the experiences of refugees seeking protection in a foreign land from the points of view of two characters, a Nigerian girl who has taken the name Little Bee, and Sarah, an English journalist and young mother. Little Bee was adapted and directed by Book-It Founding Co-Artistic Director Myra Platt from the novel that was featured in the Seattle Public Library's 2011 Seattle Reads program.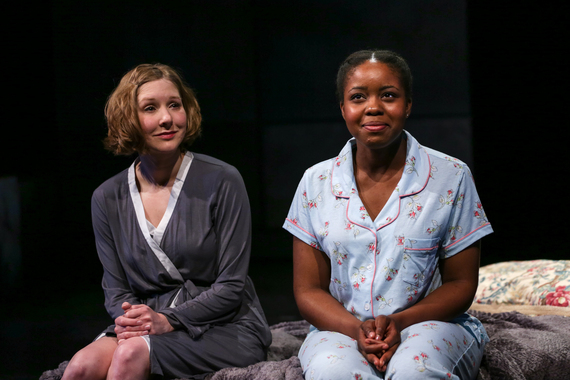 The play begins with Little Bee recounting her journey to England and being held at a refugee detention center for nearly two years, but as it unfolds, the horrors she has had to endure are revealed, as is the connection between her life path and Sarah's. Throughout this complicated story, characters lives intertwine with great passion and compassion, and all this is portrayed in just under three hours.
Opening night could have easily been a progressive political rally with an audience filled with liberals, including Congressman Jim McDermott. That seems very appropriate as the show really focuses in on refugees, an issue that is currently in the news.
To help audiences understand the issue even more experience, Book-It is partnering with Northwest International Refugee Project (NWIRP) and Refugee Women's Alliance of Washington (ReWA) whose representatives will lead pre-and post-show discussions around the issues of asylum seekers and refugees as it relates to our community and to the events in the novel. These events will be pre-show on Wednesday evenings April 29 and May 6, and post-show Sunday afternoons on May 3 and 10.
Little Bee runs through May 17.
Popular in the Community