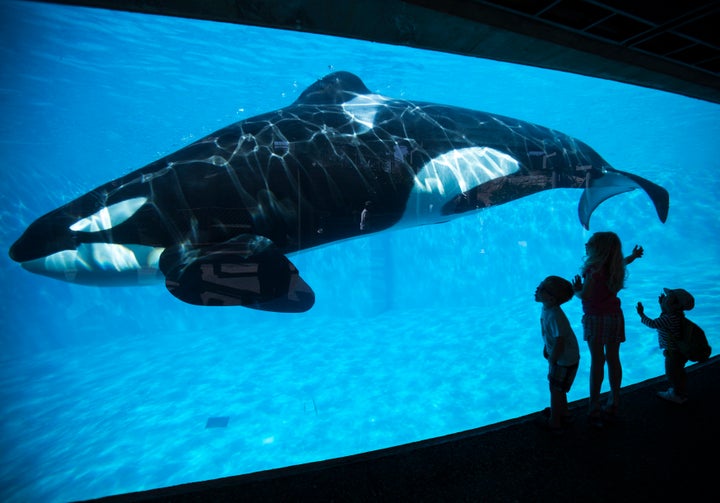 SeaWorld had employees pose as animal rights activists to collect information for the company after it reportedly received threats, the wildlife theme park announced Thursday. It said it has stopped the practice. 
"Following the completion of an investigation conducted by independent outside counsel, the Board has directed that the company's management team end a practice in which certain employees posed as animal rights activists in connection with efforts to maintain the safety and security of company employees, customers, and animals in the face of credible threats that the company had received," SeaWorld said in a statement. 
SeaWorld did not specify the nature of the threats in the statement. However, many animal rights campaigns have targeted the company since the 2013 release of "Blackfish," a film that sheds a negative light on its killer whale exhibits. 
People for the Ethical Treatment of Animals, an organization that has been a longtime critic of the park, alleged last year that a man working on its anti-SeaWorld campaigns who went by the name "Thomas Jones" was actually Paul McComb, a SeaWorld employee since 2008.
SeaWorld didn't outright deny the accusation at the time. 
"We are focused on the safety of our team members, guests and animals, and beyond that we do not comment on our security operations," spokesman Fred Jacobs said in July. "This is a responsibility that we take very seriously, especially as animal rights groups have become increasingly extreme in their rhetoric and tactics."
McComb was placed on administrative leave but has since returned to SeaWorld in a different department, the park said in its statement on Thursday. 
PETA executive vice president Tracy Reiman blasted SeaWorld in light of the revelation.
"SeaWorld's latest report confirms not only that the company has employed more than one spy to infiltrate and agitate at PETA but also that it values its spies more highly than the executives who have had their heads chopped off in droves, as at least one of the spies is still working at the company," she said in a statement sent to The Huffington Post, alluding a SeaWorld leadership shakeup last week, when the chief parks operations officer, chief zoological officer and San Antonio park director were all replaced. 
The company's shares plummeted on Thursday following a morning earnings call in which the company projected minimal financial growth for the year ahead.  
Calling all HuffPost superfans!
Sign up for membership to become a founding member and help shape HuffPost's next chapter
BEFORE YOU GO
PHOTO GALLERY
Whales In Action