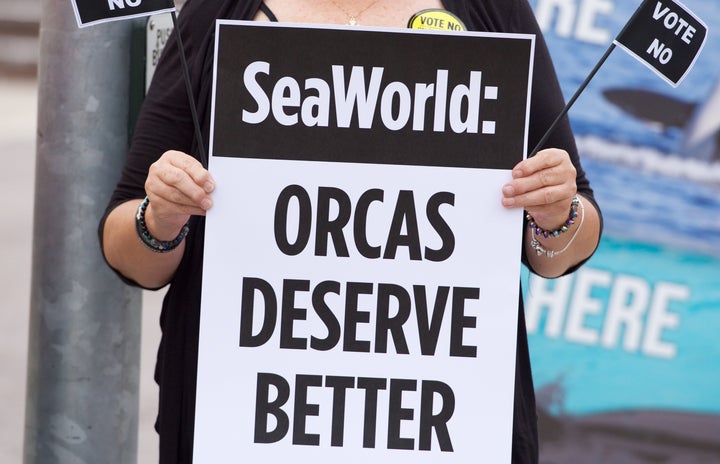 One day, SeaWorld's bleachers were full. Many Americans held fond memories of watching killer whales belly-flop gallons of water onto the crowd, carry trainers on their heads across a tank and pose for fish amid a chorus of "oohs" and the snap of cameras. Some went home with dreams of becoming one of those wetsuit-clad animal lovers, working with the massive creatures day after day.
Then, a trainer died, pulled underwater by one of her charges. The story of Dawn Brancheau's death made headlines in 2010, but it wasn't until Gabriela Cowperthwaite released the documentary "Blackfish" three years later that we realized those childhood aspirations were tainted.
The film cast a harsh light on the seemingly beautiful world orcas spent inside the theme park. Tanks turned into prisons, trainers into anguished captors. And the adoring audience, vicious conservationists. The so-called "Blackfish effect" led to an astounding 84 percent collapse in profits for SeaWorld, and attendance plummeted.
But although the documentary was released more than two years ago, the park has been slow to acknowledge its own massive shortcomings. Promises to build a new, $100 million tank for its killer whales met sharp resistance from freedom-or-bust activists. The California Coastal Commission approved the plans but banned the breeding of captive whales, so the snazzy new cage was put on hold.
And on Monday, SeaWorld San Diego finally announced its iconic orca shows would end sometime in 2017, some four years after "Blackfish."
"We want to do something even better for the whales," executives said.
But again, the promises reflect a company struggling to hang on to an outdated business. The jumping, fish-eating, trainer-carrying show will be replaced with a "new orca experience, designed to take place in a more natural setting," The San Diego Union-Tribune notes.
"We start everything by listening to our guests," CEO Joel Manby told the Union-Tribune. "They want experiences that are more natural."
But to Manby, "natural" apparently still means artificial tanks rather than freedom. Slate notes the shows will take place in the same arenas with "minimal" spending to improve them. The whales will still jump, but they'll be "natural" leaps that don't appear to be tricks. And the other orca shows in Orlando and San Antonio won't be following suit. For them, the Shamu Show will go on.
SeaWorld has yet to release its third-quarter attendance and profit numbers, which would reflect the highly lucrative summer season. But the tides have already turned.
The company's demise has been a long time coming, and those kids who used to dream of riding atop the mouth of an orca would now very much prefer to see them in the ocean.
Because, yes, killer whales do jump. But they jump in the wild without the promise of a dead fish. Let's go see them there.
Calling all HuffPost superfans!
Sign up for membership to become a founding member and help shape HuffPost's next chapter