SeaWorld is under fire after its trainers failed to help a distressed pilot whale stuck on a ledge for at least 25 minutes as the audience watched in horror. The disturbing incident was caught on camera by one attendee who says his view of SeaWorld has been changed forever.
Carlo De Leonibus was with his family at the Orlando, Fla., park on July 20 to celebrate his daughter Catiana's 11th birthday, according to the New York Daily News. Catiana was having a great time until she noticed a short-finned pilot whale, a member of the dolphin family, stuck on a ledge at the edge of a pool. The audience watched as the animal struggled to get back in the water for several minutes.
(Watch footage of the struggling pilot whale in the video below.)
After some time, De Leonibus went to alert a uniformed employee about the situation. That individual allegedly told him the sea mammal was just "playing," according to TakePart. Trainers were not by the pool at the time due to a lightning storm.
"The crowd was in a rage, in an uproar," De Leonibus told Tampa Bay's WTSP. "Some of them were stomping their feet. The gentleman behind me threatened to go protest. He was really upset."
The father recorded footage of the animal laboring in the shallow water. Viewers can see it waving its tail and wriggling as other pilot whales swim up to try and help. Audience members can be heard yelling in the background. In the caption, De Leonibus writes 25 minutes passed before two trainers eventually went and pushed the dolphin back in the water.
"I went up to where it was and began screaming at a trainer to help the dolphin," she told TakePart. "He said they leave them there to learn how to get down, but the dolphin was still stuck after 30 minutes and people were screaming louder and harder. I felt so bad for the dolphin, and kept pointing it out, but he wouldn't listen. He told my dad, 'We can't do anything about it.'"
The experience left her distraught.
"She was heartbroken," her father told WTSP. "She was crying at night. She was really upset. She felt that SeaWorld was going to take care of their animals."
Nick Gollattscheck, a rep for SeaWorld, told The Huffington Post in an emailed statement Monday that the animal was never in danger. He said pilot whales exhibit such behavior "daily and sometimes hourly." The dolphin in question was beached and stranded when saved by SeaWorld's animal rescue last Labor Day. After rehabilitation, it was deemed un-releaseable by the federal government.
The younger and more inexperienced animals – like the one on the video – sometimes take a little longer to find their way back to the water because they haven't completely mastered the technique yet. When this happens the animal is constantly monitored by our animal trainers. The whale was never in danger. In fact, the pilot whales are trained to swim onto the ledge so we can monitor their growth and give them veterinary care.
News of this incident comes as activists protest SeaWorld and its treatment of captive animals. On Saturday, a few dozen picketers gathered at the park for the "Empty the Tanks" campaign, according to Orlando's WFTV. The protest followed the release of "Blackfish," a documentary examining the maltreatment of killer whales at SeaWorld.
WARNING: Content contains strong language and may be disturbing.
UPDATE: PETA responded to The Huffington Post's request for comment and highlighted other issues SeaWorld has had in terms of animal safety.
"Audiences should be horrified by every video taken inside SeaWorld," PETA wrote in an emailed statement Monday. "Whether they show a pilot whale stranded on a concrete ledge in front of a shocked crowd, an orca killing his trainer, or intelligent, sensitive whales forced to swim day in and day out in tiny circles for a reward of dead fish, these videos are a potent reminder that SeaWorld keeps marine mammals trapped in concrete tanks that bear no resemblance to their habitat in the wild, with no room in which to swim, no family groups, and no stimulation."
This post has been updated with comments from SeaWorld.
WATCH:
Before You Go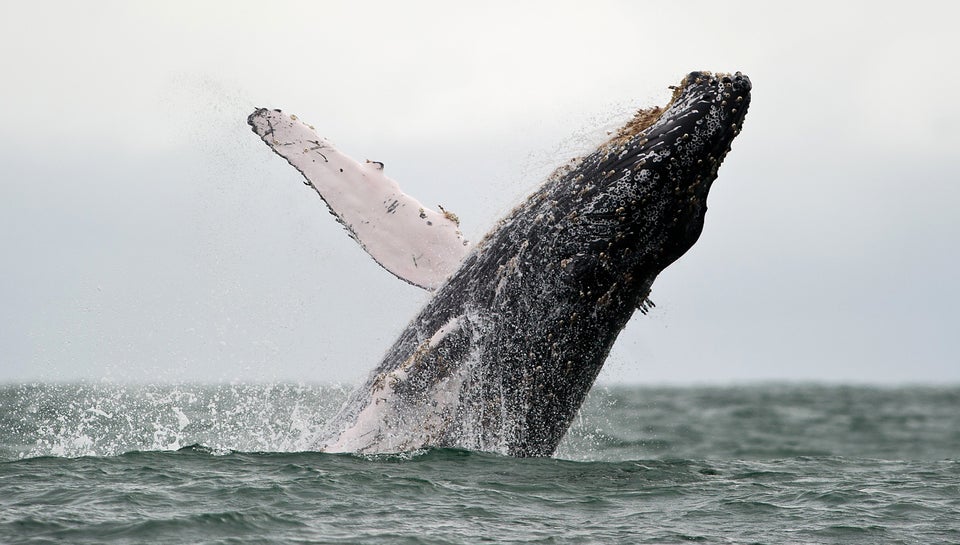 Whales In Action
Popular in the Community