A 3-month-old killer whale at SeaWorld has died after suffering from an infection over the weekend, the marine park announced. She was the last whale to be born since SeaWorld discontinued its breeding program.
Kyara, who was born in April, died at San Antonio's SeaWorld park on Monday after showing signs of pneumonia, SeaWorld said in a statement.
"Despite (the staff's) best efforts, her health continued to decline and she passed away earlier today,"the statement read. "The veterinary team will conduct a full post mortem examination to determine the cause of death. It may take several weeks before results are finalized."
The park said that pneumonia is one of the most common causes of morbidity or illness in whales and dolphins, "both in the wild and in aquariums."
Over the last 30 years, nearly 150 sea lions, beluga whales, orcas and other dolphins have died from infections at SeaWorld's three parks in Orlando, San Antonio and San Diego, San Antonio's Express-News reported.
Kyara's death is particularly significant, since the park announced in March 2016 that it would be ending its breeding program. The decision followed public backlash after the 2013 release of "Blackfish."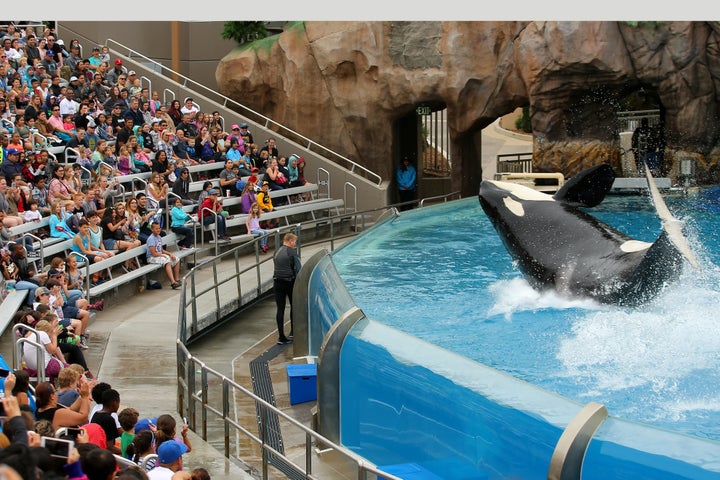 SeaWorld CEO Joel Manby, in announcing the program's end, said the park wanted to appease those who are more "conservation-minded." Kyara's mother, a 25-year-old orca named Takara, was already pregnant at the time of that announcement.  
The last time SeaWorld collected an orca from the wild was 35 years ago, according to the park. After that, its whales were either purchased from other parks or were bred through artificial insemination.
On Monday, animal-rights group People for the Ethical Treatment of Animals held a protest outside of SeaWorld San Diego's orca show. During that event, Oscar-nominated actor James Cromwell was arrested for helping to interrupt an orca show with a megaphone.
"Orcas deserve a full life in the ocean, not a life sentence of swimming endless circles until they drop dead from disease," the 77-year-old actor, who starred in "Babe" and the FX TV series "American Horror Story," said in a statement. "My friends at PETA and I want SeaWorld to move these intelligent animals to seaside sanctuaries without delay."
REAL LIFE. REAL NEWS. REAL VOICES.
Help us tell more of the stories that matter from voices that too often remain unheard.
BEFORE YOU GO