Four-year-old Seb White from the U.K. debuted as the first model with Down syndrome in a British television commercial for a major brand on Wednesday. He appears in Marks and Spencer's 2012 Christmas ad -- a highly anticipated annual campaign.
According to The Sun, Seb's mother Caroline had noticed a lack of commercial models with disabilities and wanted their family to remedy that situation. After a number of "brutal knockbacks," White posted a photo of her son on Marks and Spencer's Facebook page requesting that the department store consider him as a potential model.
"Almost instantly there were comments from complete strangers saying they thought using Seb as a model was a brilliant idea," White told The Sun.
Marks and Spencer contacted the family to book Seb as a model in their Christmas catalogue. After a job well done, they asked Seb to participate in their TV commercial too.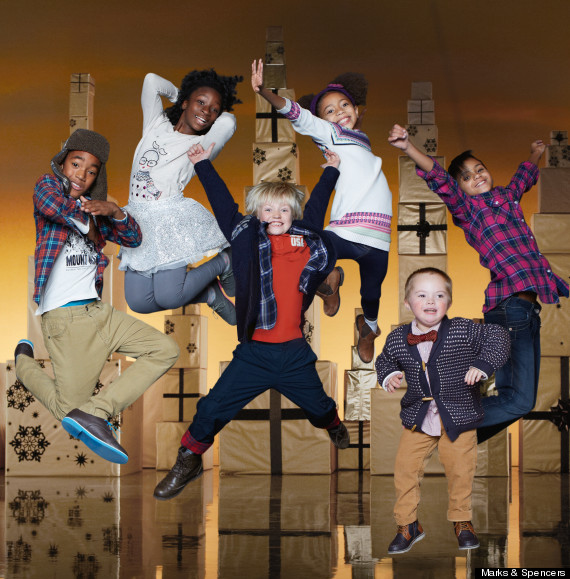 "Our initial involvement with Seb was due to the overwhelming response to Caroline's post on our Facebook page... However, he won his place in our TV ad thanks to the natural charm and magical personality he showed on set at our magazine shoot," Steve Sharp, executive director of marketing of Marks and Spencer told This Is Bath.
Seb is thrilled to see himself on TV, the Daily Mail reports, and his mom hopes his presence will also help normalize his disability. "If Seb appearing in a TV campaign raises awareness of Down's, challenges stereotypes and helps other parents feel better about having a child with it, I will be very happy," she told the Mail.
And she emphasizes how important it is that Seb's disability isn't highlighted, that he's positioned as just one of the kids.
Seb joins two other children in the U.S. with disabilities who have made large impacts on the modeling industry. Six-year-old Ryan Langston has been featured in ads for both Target and Nordstrom. And in July, Valentina Guerrero, a 10-month-old with Down syndrome was selected as the face of a designer swimwear line for kids. Guerrero's mother told the Down Syndrome Association of Miami why she was so excited when her daughter was chosen. "The fact that they are placing Valentina on the [cover] of a catalogue sends a very clear message of inclusion; all children deserve the same opportunities, regardless of their physical, economic, social, racial or medical condition," she said.

Related