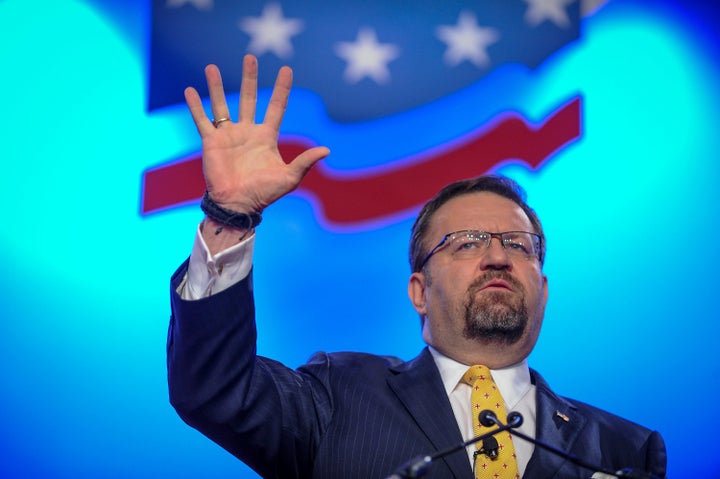 Sebastian Gorka, the endlessly controversial former aide to President Donald Trump, has been hired by Fox News.
Gorka is known for espousing aggressively anti-Islamic views during his numerous TV appearances on behalf of the president both before and after the election. In August 2016, while also advising Trump's campaign, he told law enforcement officials at a FBI course that all Muslims are either already radicalized or soon to be radicalized, the Daily Beast reported. (The FBI subsequently terminated his gig as a lecturer.) And in August of this year, he was reportedly upset that Trump did not use the phrase "radical Islam" or "radical Islamic terrorism" in a speech about Afghanistan.
Yet for all his self-professed knowledge on the topic, Gorka has spent little time in the Middle East and does not speak Arabic.
Also troubling are Gorka's ties to Nazi sympathizers. In January, he wore a medal given to him by his father that signified his father's membership in Vitezi Rend, a Hungarian group that had collaborated with Nazis during World War II.
"I'm a proud American now and I wear that medal now and again," British-born Gorka told Breitbart News. He said it was to remind him what his parents had suffered.
An investigation by Forward magazine found that Gorka had worked with anti-Semitic groups and public figures between 2002 and 2007. When he was asked about those people, Gorka deflected by noting that his parents had "lived through the nightmare of WWII and the horrors of the [Hungarian] Nyilas puppet fascist regime."
So it seems Gorka will be a perfect fit for Fox News.
Popular in the Community