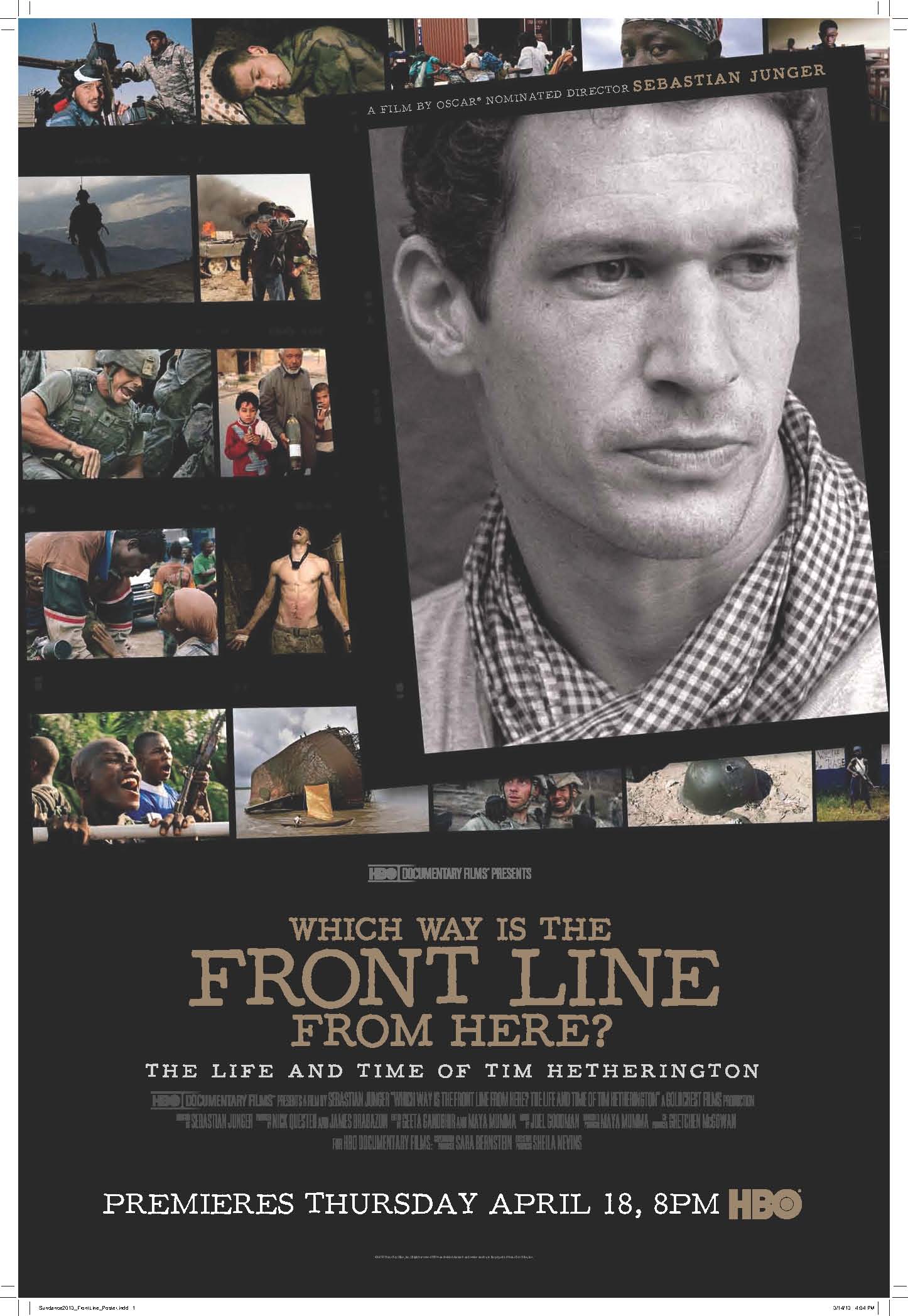 It is rare to witness a soul who, with a combination of courage, curiosity, and an indelible passion for humanity and the human story, is able to rise above their own singular existence to bring forth images of the multiple realities occurring simultaneously in our world. A soul who is both astute witness of life and full-hilt engager of it, and ambitious if only for to bring unfiltered truth to all people. But that is just who Timothy Alistair Telemachus Hetherington was, and what he provided our world in his short lifetime.
A man impassioned to connect, not above or below, but equal and lined up with each fellow human being he encountered, Tim was an Oxford graduate and could not simply be described as a photographer or journalist. He once said himself he was "not interested in photography per se" but in what it could communicate.
Ahead of his time, he was extraordinary because he lived and cared fully, and illuminated for the world the common denominators we share, even amidst atrocity. Through image-making, he was able to go where most have not: to remove the glass between subject and object. He would surely say, as his colleague and friend James Brabazon did, that "he was just Tim." And that is what made him simply brilliant.
Approaching the two-year anniversary (April 20, 2011) of Tim's tragic death in Misrata covering the risings of the Arab Spring, Sebastian Junger, his close friend and co-director of their Oscar-nominated Restrepo has created an extraordinary documentary of his friend's life -- a film which taps into the simple, profound truths that Tim embodied and the raw authenticity of his questions. Which Way Is The Front Line From Here: The Life and Time of Tim Hetherington elicits a profound exploration of the common humanity we share and the questions and meaning that arise out of war.
The film debuts Thursday, April 18 on HBO. Executive Producer and President of HBO Documentary Films Sheila Nevins introduced the N.Y. Premiere last week, underscoring the depth of Junger's efforts and the love put into the film by all involved. Only six years before in 2007, Junger and Hetherington had spent an entire year on the front line in Afghanistan's Korengal Valley with the men of Outpost Restrepo, named after a fallen soldier. In this time the two journalists experienced what many have never -- the face-front intensity of life-endangering circumstances on a daily basis, and the surfacing of some of the most basic human needs amidst the limbic-charged environment of war. The two formed a deep bond that has clearly transformed Junger on multiple levels, and the film is an incredibly moving tribute and living question to us all.
Part of what made Tim unique was the ahead-of-his-time inner and outer angles he took with him into the field. A wily and humorous spirit, he says in the film, "I was liberated by image-making" and "realized we are living in an image-based world and that would be an interesting way to communicate with people." Tim's father, Alistair, shares in the film that Tim would often say "do you realize how rich you are," pointing to the privilege and particular experience many individuals take for granted in the Western world.
The relational aspect of image-making removed the lens as bulwark between image-maker and subject for Tim. He took time to connect. He listened to people's stories and felt them deeply, hoping to transmit the significance of individual lives and the affects and causes entangled with the self-reciprocating cycles within war and beyond. He wanted to build bridges for people to find ways to talk about things that "they were reluctant to talk about, by disguising them in other vehicles" such as imagery or sport. He never swooped in and out in moral outrage to capture images, but rather was moved for himself and on behalf of the world to build bridges between people, to build understanding and explore meaning. These were the qualities that made this man so unique, and so real, and so well-loved by all whom he came across.
One primary theme of both Tim's work and the film is the relationship that men have with war, what it provides them, why it is so bonding and the difficulty that they have in returning home. Junger says, "Tim was looking at the truth about combat as a form of bonding" and explains that it was the aspect of that bonding, what Tim called "man Eden," that informed his lens during their time in Afghanistan. Bottom line, Junger explains, there is no other place that this type of emotional and unconditional love between men is possible -- it simply is not reproducible in society.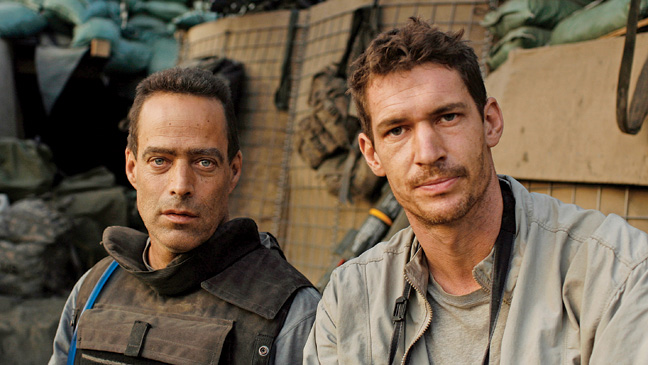 Junger and Hetherington at Outpost Restrepo, 2007
Tim took things to the next level by creating images that were not typical. He opened up the hard-deck of what war journalism per se is, and via the imagery of his Sleeping Soldiers series depicting the men of Restrepo during a rare lull in fighting, he shows something brilliant: their vulnerability. There is a tone of seeing from the eyes of a mother, as she views her son, vulnerable as in his birth or death, naked to the world and a fragile human being, so contrary to the typical depictions that self-selected big media images most often proffer. There is also a sense we get of an attempt to show the shared predicament of all soldiers and the world's relational perception of them, regardless of sides.
James Brabazon, who was close with Tim and who'd brought him to his first frontline experience in Liberia, earmarks the commonalities and "feedback loop" that Tim discovered -- that soldiers worldwide imitate other soldiers, and that cycle reciprocates itself over and over, creating a further-embedded mold of what war is and should look like, and on its way also densensitizing them to the reality and extremities as well as to the human spirit and individual lives who are a part of the story.
Junger shows the softer side of Hetherington and the deeper questions he was asking himself about the risks of his work. Hetherington ponders out loud the edges of losing control in being exposed over time to extreme conditions and thus less sharp to the realities of the situations he found himself in, and seemed to always be on point in checking himself. He says in the film how pointless it would be to lose that edge and to die "for what -- a picture?" Yet in the end, Tim could not not do what he did. He left us all too soon to ponder and make sense of how we might remove the glass lens separating ourselves from each other, our world, and the blunt reality alongside the astounding beauty surrounding us in this fleeting experience on earth.
The closing shot of the film sums it up: we see Tim approaching his own lens, staring into it intently, and then tapping the lens while a giant smile breaks over his face. And a laugh that tosses off our tendency to forget the world we share, forgetting to look up from our lives and notice the ten thousand opportunities to discover and to understand, to stand for truth, to connect, before our time comes to go as well.
After-note: In the wake of Tim's tragic passing, Sebastian Junger has founded RISC (Reporters Instructed in Saving Colleagues) a key organization providing free training to journalists in emergency medical response. Tim's parents, Judith and Alistair Hetherington have created a foundation in Tim's name to support struggling students, artists and those in need in the U.K. and developing world. The Foundation will seek to encourage others in Tim's footsteps, highlighting humanitarian and social concerns throughout the world.
Which Way Is The Front Line From Here: The Life and Time of Tim Hetherington debuted on HBO Thursday, April 18th. It is an incredibly moving portrait of the acclaimed image-maker and documentarian by his Restrepo Co-Director and Journalist, Sebastian Junger. For a full schedule of air dates and times click here
Calling all HuffPost superfans!
Sign up for membership to become a founding member and help shape HuffPost's next chapter