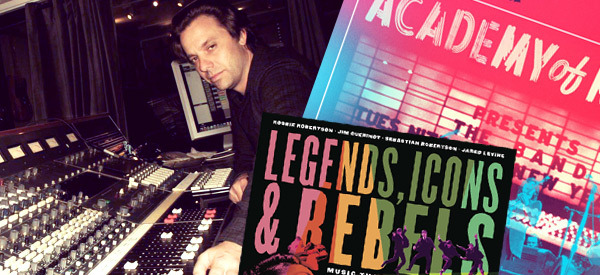 Composer/Producer Sebastian Robertson
Sebastian Robertson may not be a rock star like dad [guitarist and The Band co-founder] Robbie Robertson, but he's every bit his father's son. A successful composer in his own right, Robertson (the younger) stands equally in awe of all things rock, and, like the old man, is just as wont to wax scholarly on its magnificence. And so, it shouldn't surprise anyone that father and son also enjoy a healthy work relationship, which most recently included collaboration on two monumental undertakings.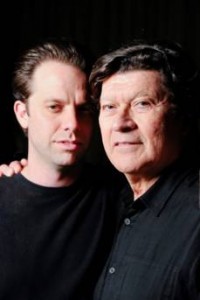 Sebastian and Robbie Robertson.
The first, Legends, Icons & Rebels: Music That Changed the World (Amazon.com: Best of the Month: Non Fiction Books) by Robbie Robertson, Jim Guerinot, Sebastian Robertson, and Jared Levine is an illustrated book for children highlighting the musical legacies of 27 of popular music's most influential voices, accompanied by two CDs that include recordings by Ray Charles, The Beatles, Johnny Cash, Joni Mitchell, and many others.
Robertson's producing/engineering skills were also enlisted for Live At The Academy Of Music 1971, a 4-CD+DVD set of The Band's legendary series of four concerts, performed in the final week of 1971 at New York City's Academy Of Music. The box set includes new stereo and 5.1 surround mixes (discs 3 and 4 were orchestrated by Sebastian Robertson and sound mixer Jon Castelli), 19 previously unreleased performances, and newly discovered footage of two songs filmed by world-renowned documentarians Howard Alk and Murray Lerner.
We recently spoke to Sebastian about carving his own paths, his role in preserving The Band's musical heritage, as well as contributing to his own son's musical education.

Let's talk about you for a bit. Tell me about your life to date as a musician.
What I primarily do is compose music for TV shows, with a real focus on non-scripted reality shows. I also own and operate a music library called We the People, and that library services about 45 different TV shows. Essentially, I have a team of composers who work under me -- I'm also one of composers. I take those batches of music to different TV shows. I have relationships with several music supervisors and get the music placed. It's an interesting line of the music world I had no idea I'd end up.
Had you envisioned something different for yourself?
Growing up I thought, "Well, I'll just write some songs that will be played on the radio, I'll sell millions of records and be a rock star like my dad" (laughs). I came to find that to be a rock star takes an extraordinary amount of work, including incredible hard, grueling on-the-road work. Then I thought, "wait, you mean I have to drive around from town to town and play shows for four people in order to earn my stripes?" Now I had friends who did it, and obviously my dad did it with The Band -- those guys were on a mission -- but I could not do that.
How did Legends, Icons & Rebels come to be conceptualized as a book for children?
Part of this came from an overwhelming fear of, "what if in one generation they don't know who Otis Redding is anymore?" When I was a kid, classic rock and soul singers were still universally praised and we knew where it came from. We may not have been sitting around listening to Nat King Cole, but we knew who he was. Today, that connection seems not quite as strong. So, this project was an effort to keep those artists alive. The internet is wonderful, to have the access at your fingertips, but at the same time you're overwhelmed by the access to sheer numbers. So, what we wanted to do is give parents and kids a bit of a road map. When we started writing the book, my son was around two years old. Now he's eight and for the first time he's becoming interested in music, so it's perfect timing in my house-hold, and that's really exciting for me personally.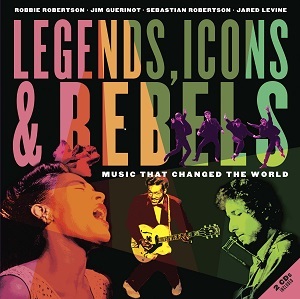 Twenty-seven profiles of some of the greatest musicians that ever lived.

What's your earliest rock 'n' roll memory, when you consciously felt the music having an irreversible effect you?
The first moment it really happened to me was with Peter Gabriel's Security. I was probably about my son's age, seven or eight years old. My dad had a little room which was kind of like his work room -- it had a piano, great sound system, a couple of guitars, couches, and some recording gear. I went in there, put that record on -- and it was the first time I picked a record out on my own and listened to it, front to back, and my life was changed at that very moment.
It's shocking to think that your first love was progressive rock.
Funny enough, from Peter Gabriel, I became obsessed with [the band] Devo. There were three Devo albums I would play non-stop. So, for Halloween I dressed like I was in Devo, and because of my dad's contact at the record label -- he took me to see Devo at the Forum which was an incredible show -- I was able to get the pot hat and the whole Devo outfit.
After that, I drifted into more traditional rock -- Led Zeppelin blew my mind, I started listening to The Band, then Jane's Addiction, and Firehose.
Was music ever a source of bonding between you and your dad?
Bonding yes, but even though he is this fountain of musical knowledge, I wanted to find my own way. I would go through his record collection, back when it was just records, and through that I discovered the blues. I'd be in my bedroom playing Bo Diddley and Muddy Waters records, and he would come in and tell me about these guys, about what I was listening to, and his own experiences of being on tour with Ronnie Hawkins and opening for Bo Diddley. Lo and behold, I'm listening to Bo Diddley doing a version of [the Band's] "The Shape I'm In," so it all came full circle.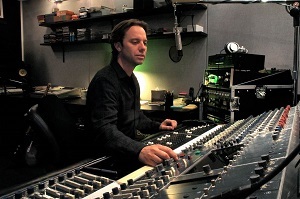 At work behind the board at Village Recorder in Los Angeles.
What was the process for picking songs and artists for Legends, Icons & Rebels?
It was very collaborative. The four of us started getting together and throwing names into the pile: the Beatles, Bob Dylan, Billy Holiday, Ella [Fitzgerald]. And there were so many people that didn't make the cut, but you have to make these executive decisions, as painful as they are.
Roy Orbison and I remember thinking, "How are we not going to have Roy Orbison on this?" We had Simon and Garfunkel at one point, and I really wanted T. Rex to be on this set (we had "Cosmic Dancer" for the longest time). But it wasn't that the songs and artists who didn't make the round of cuts aren't great enough; our intention was to create a document that we felt was cohesive. At the same time, in the back of our minds, we were all thinking, "We've got to create a Volume Two," and to connect the legendary blues artists and the legendary rock artists they influenced -- so then we get The Allman Brothers, Led Zeppelin, Bowie, the Rolling Stones ...
Yes, The Band absolutely needs to be on the list. How do you not have them when you're talking legends, icons & rebels? Obviously, people our age know all of the classic rock bands inside and out, but when you realize this is for kids, ages 8-12 years old, they're not going to know 75% of these people. So on this next volume we will turn kids on to The Band, The Who, and T. Rex.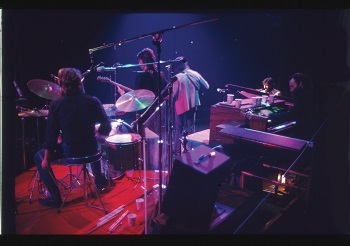 The Band ushering in the New Year. New York City, 1971. (Photo by Ernst Haas).
What kind of music is your son grooving to at eight years old?
Bob Marley. He's just so connected to that rhythm and that vibe.
Do you feel a responsibility to point him in the right direction as far as musical taste is concerned?
I've gone through a bunch of music with him, and I don't say anything because I want him to form his own opinion. But, boy, when Bob Marley comes on he's like, "that's my guy."
How did the Live at the Academy of Music 1971 project evolve?
Capitol Records, who own the material -- they're the ones who make the decisions -- came to my dad and said, "We really want to re-visit [the 1971 live album] The Band: Rock of Ages, since we have most of the original two inch tapes from the shows." Since my dad and I bounce ideas off each other all of the time, I said, "Well, I know where in our archives all of those amazing Rock of Ages photos are that have never been seen, as well as articles, and I can pull them all out." At first, I was just going to consult on the project, because I've often had issues with these box sets. Often times, it's a case of the record company just releasing stuff and the true fans feel that they're getting screwed over. I personally wanted to prevent them from feeling that way. So, I decided that there should be all new artwork -- there's a 50 page book that comes with this, and 97 percent of the photos have never been seen.
Not to mention some never-before-seen live footage.
Yes, there is a bit of footage that we could get. The only drag is that we have footage of three other songs, but Capitol lost the audio so we couldn't release them.
From what I've heard so far, the songs are remarkably more present than what was heard in the original mixes for Rock of Ages. When did the idea of overhauling the audio come about?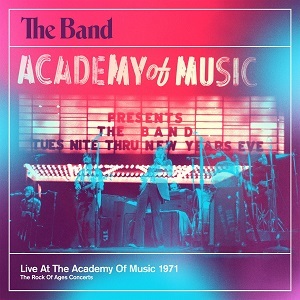 Newly released 4-CD+DVD Collection Builds on The Band's 'Rock Of Ages' concert classic.
I told everyone, "I want to do a mix and appeal to the bootleggers out there. I don't want it to be slick and polished, I want it to be raw and find every little conversation piece, every yelp and holler from the crowd and guitar tuning, all the little mistakes, and I don't want to cover those up. Not only do I not want to cover it up, I want to highlight those moments. I've got to do this." As a fan, there is nothing that takes me into the music more than those personal moments that happen on bootlegs. These guys were on fire during those shows, you'll hear, and there's no covering up anything in the mixes of anything I did. Anyway, my dad and Capitol Records liked the idea.
What were some of the defining moments for you on this particular project?
Musically, The Band always fit together; there's just this kind of flow, and you don't realize what these guys were doing individually. So, when I got the pro-tools sessions of the Academy of Music shows and I put up the individual tracks with my mixing partner, John Castelli, I was most moved by [keyboard/vocalist] Richard Manuel. The tortured soul that I imagine that he was comes through in his voice like almost no other musician I've ever heard. Just listening to him singing backup, or taking the lead on "Rockin' Chair," before Levon takes over, and god does Richard sing "I Shall Be Released" on this. When I got to experience something like that, I felt more inside The Band than I've ever felt in my life.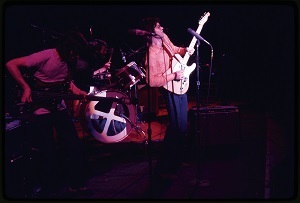 "These guys were on fire." Robbie, flanked by late bandmates Rick Danko and Levon Helm. (Photo by Enrst Haas).
Do you remember Richard personally?
A little bit. By the time I was born, The Band was already heading in a different direction. Now my dad and Richard were still friendly later on, and I remember him coming over to our house a few times and he seemed like a very sweet, loving guy.
Being in The Band obviously was a defining period in your dad's life. Does it make the experience that much sweeter for you to be part of preserving his legacy?
At the risk of sounding really sappy, I f*&%* love my dad! We have a great, great relationship, so working together on a project like this is one of the greatest joys I've ever experienced. It's also emotional for him to revisit these moments of his life, and three of his best friends are not here anymore.
To read more of Steve's interviews click here
Related
Popular in the Community