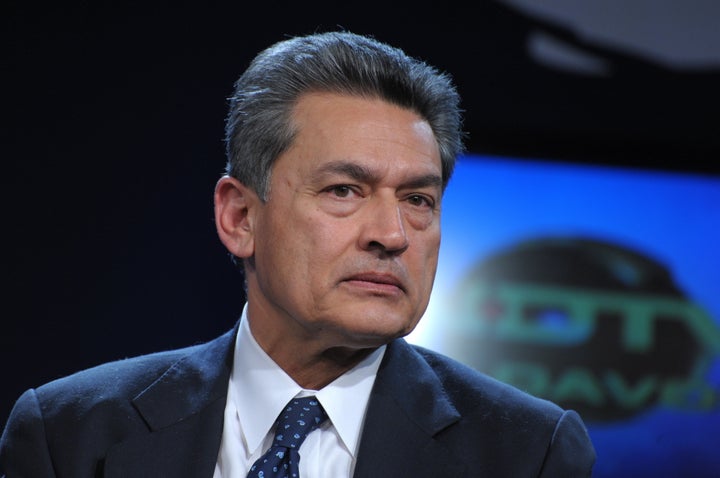 NEW YORK (Jonathan Stempel) - Former Goldman Sachs Group Inc (GS.N) director Rajat Gupta and the U.S. Securities and Exchange Commission are dropping litigation against each other stemming from the sprawling federal insider trading probe.
The agreement, revealed Thursday in a court filing, for now ends litigation against Gupta, a former chief of consulting firm McKinsey & Co and one of the highest-profile defendants accused by the government of wrongdoing.
Investigators have said Gupta passed tips to Galleon Group hedge fund founder Raj Rajaratnam about Goldman, including a possible multibillion dollar investment from Warren Buffett, and Procter & Gamble Co (PG.N), where Gupta was also a director.
Prosecutors named Gupta as an unindicted co-conspirator in that case, which led to Rajaratnam's conviction in May, but have not charged him criminally.
Citing the "public interest," the SEC dismissed administrative proceedings filed on March 1 accusing Gupta of passing tips illegally to Rajaratnam.
"Dismissing these proceedings will not prevent the Commission from filing an action against Mr. Gupta in United States District Court," the dismissal order shows.
As a result of the dismissal, Gupta agreed to dismiss his lawsuit filed in Manhattan federal court against the SEC.
In it, Gupta accused the regulator of depriving him of a jury trial and other procedural safeguards by bringing administrative proceedings rather than filing a lawsuit.
SEC STILL "COMMITTED" TO CASE
A two-page letter agreement between Gupta and the SEC was made public on Thursday by U.S. District Judge Jed Rakoff, who presided over Gupta's lawsuit. He said that agreement will moot that case.
"Mr. Gupta is very pleased that as a result of his lawsuit the SEC has dismissed its administrative proceeding and he will no longer be singled out for disparate treatment," his lawyer Gary Naftalis said in a statement. "Mr. Gupta's lawsuit against the SEC has achieved all of the relief he sought. As we've said previously, the SEC's allegations are totally baseless."
SEC spokesman John Nester said: "The staff is fully committed to the case and will proceed as appropriate."
A spokeswoman for U.S. Attorney Preet Bharara in New York declined to comment.
Gupta had been accused by the SEC of passing advance tips about Goldman's financial results, and a $5 billion investment from Buffett's Berkshire Hathaway Inc (BRKa.N) (BRKb.N) at the height of the 2008 financial crisis.
On May 11, a federal jury convicted Rajaratnam of 14 securities fraud and conspiracy charges related to insider trading.
At Rajaratnam's trial, prosecutors played secretly recorded phone calls to show Gupta's alleged tips.
In one, Rajaratnam and Gupta discussed a Goldman board meeting. In another, Rajaratnam told a Galleon colleague that a Goldman director provided him with details that the bank was on track for a surprise loss in the fourth quarter of 2008.
Rajaratnam is expected to be sentenced in the criminal case on September 27. He also faces SEC civil charges.
The case is Gupta v. SEC, U.S. District Court, Southern District of New York, No. 11-01900.
(Editing by Tim Dobbyn and Lisa Shumaker)
Calling all HuffPost superfans!
Sign up for membership to become a founding member and help shape HuffPost's next chapter