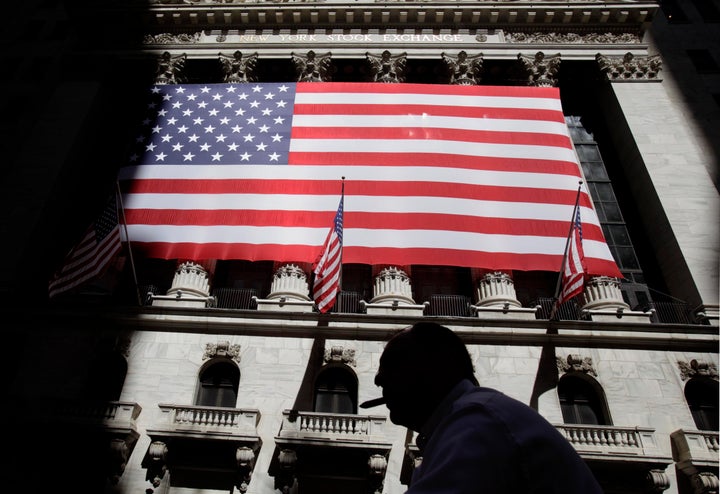 • Overwhelmed regulators are giving Wall Street a break by providing "temporary relief" from some Dodd-Frank financial regulatory reform provisions regarding derivatives known as "security-based swaps."
This move comes in the wake of intense lobbying by the financial industry to weaken these rules.
According to the Securities and Exchange Commission, the agency will:
1. Provide guidance regarding which provisions of Subtitle B of Title VII will become operable as of July 16, and, where appropriate, provide temporary relief from several of these provisions.

2. Provide guidance regarding – and where appropriate, temporary relief from – the various pre-Dodd-Frank provisions of the Exchange Act that would otherwise apply to security-based swaps on July 16. Under Dodd-Frank, security-based swaps would be included in the definition of "security" under the Exchange Act. While such swaps will be subject to provisions addressing fraud and manipulation, the Commission intends to provide temporary relief from certain other provisions of the Exchange Act so that the industry will have time to seek, and the Commission can consider, what if any further guidance or action is required.

3. Take other actions such as extending existing temporary rules under the Securities Act, the Exchange Act, and the Trust Indenture Act, and extending existing temporary relief from exchange registration under the Exchange Act. This will help to continue facilitating the clearing of certain credit default swaps by clearing agencies functioning as central counterparties.

• The country's top nuclear watchdog "strategically" withheld information from coworkers as part of his effort to halt work on the controversial waste repository at Yucca Mountain in Nevada, according to a new report by the Nuclear Regulatory Commission's inspector general. The decades-long effort to develop the site as a waste dump, which has cost almost $14 billion, was shut down by the government earlier this year.
NRC chairman Greg Jaczko is described as yelling at people frequently, which makes it "difficult for people to work with him" and creates an "intimidating work environment."
Some of his actions were particularly petty -- one commissioner claims that he was told that if he didn't withdraw a request for an additional staffer, Jaczko would withhold authorization for that commissioner's foreign travel.
According to the report, Jaczko failed to adequately inform other staffers that he wanted to use Obama's budget request, which called for terminating the Yucca Mountain project, as a way to halt work on it. Part of that involved "suppressing papers or manipulating the agenda planning process" because Jaczko controlled the sequencing of papers to be presented to the commission for a vote.
Along with this spring's Japanese nuclear disaster, in which low water-levels in pools of spent fuel rods ended up releasing radiation into the environment, the NRC decision highlights a waste crisis in the nuclear industry. Currently, about 65,000 metric tons of nuclear waste are stored at reactor sites, posing risks.
• Some of the vacancies at financial regulatory agencies are filling up -- the Obama administration is considering nominating lawyer Thomas J. Curry to head the Office of the Comptroller of the Currency, Martin J. Gruenberg to chair the Federal Deposit Insurance Corporation and former banker Raj Date to lead the new Consumer Financial Protection Bureau.
• Despite long-established Clear Air Act amendments requiring coal power plants to install scrubbers on smokestacks to reduce the emission of sulfur dioxide and nitrogen oxides into the air, not much has been done. Industry representatives often complain about the cost of such upgrades and more than half of boilers attached to tall smokestacks continue to lack such scrubbers, according to a new Government Accountability Office report:
For example, GAO found that 56 percent of boilers attached to tall stacks lacked scrubbers to control SO2 and 63 percent lacked post-combustion controls to capture NOx emissions. In general, GAO found that boilers without these controls tended to be older, with in-service dates prior to 1980. GAO identified 48 tall stacks built since 1988--when GEP regulations were largely affirmed in court--that states reported are subject to the GEP provisions of the Clean Air Act and for which states could provide GEP height information. Of these 48 stacks, 17 exceed their GEP height, 19 are at their GEP height, and 12 are below their GEP height. Section 123 of the Clean Air Act defines GEP as the height needed to prevent excessive downwash, a phenomenon that occurs when nearby structures disrupt airflow and produce high local concentrations of pollutants.
• In an interview with Dan Rather, former TARP Special Inspector General Neil Barofsky warns that there are not enough safeguards to prevent another financial crisis.
"The next crisis may cost $5 trillion in upfront costs just to deal with the large institutions and their assets ... You can't look at what happened in the run-up to 2008 and see how it's not going to repeat itself given what we've done."
Calling all HuffPost superfans!
Sign up for membership to become a founding member and help shape HuffPost's next chapter