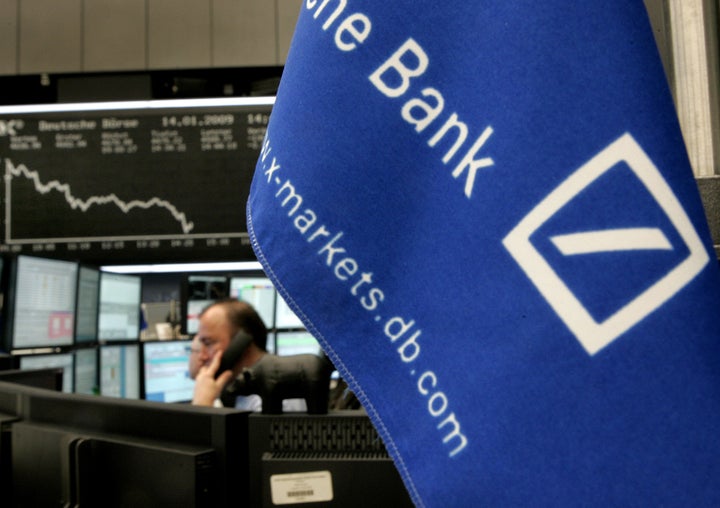 The Securities and Exchange Commission investigates a Wall Street behemoth over claims that it assembled and sold a package of subprime mortgage-backed securities at the behest of hedge fund king John Paulson without telling other investors that Paulson planned to short it.
Almost two years ago, Goldman Sachs was in the SEC's cross hairs over such an allegedly fraudulent scenario and ended up settling charges for $550 million, but not without becoming the poster boy for Wall Street shenanigans that helped crash the economy. Now, it's Deutsche Bank that is being probed by the SEC, Der Spiegel reports, for allegedly letting Paulson help pick "junk" mortgage-backed securities that went into a collateralized debt obligation without telling other investors that the hedge funder was shorting the CDO, called START.
Deutsche Bank was the fourth-largest issuer of CDOs in the United States, but it has largely avoided the glare of a federal investigation while its competitors, including Goldman Sachs, Citigroup and JPMorgan, have all been probed by the SEC over how they marketed deals involving subprime mortgage-backed securities. The agency has come under criticism for that lapse, with particular focus on the fact that the SEC's enforcement chief, Robert Khuzami, previously worked as the general counsel at Deutsche Bank when it was packaging such CDOs.
The bank gained a certain infamy for its role in packaging START, as well as other CDOs, during hearings led by Sen. Carl Levin (D-Mich.) last year. It was revealed then that Deutsche banker Greg Lippman once advised a colleague to buy protection for the bank against START, emailing him: "Start is crap you should short because I bet we'll have to ... buyback cash ones next year."
Another email that came out during the hearing described Paulson's role in structuring the CDOs:
"The $1 billion START 2005-B trade was backed by a static pool of CDS [credit default swaps] on mezzanine RMBS [residential mortgage-backed securities] for Paulson Advisors ($4 bln risk arb hedge fund). Paulson retained the bottom 6% of the trade and we sold the rest of the capital structure. Paulson, who came to us with the strong desire to short the U.S. housing market, wrote CDS on underlying ABS (over 100 names) to DB [Deutsche Bank] and DB intermediated them into the deal."
Germany's biggest bank was also sued over the deal last October by Loreley Financing, which had purchased $440 million worth of CDOs from 2005 to 2007. Loreley claimed that Deutsche defrauded the plaintiffs by issuing CDOs that were "destined -- and indeed, designed -- to fail."
Duncan King, a spokesman for Deutsche Bank, declined to comment on the SEC probe. As to the Loreley lawsuit, King stated in an email:
"Along with other banks and financial institutions, Deutsche Bank is faced with lawsuits brought forward by retail and institutional clients who have lost money in the course of the financial crisis. We look into these claims carefully and, if they prove wrong, defend ourselves vigorously."
SEC spokesmen and Loreley Financing's lawyer declined to comment to The Huffington Post.
The Zombie Insider-Trading Case
In another sign that the SEC is sharpening its claws, the agency isn't letting death get in the way of a case. On Friday, a New York federal judge granted the SEC the right to pursue the estate of Charles Wyly Jr., the Dallas billionaire who was facing insider-trading charges when he died in a car crash in August, Thomson Reuters correspondent Alison Frankel reports. Frankel adds that U.S. District Judge Shira Scheindlin, in her ruling, found "that it doesn't make sense to permit Wyly's estate to hold onto his allegedly ill-gotten gains simply because he's no longer alive."
FDA Monitored Email Of Medical-Device Whistleblowers
The Washington Post revealed Monday morning that the Food and Drug Administration monitored the personal email of its own scientists and doctors "after they warned Congress that the agency was approving medical devices that they believed posed unacceptable risks to patients, government documents show." The staffers have filed suit against the FDA in federal court in Washington, arguing that they were harassed or dismissed based on information uncovered through the snooping.
CFPB Outlines Ambitious Agenda For Next 6 Months
In its first semiannual report to Congress, the Consumer Financial Protection Bureau outlined an ambitious agenda, according to American Banker. Over the next six months, the CFPB plans to issue final rules requiring a lender to verify a borrower's ability to repay a mortgage loan; propose a rule streamlining disclosures required by the Truth In Lending Act and the Real Estate Settlement Procedures Act; propose rules regarding the mortgage market, including new servicing standards, loan originator compensation rules and restrictions on high-cost loans; and propose initial rules defining the scope of its nonbank program. The bureau has hired more than 750 staffers and spent about $123.3 million in fiscal year 2011, according to its report.
Food Industry To White House: Don't Make Us Pay For Safety
A coalition of food industry groups -- including the National Frozen Pizza Institute, American Frozen Food Institute and American Meat Institute -- wrote a letter to the White House Monday, urging the administration to stop using industry fees to fund food safety initiatives and to use congressional funding instead. "As consumers continue to cope with a period of prolonged economic turbulence and food makers struggle with record high commodity prices, the creation of new food taxes or regulatory fees would mean higher costs for food makers and lead to higher food prices for consumers," says the letter. "As such, we believe imposing new fees on food makers is the wrong option for funding food safety programs." Regulators and food safety advocates tend to prefer fees because they "guarantee a dedicated revenue stream for their activities," rather than depending on the fickle whims of lawmakers, reports The Hill.
California health officials are investigating skin-lightening products sold in the Bay Area for possible mercury contamination, says California Watch.
Two Japanese suppliers of automotive electrical components -- Yazaki Corp. and DENSO Corp. -- agreed to plead guilty and to pay a total of $548 million in criminal fines for their involvement in multiple price-fixing and bid-rigging conspiracies in the sale of parts to automobile manufacturers in the United States. It's the second-largest criminal fine ever for an antitrust violation, announces the Justice Department.
Popular in the Community