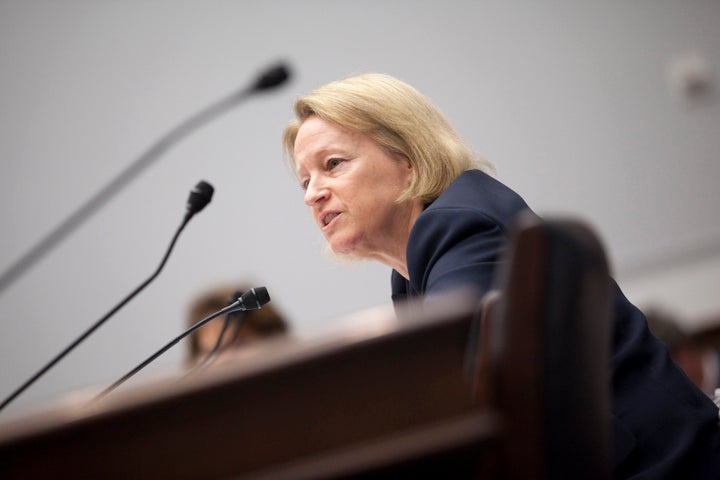 Another week, another Dodd-Frank proposed rule gets delayed and watered down.
The Securities and Exchange Commission approved on Wednesday new rules for hedge funds and private investment advisers that manage more than $150 million in assets to register with the SEC and disclose information about their operations.
But the implementation of the rules have been delayed nine months until March 30, 2012, and the SEC exempted small hedge funds and venture capital funds from most reporting requirements. The rules were passed in a divided vote, with Republican commissioners complaining that the exemptions were too narrow.
Last week, The Watchdog reported that key regulators, including the Commodity Futures Trading Commission and the SEC, delayed and weakened new rules and regulations.
FDA Procedures Could Allow Hazardous Medical Devices To Remain On The Market: GAO
The Food and Drug Administration's procedures for recalling hazardous medical devices is riddled with flaws that could leave the defective products on the market to potentially harm more consumers, according to a new Government Accountability Office report.
From 2005 through 2009, the FDA initiated over 3,500 medical device recalls, about 83 percent of which involving devices which carried a moderate health risk, the report said. Just over 40 percent of the recalls involved cardiovascular, radiological or orthopedic devices.
But in a crucial oversight, the FDA has failed to analyze that data to "determine whether there are systemic problems underlying trends in device recalls. Thus, FDA is missing an opportunity to use recall data to proactively identify and address the risks presented by unsafe devices," according to the report. In addition, gaps in the process limited the agency's ability to make sure the highest-risk recalls were prioritized and handled in a timely way.
"If unaddressed by FDA, the combined effect of these gaps may increase the risk that unsafe medical devices could remain on the market," the report said.
Obama Admin Slammed Again For 'Killing' Economy
The Obama administration's latest tongue-lashing by industry came from the chairman of the Associated Industries of Florida, who argued that over-regulation -- especially by the Environmental Protection Agency -- is "killing" the economy. Barney Bishop is particularly critical of the EPA's proposal to prevent nutrient pollution in Florida waterways, which would cost industry millions by requiring the installation of pollution-control equipment.
Watch Bishop's comments on Fox Business Channel:
Bishop and AIF have a long history of criticizing environmental regulations: Last May, he said that EPA chief Lisa Jackson "thinks she talks to God and she's the only one who knows exactly what is the right thing to do about our environment," reports the American Independent.
In 1966, AIF vigorously opposed the authority of the state of Florida to combat water and air pollution. "Waters cannot all be pure enough to drink," the group's then executive vice president, John C. Lee, told the Ocala Star-Banner. "Some waters must have as their primary purposes the fulfillment of recreational needs. Some must be recognized as being commercial or agricultural in nature. And some must be recognized as being industrial."
IRS's Whistleblower Program's Weak Results: One Cash Award
The Internal Revenue Service's revamped whistleblower program has yielded more than 3,000 tips but only one cash award -- a $4.5 million payout to an accountant who revealed a $20 million tax underpayment by an undisclosed Fortune 500 firms, reports iWatchNews.
The IRS's whistleblower program is being probed by the Government Accountability Office and the service's inspector general, which are expected to release their reports this summer and fall, respectively. Sen. Charles Grassley (R-Iowa), who pushed for the IRS to pay whistleblowers, was disappointed in the results, saying, "The IRS needs to put on its thinking cap and figure out a way to reward whistleblowers whose tips don't result in immediate tax collections."
On Tuesday, a lawsuit filed by a tax whistleblower was dismissed by a U.S. tax court judge. Nashville lawyer William Prentice Cooper III requested a bounty from the IRS's new Whistleblower Office after reporting that the family of late Wall Street financier Clarence Dillon had avoided $100 million in estate taxes, reported Forbes's William P. Barrett. When his requests were rejected, Cooper sued, asking that the IRS be ordered to conduct an investigation.
Senate Proposals To Delay Regs Could Weaken Public Health and Safety
Tomorrow, four senators will each introduce their own anti-regulatory proposal before the Senate Homeland Security and Governmental Affairs Committee. The plans would weaken public health and safety protections by delaying critical safeguards, claimed Center for Progressive Reform member scholar Sidney Shapiro, a professor at Wake Forest University School of Law.
To bolster his argument, Shapiro cited the fact that it takes agencies up to 10 years to develop and issue regulations to protect health and the environment. Before it can issue a rule, agencies must run a highly complex gauntlet of analyses and reviews that have piled up thanks to several decades' worth of misguided regulatory legislation, executive orders and OMB memos, letters and circulars. The result is a mishmash of unnecessary or duplicative analyses and reviews that do little to improve the quality of agency decision-making.
He concluded: "Now is not the time to build more delays into the regulatory process. Rather, both Houses of Congress should consider ways to free up agencies from existing analytical burdens so that they can carry out their mission of protecting people and the environment more effectively and swiftly."
Popular in the Community