Headliners such as John Prine, Jason Isbell and John Oates have drawn nearly 80,000 Americana music fans annually to the hills of MerleFest on the campus of Wilkes Community College in North Carolina each April for the past 28 years. But it is the young musicians trying to share their unique sound who can provide some of the freshest and transcendent moments at this festival founded by the legendary Doc Watson, as a tribute to his son Merle Watson, who called it "traditional-plus" music.
Watson also helped launch the careers of many artists and the MerleFest Band Competition is a way to continue that tradition, says Steve Johnson, the festival's artist relations manager.
That's why last year Johnson started the MerleFest Band Competition. Johnson spends most of his year scouting out bands for the competition as he travels across the region and beyond. Unlike its older cousin the Chris Austin Songwriting Contest, which is all about the songwriting, the MerleFest Band Competition is made up of bands Johnson says may be very popular to their local/regional audiences that he feels have the talent to land them on much larger stages across the country.
"The winner of the band competition will perform on the Watson Stage on Saturday," Johnson says. "My hope is that this opportunity will expose the winner to a whole new audience of listeners. You never know; one day the competition winner could be a headliner at MerleFest."
Will Overman, frontman for Will Overman Band -- one of the competitors, describes having the chance to perform at MerleFest as "surreal."
"MerleFest is the pinnacle when it comes to Americana music. No matter what you consider Americana, if you're of the opinion that it's bluegrass or you think it's more rock oriented, chances are your favorite, most venerated band has played at MerleFest. It is the land of the greats and it's an absolute honor to have our name on the bill, no matter how small. I've drawn much of my inspiration and desire to be a better musician from artists like Jason Isbell and The Avett Brothers, both of which have graced or will be gracing the Watson Stage. To be a part of the Merlefest Band Competition, to be given a chance to show our worth at a festival with so much talent and heritage, it's surreal and we're elated to have the opportunity show everyone what WOB's all about."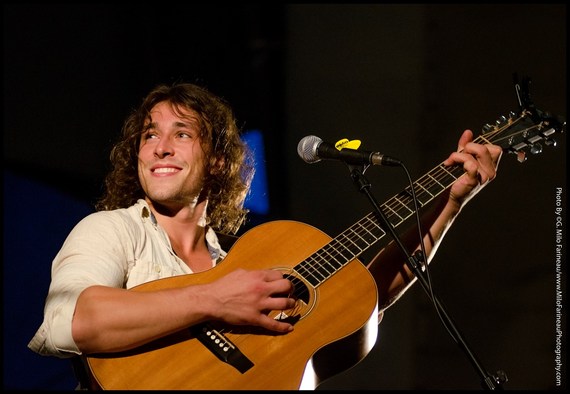 The competition draws a big audience throughout the day on Saturday, April 30, from 9:45 a.m. to 4 p.m. on the Plaza Stage, says Amber Herman, spokesperson for Wilkes Community College.
"It is an honor to be invited because Steve sees hundreds of performances throughout the year and hand-picks these to be in the competition," she explained.
Each band will perform for 15 minutes in front of year's volunteer judges, musicians Mark Bumgarner, who will also serve as emcee, Milan Miller, Steve Holman of The Local Boys band and Aaron Soots. The band contest winner will be announced following the last performance and will perform on the Watson Stage on Saturday, April at 4:30 p.m.
"Stop by the Plaza Stage to judge the competition for yourself," Johnson says.
This year's competitors are as follows, in the order they are scheduled to perform:
9 a.m.-10 a.m. Asheville, North Carolina Americana, Bluegrass, Honkytonk, country blues
10:15-10:30 a.m. Front Royal, Virginia Eclectic, acoustic ear candy
10:45-11 a.m. Fayetteville, North Carolina Christian, Gospel Bluegrass
11:15-11:30 a.m. Elizabethton, Tennessee Bluegrass, Folk, Americana
11:45-12 p.m. Asheville, North Carolina Contemporary Folk, Newgrass
BREAK
12-12:30 p.m.
12:30-12:45 p.m. Floyd, Virginia Electric Rock and Roll
1:00 p.m.-1:15 p.m. Charlottesville, Virginia Amped-up folk rock
1:30-1:45 p.m. Central Virginia Bluegrass
2-2:15 p.m. Knoxville, Tennessee Americana, country duo
3-3:15 p.m. Staunton, Virginia Americana
3:30-3:45 p.m. Boston, Massachusetts Americana
MerleFest, considered one of the premier music festivals in the country, serves as an annual homecoming for musicians and music fans. MerleFest was founded in 1988 in memory of the late Eddy Merle Watson, son of American music legend Doc Watson. MerleFest is a celebration of 'traditional plus' music, a unique mix of music based on the traditional, roots-oriented sounds of the Appalachian region, including bluegrass and old-time music, and expanded to include Americana, country, blues, rock and many other styles. The festival hosts numerous artists, performing on 13 stages during the course of the four-day event, April 28-May 1, 2016. The annual event has become the primary fundraiser for the WCC Endowment Corporation, funding scholarships, capital projects and other educational needs.
REAL LIFE. REAL NEWS. REAL VOICES.
Help us tell more of the stories that matter from voices that too often remain unheard.