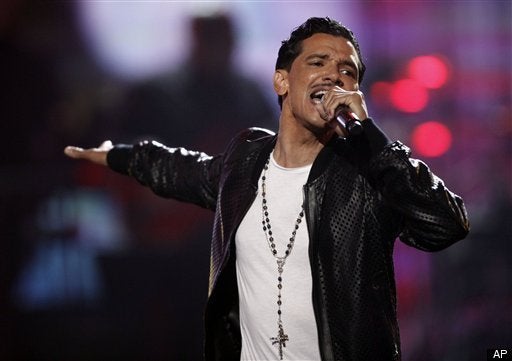 The road from hell back to creativity and peace of mind is a difficult one, indeed. On his new album, Second Chance (Geffen), his long-awaited return to the music scene after sixteen years, R&B/pop legend El DeBarge has made the journey with his considerable gifts as a singer and songwriter intact.
DeBarge's distinctive falsetto, familiar from a trail of hit singles in the 80's and 90's, resurfaces virtually unscathed after a two-decade battle with drug addiction (and just over a year in prison). Second Chance is exactly that -- a new opportunity to reconnect with his loyal fans, but also a thrilling possibility to share his talents with a completely new generation of younger record buyers, many of whom have only heard DeBarge's songs sampled by Notorious B.I.G, Mariah Carey and others.
The effort to surround the 49-year-old DeBarge with a mix of both established, hit-making songwriters and producers, and younger creative voices, is a rousing success (although rapper 50 Cent's appearance on the track "Format" seems oddly out of place). Faith Evans adds her trademark silky, romantic vocals to the album's opening track, "Lay With You," providing the perfect compliment to DeBarge's polished harmonies. Mike City (Jamie Foxx, Brandy) produced some of the album's strongest tracks, including "Lay With You;" the sexy, swinging "Serenading," which takes good advantage of the lower end of DeBarge's three-octave vocal range; and the breezy "Close To You," which ever so slightly updates the rhythmic formula that has always worked so well for DeBarge.
Babyface (who co-wrote "When I See You") and Jimmy Jam & Terry Lewis (who wrote and/or produced three tracks here, including "Joyful") have a knack for creating simple but lush soundscapes that keep DeBarge's vocal sensibility at the exact place where R&B and pop intersect.
DeBarge calls these new songs his "spiritual memoir;" as such, he doesn't shy away from the difficulties he has faced. The ethereal ballad "The Other Side," co-written and produced by Jam & Lewis, is filled with sad beauty, a testimony to his journey from the darker side ("It's a shame/ Something you love so much/ Can make you hurt that much/ On the other side"). The title track, "Second Chance," is one of the most gorgeous ballads I've heard in quite a while (DeBarge cried in the studio while recording it). The song is almost like a prayer: near the end, as DeBarge's falsetto soars to the heavens, it gives you chills. He has made it back from the other side, and sounds better than ever.
Three additional Christmas songs -- "Silent Night," "Christmas Without You" and "Heart Full of Love" -- that will be released with the thirteen new songs as a two-disc set, were not included on the review disc that I received.

Calling all HuffPost superfans!
Sign up for membership to become a founding member and help shape HuffPost's next chapter