Second Chance Employment Services is a Washington, D.C. headquartered non-profit that was the first organization in America to promote financial independence for victims of domestic violence through comprehensive employment-placement services. Following is an interview with Second Chance Founder and President, Dr. Ludy Green, by an Intern at the organization, Avery Meltzer, a George Washington University student.
What is Second Chance Employment Services?
Second Chance is the first and only comprehensive employment placement agency in the US providing long-term meaningful careers to victims of domestic violence.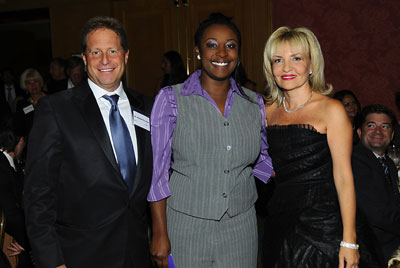 Dr. Pearlman, SCES success story client and Dr. Ludy Green at the Last Kiss of Summer gala 2008
How and when was Second Chance Employment Services founded?
Founded in 2001, Second Chance Employment Services is the formalization of my 15 years of community activism for victims of domestic violence. I witnessed firsthand the pain and entrapment of women and their children in shelters and felt compelled to seek a solution. I was appointed to local boards and commissions for my work as a grassroots activist against domestic violence, to state commissions by the governor, and later appointed on the national level as board member of the Advisory Council on Domestic Violence Against Women under the U.S. Department of Justice. I was simultaneously growing in my career as a trained human resources professional. In the late 1990s, I came to the conclusion that financial independence through comprehensive employment placement services is the key to long-term security and stability for victims of domestic violence.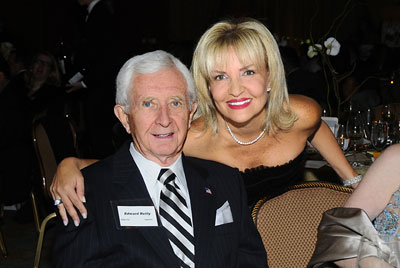 Chairman of the US Parole Commissioner Edward Reilly and Dr. Ludy Green at the Last Kiss of Summer gala 2008
What do "comprehensive employment placement services" entail?
Comprehensive employment placement services provide all aspects of a domestic violence victim's needs to be job ready. At Second Chance Employment Services this entails conducting needs assessment, skills assessment, employment placement, and outcomes monitoring services. Needs assessment includes determining the client's immediate requirements to begin the journey to financial independence, such as counseling, mentoring, financial support, health care, child-care, transportation, food, shelter, etc. We have over eighty service partners to call upon to help provide these types of services.
We then do a skills and interests assessment to identify positions where the candidate would be most suited for employment. This service includes assistance with resume writing and mock interview sessions.
When the client is ready for employment, we set up and accompany them to interviews with employers that have partnered with Second Chance Employment Services Employment Services to give our clients priority consideration for their open employment positions. We have over eighteen job partners placing our clients.
Once placed, we monitor the client's progress in the position through a secure web-based monitoring system that proactively documents and reports our clients' progress for up to a year after employment.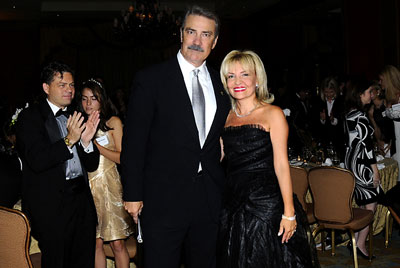 Speaker Guest Actor Victor Rivers and Dr. Ludy Green at the Last Kiss of Summer gala 2008
What is your definition of domestic violence?
Domestic violence is physical, mental, emotional, and financial control of one partner over another against their will. Most people recognize domestic violence only after a partner has been physically marked in the form of a bruise or cut, for example. Domestic violence, however, often starts long before the physical signs appear as mental abuse, social isolation, and forced financial dependence. Early detection and proactive prevention can help avoid domestic violence situations - and in some cases save the relationship.
What, in your opinion, are the leading causes of domestic violence?
Domestic violence often occurs when the physically stronger partner experiences a stressful situation and does not know how to cope. There is statistically an upward spike in domestic violence cases during the holidays as people may feel financial and familial pressure to meet expectations that they perceive to be daunting. Also, a downturn in the economy is often a trigger for domestic violence. This distress can be further exacerbated given a history of mental health issues, substance abuse or childhood abuse.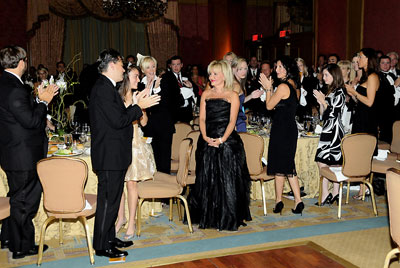 Honoring Dr. Ludy Green at the Last Kiss of Summer gala 2008
Dr. Green, What types of clients do you typically serve?
Domestic violence cuts across all racial, socio-economic, and cultural backgrounds. People assume there are certain demographics that are more prone to domestic violence. However, my clients represent a broad spectrum: there are those with little education to those holding graduate degrees from the top notch schools; those with no English speaking skill and those are native born Americans; we serve stay-at-home moms, working professionals, those who are religious and those not actively practicing their faith; we have inconceivably poor clients as well as clients who are very well to do.

If a woman finds herself in a domestic violence situation, what are the key steps to protecting herself and her loved ones?
She should primarily find safety with family, at a local shelter or community organization, such as a church, synagogue or Mosque. It is imperative that she remove herself from the domestic violence situation as soon as possible.
The second step is to gain financial independence to obtain food, health care, housing etc. on a long-term basis. This is where employment becomes extremely critical. Second Chance Employment Services was founded for this purpose and this purpose alone.
Second Chance Employment Services has won numerous awards for its effectiveness and community influence, including selection as most technically innovative domestic violence program by the United States Department of Justice in 2007. You received the Washingtonian of the Year Award for community impact in 2008, and were recently recognized in October by the White House during National Domestic Violence Month. How has Second Chance Employment Services had such a potent impact in such a short period of time?
It is directly related to our business model. We are the only employment agency in the country assisting domestic violence victims in gaining financial independence through long-term employment. We approach our work with professionalism and discipline as any large corporation would. We enforce strategic objectives, measurable outcomes, and a state-of-the art web-based monitoring system that records our client's progress. This system, which secures the identity and safety of our clients, is recognized as an innovative use of technology to deliver effective client services, and achieve continuous quality improvement of our programs.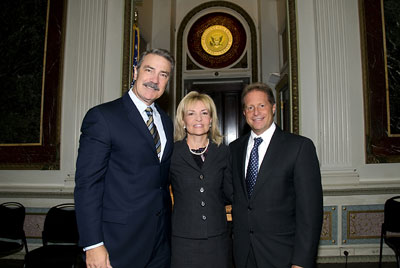 Actor Victor Rivers, Dr. Ludy Green and Dr. Ronald Pearlman at The White House reception
What is the next big challenge for Second Chance Employment Services as an organization that continues to thrive and expand?
National expansion. We have been asked to replicate our comprehensive employment placement and service delivery model across the country. We are currently engaged in pilot projects in New York and Philadelphia to train and provide technical assistance to community service providers to replicate the Second Chance model with their clients who are victims of domestic violence.
Dr. Green, any last thoughts you'd like to leave with our readers?
If you are experiencing domestic violence, never give up on finding safety and security! Know that everyone has skills, are worthy of happiness and self-fulfillment. No one deserves to be abused or belittled by anyone. By obtaining independence, women not only proactively protect themselves from domestic violence, but also preserve and protect their relationships with those they care for.
If you have any questions or need help please contact us at Second Chance Employment Services www.scesnet.org or call us at 1-888-331-7451.

Popular in the Community