This guest column is from the blog of Ivan Garcia, an independent journalist who lives and writes from Havana, Cuba. Thanks to our new cooperative translation site, Hemos Oido, we are now able to call on a growing cast of volunteers to translate Cuban blogs for English-speaking readers, greatly expanding the voices my readers can hear from on this page.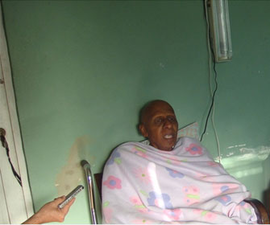 Farinas, Ready to Die, Like Zapata
By Ivan Garcia
In the poor, out-of-the-way neighborhood of La Chirusa, in the city of Santa Clara of Villa Clara Province, about 185 miles east of Havana, Guillermo Farinas Hernandez, 48 years of age, is quite a character.
When a stranger, asking for directions, asks where Guillermo Farinas lives, all of the neighbors widen their eyes and don't know who you are talking about. But if you ask about "Coco"- the nickname by which he is known - then people smile and say "Coco lives in number 615, he's into human rights, he's a ballsy guy, give him my regards," one of his neighbors says with the straightforward language that is common among humble people.
To get to the small, cramped house of Farinas you have to walk through a maze of passageways where the sewage runs freely. Guillermo Farinas lives in an early 20th century house, with his wife, 8-year-old daughter, and a niece. In a ten-foot-square living room, Farinas is seated in a chair against the wall, facing the front door, wrapped up in a flowered blanket.
About 15 people, relatives and dissidents, chat with him about various issues. Some become emotional and break into silent weeping. "That affects me even more, please, you've got to be strong," says "Coco" without any solemnity.
Farinas must have some sort of unofficial world record when it comes to hunger strikes. The one he started on Friday, February 26 is his 23rd. And it is taking a toll on his body.
Like many dissidents, 'Coco' Farinas used to believe in Fidel Castro's revolution. He risked his hide fighting in the isolated villages of Angola during the 1980s civil war in that African country. He was a member of Castro's elite troops, but in 1989 when General Arnaldo Ochoa was shot, accused of drug trafficking, Farinas began to have second thoughts and unanswered questions.
He has a degree in psychology, and better than anyone else in Cuba, he knows the methods of the political police for breaking those who dissent. Since 1997 this big-eyed mestizo has been one of the heavyweight dissidents on the island.
He writes as a freelance journalist, and an independent library is located in his house. During the strike, many neighbors come by and talk cheerfully with Farinas, giving him encouragement or begging him to stop. To everyone he delivers a speech, without slogans and in everyday language, giving his reasons for continuing the hunger strike. The main reason for this latest and perhaps final hunger strike: the death of the dissident Orlando Zapata Tamayo on February 23rd.
"I knew him in 1991, when Zapata was a construction worker in a contingent, and was also a member of the Union of Young Communists, something that the government journalists are silent about now that they criticize him. Zapata was part of the rapid response brigades that the government counted on to repress the opposition, but after long talks with the dissidents he began to see that he was wrong. The official media don't want to talk about any of this. I'm also convinced that the death of Zapata was a state crime, an assassination."
The dissident of the Chirusa neighborhood in the city of Santa Clara adds other arguments for continuing his hunger strike to the very end.
In a letter sent on February 26 to Raul Castro, he urges him to demonstrate to the world and to his people that his lament to the foreign media was honest, and asks him to release the 200 political prisoners now held in various Cuban jails.
"I am a firm believer that when the government sees that the result of the hunger strikes is dissidents dying like flies, they will sit down and negotiate. These strikes are our weapons of pressure, we have nothing else."
He also asks the Spanish leader Jose Luis Rodriguez Zapatero to firmly press the Havana regime to introduce political changes. He even believes that His Majesty the King of Spain Juan Carlos I should comment on the fateful death of Zapata Tamayo.
Farinas receives medical attention every 4 hours. He believes that he will be admitted to the provincial hospital of Villa Clara Arnaldo Milian to receive parenteral alimentation. His lips are dry, as he is not drinking water. His appearance is frightening. Juan Juan Almeida, son of the commandante friend of the Castros, who fought with them in the Sierra Maestra, left Coco's house greatly saddened last Saturday.
In a text message Juan Juan sent to his friends, he said:
"The dissident of the barrio La Chirusa, professed admirer of Gandhi and Nelson Mandela, figures beyond right and wrong, believes this is the way to turn the state around and to dream of democracy. 'If I must sacrifice my life to achieve political change, then count on my life,' the Cuban champion of hunger strikes states quietly. This is number 23 and his neighbors and friends suspect this will be the last."

Translated by Tomas A. and Gracie Christie
Related
Popular in the Community