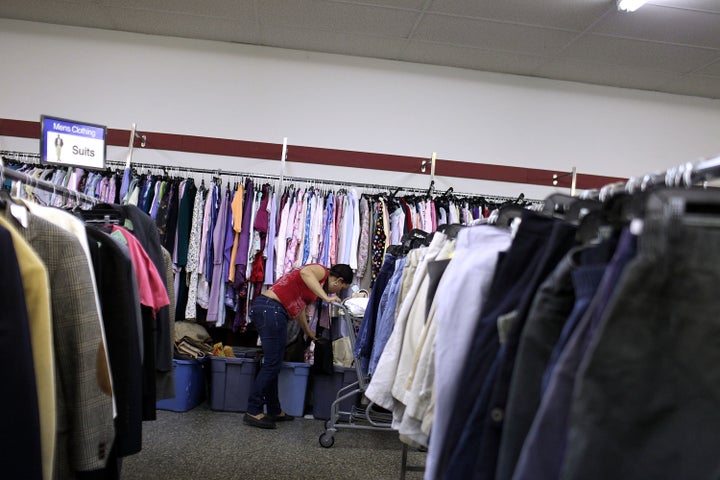 This article is part of HuffPost's "Reclaim" campaign, an ongoing project spotlighting the world's waste crisis and how we can begin to solve it.
A slew of successful online secondhand stores has made it easier than ever for consumers to buy and sell old clothing.
The leaders of the upstart industry tout the environmental benefits of this new kind of thrift shopping experience. But will it be enough to meaningfully reduce the staggering amount of textiles pouring into our landfills every year, or is it just a way for savvy shoppers to ease their guilty consciences about the waste they produce?
For now, clothing resale is too small-scale to make a dent in landfill waste. And even if it does, it should not be confused for an environmental panacea. But if it forces us to question the way we shop and rethink the way we get rid of our old stuff, it's a step in the right direction.
"Even if we manage to come up with the ultimate technology solution, the positive impact of all of that is still outweighed by the amount that we produce and consume," said Renée Cuoco, manager of the Centre for Sustainable Fashion at the London College of Fashion. "We need a whole scope of initiatives."
For a variety of reasons, consumers in the developed world often have more clothing than they know what to do with. The rise of "fast fashion," in which big retailers like H&M introduce new styles more frequently and at low prices, has accelerated this trend.
The short shelf life of many garments has major implications for the environment.
Americans threw away 15.1 million tons of clothing in 2013, with 12.8 million tons of it ending up in landfills, according to the Environmental Protection Agency.
Landfills are a top generator of methane gas, which contributes disproportionately to climate change.
Methane made up 11 percent of U.S. greenhouse gas emissions in 2014, according to the EPA. But methane traps warming in the atmosphere far more effectively than other GHGs, giving the gas a "global warming potential" that the federal environmental watchdog says is 25 times that of carbon dioxide.
A New Model For Thrift Shopping
Digital secondhand clothing and consignment stores did not arise to save unwanted clothing from landfills ― and the industry does not claim otherwise.
But San Francisco-based ThredUP, which may be the largest online outfit for secondhand clothing, markets the positive environmental impact of using its services.
"If 1 in 100 American households shopped resale, it would save over 1.1 billion pounds of CO2 emissions every year," the company's annual resale report notes.
There is no concrete data on how much ThredUP and comparable services like eBay Valet and Poshmark have actually reduced the amount of clothing sent to landfills.
By effectively "Uber-izing" the thrift store experience, however, these outfits enable people who might not otherwise want to deal with the hassle of brick-and-mortar thrift stores to clean out their closets without leaving the house.
"If the model becomes very lucrative, it can change the market."
To send clothing to ThredUP, for example, all consumers need to do is order a "clean out kit" (essentially a free bag), fill it with unwanted clothes and send it to the company. The company only resells clothing and accessories that are "like new," so it rejects about 60 percent of what it receives and offers to return the rest to senders or give it to other thrift shops or clothing recycling entities.
Once ThredUP has inspected an item and decided it is suitable for resale, it professionally photographs it and lists it on the site. The price is based on quality, original retail price and other factors.
For items that sell for under $60, ThredUP pays sellers between 5 and 40 percent of the list price up front, with the cheapest items offering the smallest payout.
ThredUP has a consignment system for items it lists for $60 or more, offering as much as 80 percent to consigners once the company succeeds in reselling an item. (The shipping and handling costs of sending the ThredUP "clean out kit" are deducted from whatever payout the company provides.)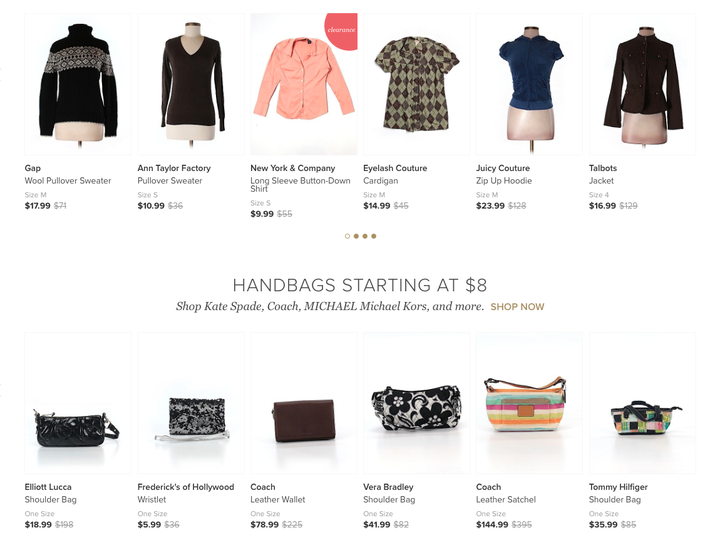 ThredUP's business is booming: It has resold over 10 million items and at least doubled its revenue every year for the past several years, according to Chief Marketing Officer Anthony Marino.
That can only have a positive impact on the U.S.'s landfill waste problem.
But there is a catch. Although the company's selectivity is the formula for its successful business model, it demonstrates how difficult it is for secondhand clothing sites to turn online clothing resale into a profitable business.
ThredUP does not buy or sell men's clothing, serving women and children only. The company told HuffPost it focuses on women because men's clothing makes up a much smaller share of the resale market.
Until the economics of the business allow online secondhand shops to make up a bigger share of clothing sales, there are limits to their impact on waste.
"If the model becomes very lucrative, it can change the market," said Tasha Lewis, a professor specializing in fashion sustainability at Cornell's College of Human Ecology. "The only obstacle is the scale of these programs, and they are constrained by quality, size and color of the things they get."
More Innovations, Persistent Challenges
Meanwhile, some brick-and-mortar retailers are trying to do their part to address waste with in-store recycling programs. Patagonia invites shoppers to return old clothing and sells used products on-site.
H&M also allows shoppers to return worn clothing to stores, where the retailer sorts it for resale or recycling.
One risk, however, is that clothing that gets offloaded to local thrift stores by major retailers or higher-end online secondhand sites will sit idly on shelves, too, and eventually end up in a landfill anyway. Unwanted clothing can also end up getting exported to developing countries, where it risks undermining local textile industries.
A way around that problem would be ensuring that clothing is made from recyclable material. For example, cotton and polyester blends, commonly used in items like T-shirts, are impossible to recycle.
Last March, H&M and Kering, the parent company of Gucci and other luxury brands, announced a partnership with technology startup Worn Again that aims to speed up that process. The companies will be "monitoring the testing" of technology developed by Worn Again that separates fibers and removes dyes and other chemicals that prevent textile recycling.
Some popular styles are impervious to this kind of innovation. Leather, a material with one of the most opaque supply chains, is not recyclable. (Though it is compostable in some circumstances.) Making it more sustainable, according to Cuoco, would likely mean phasing it out of our wardrobes altogether ― which, it's safe to say, is not going to happen anytime soon.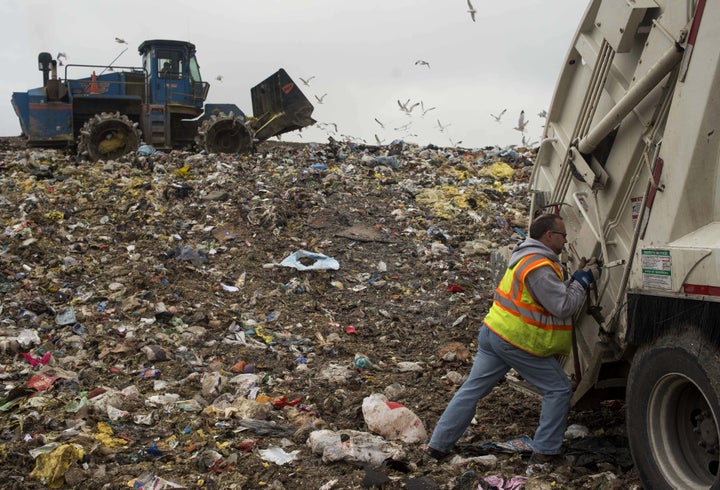 Even if all clothing becomes recyclable, there are limits to the environmental benefits of technological innovations.
It's possible that after consumers clear their closets by reselling or recycling clothing, they'll feel freer to buy more brand-new clothing, lessening the effect of the overall recycling trend.
Advanced recycling technology also requires energy and resource expenditures, which would have to be weighed against emissions savings from reducing landfill waste.
And, of course, landfill waste is just one way the ever-growing clothing industry affects the environment. Among other things, the energy expenditures from the agriculture and transportation needed to make and sell clothes will persist regardless of how many garments are saved from landfills.
Deeper change requires a cultural shift in the developed world, in which producers slow down fashion cycles and consumers demand higher-quality clothing that lasts longer, rather than just the newest styles at an affordable price.
"We need to be asking more insightful questions about how we purchase and consume," Cuoco said. "If we relinquish too much responsibility from ourselves as consumers, that's really dangerous."
This article has been updated with additional information about post-consumer alternatives for leather products.
Related
Before You Go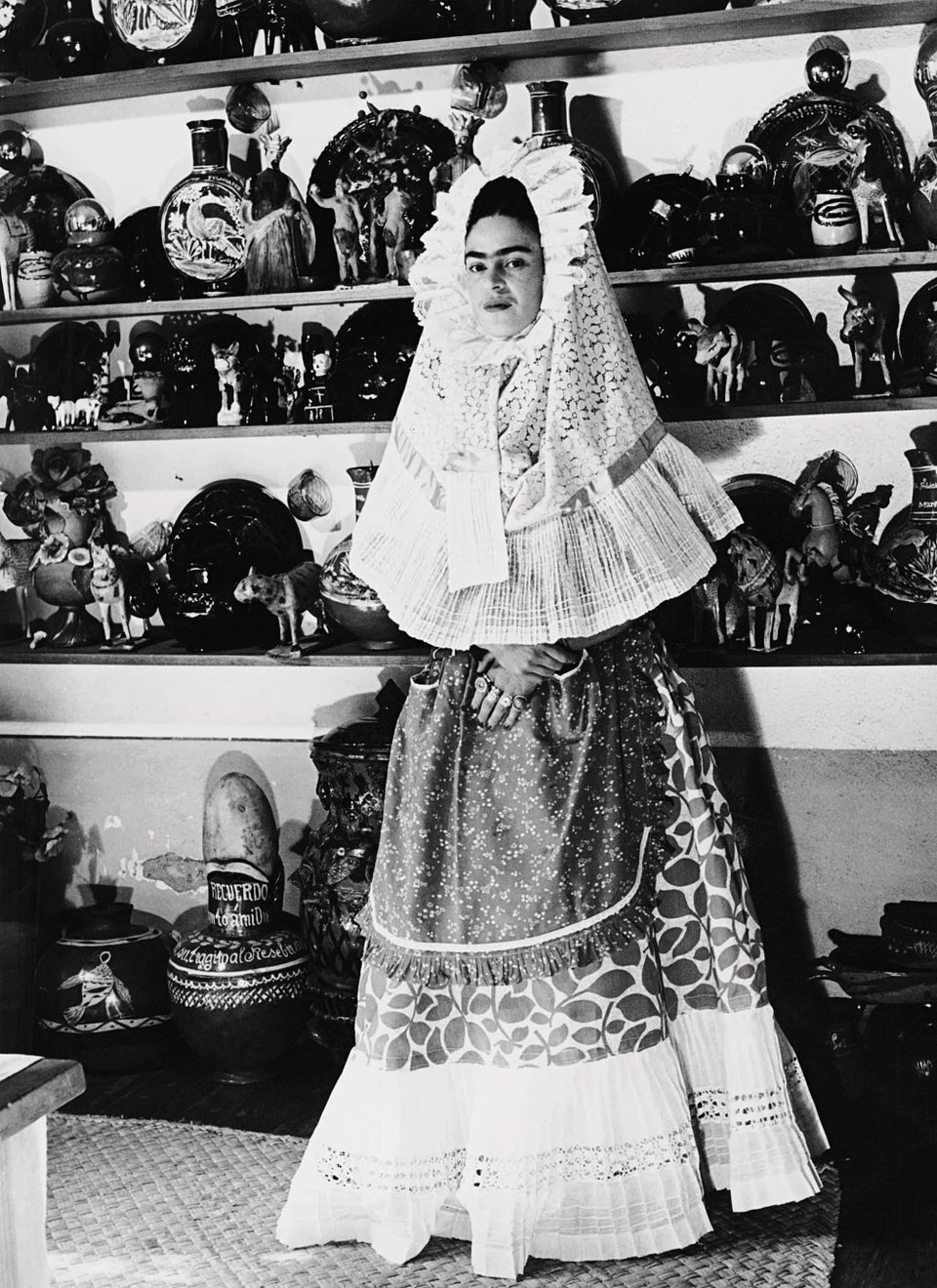 Frida Kahlo: Fashion As The Art Of Being