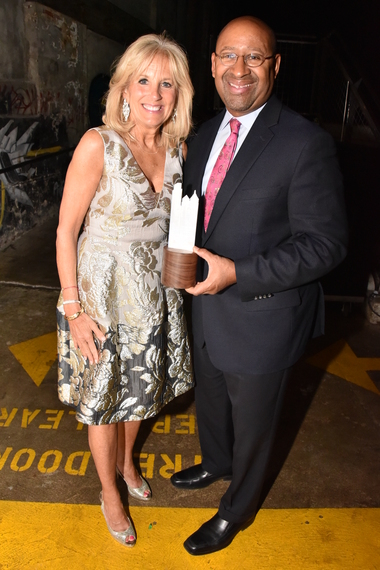 Dr. Jill Biden, wife of Vice-President Joe Biden, was the keynote speaker at the annual fundraiser for Philadelphia Academies Inc., held at the Fillmore Philadelphia on May 16, 2016. The Second Lady came to support her longtime friends, the Nutters. Former Philadelphia Mayor Michael Nutter received the Stand and Deliver Award from Biden. His wife, Lisa Nutter, is president of the organization.
Along with raising $150,000, the Second Lady's appearance brought much needed attention to the important work that the organization does. Philadelphia Academies Inc., was founded in 1969 in reaction to the high school drop-out crisis. They introduced a new paradigm into the high school curriculum by creating schools within schools that give students the opportunity to develop real world skills. There are currently 4,000 students enrolled in career academies in Philadelphia high schools. The goal of the fundraiser was to raise enough money to expand the opportunity to 12,000 students. Studies have shown students who completed career academies earn an additional 11% a year. The Philadelphia Academies model of experiential learning has been so successful it is now being taught in 7000 high schools nationwide.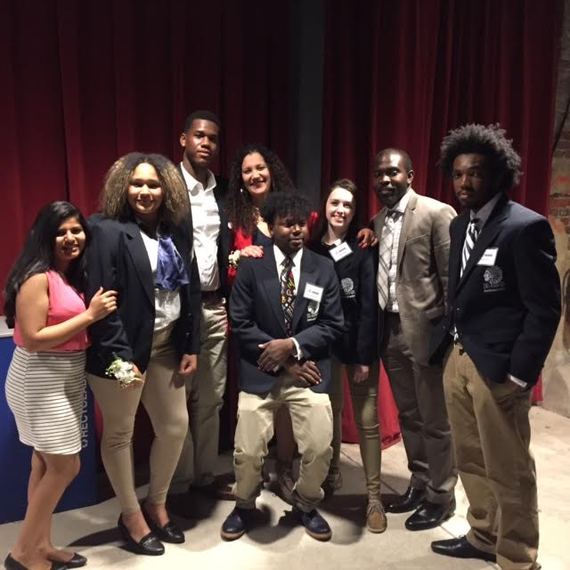 The lifelong educator began her remarks by stressing her commitment to education. She said, "I am so proud to be part of an administration that has made strides to make education a reality for more Americans. But we have to do more to make sure that all Americans have the opportunity to learn the skills they need to succeed, growing the careers that they love, and provide a better future for their families."
Biden continued her remarks by strongly endorsing the career academy model of education. "I am here because I am a believer in the career academy model," said the community college professor. "Over the past 45 years plus, Philadelphia Academies has served the youth of Philadelphia and by extension the city. Your graduates have become leaders in business, civic life, philanthropy, and public service. Each year, you prepare a new crop of students to become the next generation of the city's leaders. As second lady, I have traveled across our country promoting the value of giving students real world experience and access to job training programs especially at a young age. We know that when high school students have the opportunity to gain experience in a field that interests them and motivates them they are more likely to want to continue their education beyond high school."
Monica Steigerwald, the director of fund development at Philadelphia Academies Inc., explained Philadelphia high school students can choose to enroll in 8 pathways-hotel, restaurant, travel, and tourism, horticulture, business and technology, biotechnology, health and life sciences, skilled trades, film and media, and web design. The behemoth Knight Foundation also signaled their support of the career academy model of education. The Second Lady announced at the gala that the Knight Foundation was kicking in $10,000 to establish a teen venture fund.
Abraham Lincoln High School students Sarah Baksh and Haleem Hayes, who attended the gala as student ambassadors, are enrolled in the Health Related Technology (HRT) pathway. The goal of HRT, which is a member of the international organization Health Occupation Students of America (HOSA), is to promote career opportunities in the health care industry and to enhance the delivery of quality health care for the surrounding community. Both students plan to pursue careers in the medical field. Baksh wants to be a physician's assistant and Hayes plans on becoming a doctor.
Even if they didn't plan to pursue higher education, completing the HRT pathway would have allowed them to pursue a health related career upon graduation from high school. Baksh said, "We can take the National Occupational Competency Testing Institute (NOCTI) standardized test at the end of 12th grade that allows us to become a certified nursing assistant. It focuses on skills such as vital signs, infection control, medical ethics, and correct positioning of a patient."
Student ambassadors, Evalise Garcia and Xavier Thomas, are enrolled in the Horticultural Pathway at the same high school. The program's replica of Abraham Lincoln's boyhood home, which was entirely made from flowers, won prizes at the Philadelphia Flower Show and Chicago Horticultural Society. "The program gives students hands on experience so that they learn about gardening and working in a greenhouse, said Garcia. "We even have a flower shop which is run by students. The students sell corsages and tulips for Mother's Day, roses for Valentine's Day, and poinsettias for Christmas."
The Second Lady didn't leave the event empty handed. Michael Harris, director of marketing and special projects for the Philadelphia Phillies, handed her 2 custom Phillies Jersey for her and her granddaughter Natalie to celebrate Natalie's graduation from the University of Penn the day before.
REAL LIFE. REAL NEWS. REAL VOICES.
Help us tell more of the stories that matter from voices that too often remain unheard.