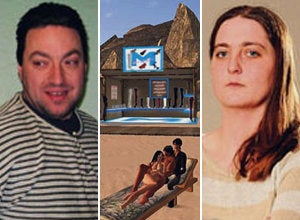 The UK's News of the World reports that Lisa Best caught her husband, John, "with his online trousers round his ankles--having gay dungeon romps in the web world Second Life."
The van driver was sitting up beside her at 4am tapping away frenetically--living out his fantasy through his avatar, or online character, called Troy Hammerthall when Lisa opened an eye and caught sight of the screen.

"I saw John's little person having it off with another man in a dungeon on the screen," said horrified Lisa, 28.

"I just froze with my head on the pillow, silently watching what he was doing. I felt sick to my stomach.
According to the report, Lisa is divorcing John over the incident and claims it speaks to a larger problem in their marriage — an apparent internet addiction:

After four years of marriage she is divorcing him despite his pleadings that he was only "messing about". "There were three in our marriage--myself, John and his laptop. He had it with him everywhere, even in bed," said Lisa.

"And over the last few months he'd become really hooked on Second Life."
Support HuffPost
The Stakes Have Never Been Higher
Related
Popular in the Community