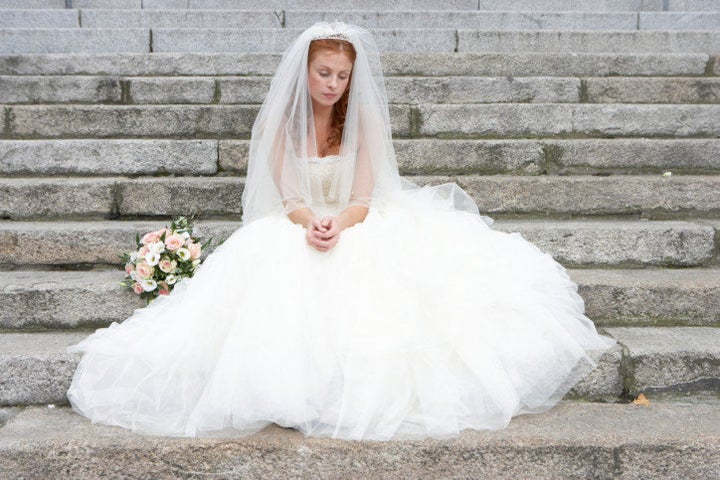 Remember that classic Frank Sinatra song that says love is better the second time around?
Faced with the knowledge that about half of marriages end in divorce, it's comforting to believe that you can get love and marriage right the second time.
Just ask Kim Kardashian who was the portrait of optimistic bridal bliss as she walked down the aisle recently, in her second marriage. I join in wishing Kim and new hubby Kris Humphries a long and happy marriage, but as a divorce attorney I'm all too aware of the long odds they -- like so many couples -- face as they start building a new life together, especially when it is not the first time.
While about 41 percent of first marriages end in divorce, the picture is even gloomier for second acts where 60 percent of those marriages fail. Common sense dictates people enter into a second marriage older, wiser and more committed to not making the same mistakes again. However, couples remarrying have to contend with a big set of built-in stresses that they didn't face the first time around. And unfortunately, even if you say the first time I married my father and I'll never do that again, the second time, unless you have learned your lesson, you will marry your father.
Often the new wedded couple will start off with an instant blended family and a host of attendant issues -- from needing a larger home, confronting differing parenting styles, clashes that arise between the children which cause parents to take sides, establishing family rules and the possibility of having to interact with your partner's ex.
Money is one of the top things couples fight about in any marriage. The strain on the family budget from a financial settlement and the maintenance of multiple homes can have a significant impact on the second union and quickly become an ongoing cause of tension. It is not unusual for the new spouse to demand that their mate see their divorce attorney about reducing child support or spousal support.
The emotional scars from the break-up of a marriage run deep and may undermine the success of the new relationship. This is especially true if infidelity or abuse were part of the first marriage. If you were the wounded partner, it may be difficult to trust again. If you were the partner who engaged in these behaviors, without intervention and therapy, you will most likely fall into old patterns and act out again in ways that will damage your new marriage.
Today, about half of my divorce clients have already been married and divorced once before they come to me. Second divorces add insult to injury - often people are even more fragile, have less money and feel like "two-time losers."
How can people avoid falling into the pitfalls that threaten a second marriage? The best advice I can give to couples considering tying the knot again is to make their lives an open book. It make not seem romantic to have honest discussions about your values and expectations on issues such as money, parenting and intimacy, but they are the critical conversations you need to have before making a commitment to a secondmarriage.
It's important to go into a second marriage with a clear understanding of each other's needs. Talking about your values and expectations in advance is good practice for the important conversations you will have throughout your marriage.
Typically, I advise clients to consider a prenuptial agreement before their next marriage in an effort to better control issues if a subsequent divorce occurs. A prenuptial agreement serves to solidify your discussions and address financial expectations head on. It's also a good way to ferret out issues. The way a soon-to-be spouse treats you in the prenup is indicative of how they will treat you in the marriage when the bloom is off the rose.

If through your discussions you find you're not in alignment with your partner on major issues, recognize this as a red flag that signals trouble ahead after the honeymoon is over. Don't make the big mistake of ignoring or rationalizing these warning signs or thinking that your partner will change after you get married. Consider working with a marriage counselor to determine whether you are able to reach acceptable compromises and resolve your differences. While it's not the fairytale vision of wedding planning, this kind of objective, expert counseling can help you avoid a second divorce.
And whether it's the first, second or third time around, marriage is not like marriage in the movies unless it's the divorce in The War of the Roses.

Related