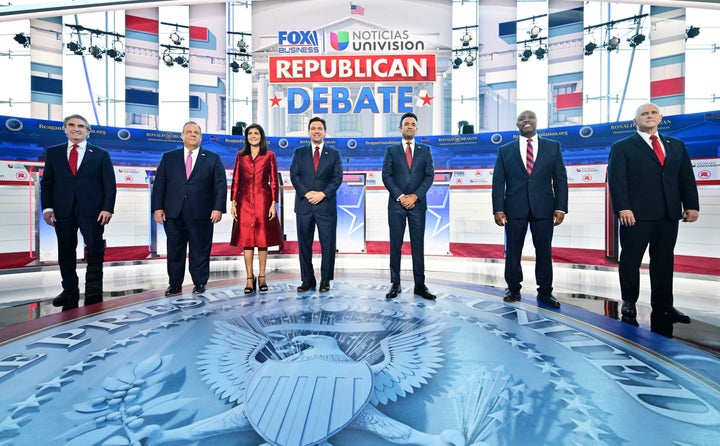 The moderators of the second Republican presidential debate, hosted by Fox Business and Univision, pressed the seven GOP hopefuls assembled in the Ronald Reagan Presidential Library on Wednesday night to address the concerns of the broader American public with questions that were at times, well, downright moderate in nature.
The candidates' responses were nonetheless typically aimed at the right-wing Republican base rather than the general electorate or the inquiring moderators.
One after one, on topics including the United Auto Workers strike, the minority achievement gap, the Affordable Care Act and Florida's Black history curriculum, the moderators tried to push the candidates out of their comfort zones and came back wanting.
Immigration and the fentanyl crisis ― a problem that, incidentally, Republicans blame on undocumented immigrants ― were two telling examples. Univision anchor Ilia Calderón, who began the evening by extending a welcome in Spanish, played then-President Ronald Reagan's words in 1984 in which he expressed openness to granting "amnesty" to undocumented immigrants ― a step he officially took two years later.
She then pressed former New Jersey Gov. Chris Christie, who supported bipartisan immigration reform before lurching rightward on the topic during his 2016 presidential run, to clarify where he stands on legislation that would provide a pathway to citizenship for 11 million undocumented immigrants.
"The problem is that since no one has done anything since we first had this discussion 13 years ago, we're not in a position to do any of that anymore," Christie said. "What we have to do now is first treat this like the law enforcement problem it is."
Calderón later asked entrepreneur Vivek Ramaswamy how he would address an influx of fentanyl that comes almost entirely through official U.S. ports of entry and is mostly transported by U.S. citizens ― rather than the right-wing narrative that it's being smuggled over the border by undocumented immigrants.
Ramaswamy, who has promised to deport all undocumented immigrants and their U.S.-born children, ignored the premise of the question and doubled down on his plan to have the military go to war with the Mexican drug cartels.
"We have to use our own military to seal the Swiss cheese of a southern border," he said, adding that he would address domestic "demand" for fentanyl by improving mental health care.
Florida Gov. Ron DeSantis took the opportunity to chime in. "Everything he said I agree with. That is why as commander in chief I'm going to use the U.S. military to go after the Mexican drug cartels."
"Those Mexican drug cartels are going to be treated like the terrorists," DeSantis added.
Here are some other takeaways from Wednesday's debate: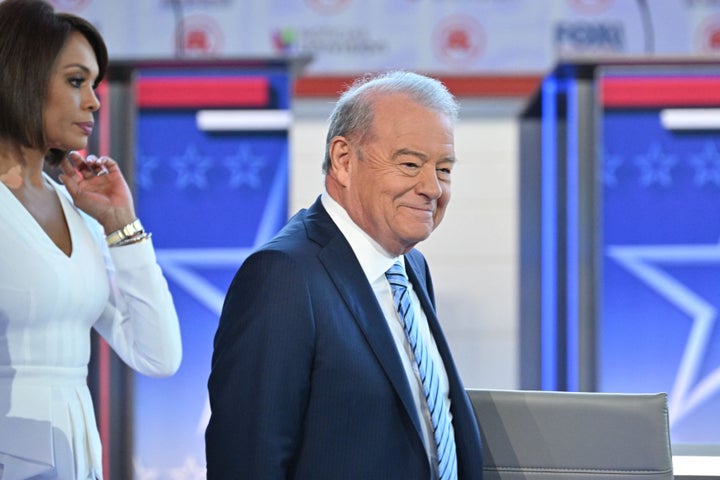 When It Comes to Unions, The GOP Is Still Reagan's Party.
The first two questions of the evening were about the United Auto Workers strike and the gap between executive compensation and ordinary workers' pay.
Notwithstanding some lip service to rank-and-file union members' concerns, the candidates almost uniformly sounded like products of Reagan's union-busting GOP.
Sen. Tim Scott of South Carolina recently praised Reagan's era-defining decision to fire striking air traffic controllers in reference to the UAW strike, saying, "To the extent that we can use that once again, absolutely."
Fox Business's Stuart Varney asked him flatly, "Would you fire thousands of striking autoworkers today, senator?"
"Obviously, the president of the United States cannot fire anybody in the private sector," Scott replied, before rattling off his grievances with organized labor.
Scott faulted the UAW for demanding a 32-hour workweek and blamed Biden for allotting $86 billion to bail out failing union pension funds. He didn't mention that the pensions were in trouble in no small part due to corporate bankruptcies in aging industries.
Asked to respond next, Ramaswamy declared that he agreed with the "spirit" of what Scott said.
"I don't have a lot of patience for the union bosses," said Ramaswamy, using a pejorative for democratically elected union officials. "I think that's where he and I actually have a common view. I do have a lot of sympathy for the workers."
In a second question about income inequality, Varney noted that auto industry CEOs make 336 times what their average workers make. He asked Pence to explain what he meant when he said that he supports the autoworkers but also supports "how these companies operate" ― including the high CEO pay. "Which is it?" Varney asked, framing it as a zero-sum tradeoff between workers and CEOs.
Pence was having none of it.
"While the union bosses are talking about class warfare and talking about the disparity in wages, I have to tell you, I really believe what's driving that is that 'Bidenomics' has failed," he said before lighting into the liberal economic and environmental policies that he believes are preventing wages from keeping pace with inflation.
DeSantis Had A Solid Night – By DeSantis' Standards.
Ron DeSantis has had a tough primary to date. He fought for airtime in his first debate performance while failing to leave a mark. And his campaign's restructuring ― read: mass layoffs ― has failed to arrest a slide in the polls that has seen him drop to fifth place in a recent survey of Republican primary voters in the early primary state of New Hampshire.
But if Ramaswamy stole the show in Milwaukee in August, DeSantis found time to shine in Wednesday's showdown in Simi Valley, California. In fact, he narrowly got the most speaking time of any candidate.
The Florida governor turned a question about education policy into an extended riff about his personal biography, including his decision to serve in the military after 9/11, which drew applause from the crowd.
"I've been a blue-collar kid, minimum wage and studied in Florida," he said. "I ended up getting through Yale and Harvard Law School and somehow came out more conservative than when I went in, and that is not easy to do. Had a lot of opportunities to make money, but I wanted to serve."
DeSantis was perhaps strongest while defending his record enacting right-wing policies in Florida. He argued that only he, a villain for the left, had endured the liberal resistance and national scrutiny needed to test his mettle for the presidency.
"You can always talk, but when it gets hot in there, when they're shooting arrows at you, are you going to be stand-up for parents' rights, keep the state free?" he asked. "I've done it while others have talked about it."
Of course, DeSantis had his share of face-plants as well. His answers when pressed on his state's high rate of people without health insurance were lacking.
And it's not clear how much the debate improved his standing relative to Trump, who remains the field's runaway leader. But at a moment when DeSantis needed a good night, he got one.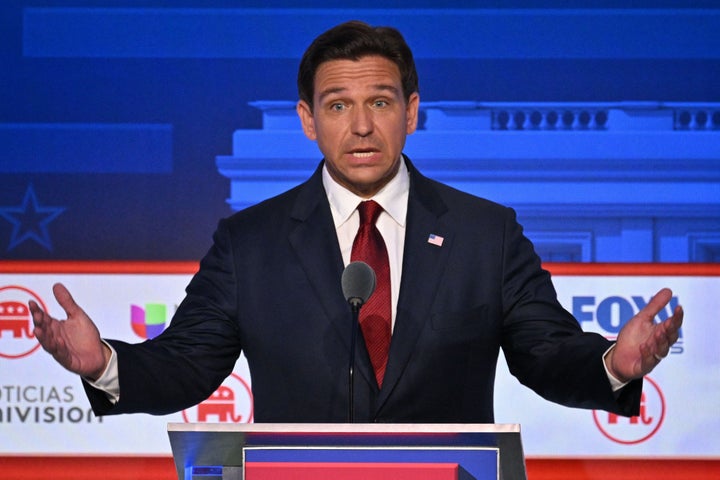 No Answers On Health Care.
An important thing happened when Fox News' Dana Perino asked Pence whether Obamacare was "here to stay." Instead of answering the question, Pence decided to respond to a previous question about mass shootings and gun violence. Perino followed up: "Does that mean Obamacare is here to stay?" He still didn't answer the question.
No candidate had a real answer about what to do about health insurance in the debate. No one called for repealing Obamacare, as every candidate did in both the 2012 and 2016 GOP primaries. And no one offered much of a solution for rising health care prices, which are the leading cause of bankruptcy, or for the millions who still lack health insurance even with Obamacare.
Haley gave the most substantive response by arguing for price transparency in health care and tort reform. Her answer was a standard-issue, market-oriented, anti-trial lawyer answer that any Republican could have given over the past two or three decades.
When DeSantis was asked why 2.5 million Floridians don't have health insurance, he couldn't answer the question. (Florida is one of 11 states that have not expanded Medicaid as provided for under Obamacare.)
On one of the biggest issues and costs for Americans, the GOP seems to be completely out of ideas.
Vivek And Trump Got Dinged.
Ramaswamy was the big story following the first GOP debate after he attacked his opponents as "bought and paid for," derided Reagan's "Morning in America" sunny disposition and heaped praise on Donald Trump. By the end of the second GOP debate, he was begging for his competitors to follow Reagan's 11th commandment: "Thou shalt not speak ill of any fellow Republican."
With his high school debate style and smarmy presentation, Ramaswamy, who at 38 was the youngest candidate on stage, clearly annoyed his fellow primary candidates, especially Haley.
"Every time I hear you, I feel a little bit dumber for what you say," Haley said to Ramaswamy after he explained how social media influencer Jake Paul convinced him to join TikTok.
Scott got the Vivek-bashing off to a start by attacking Ramaswamy for doing business in China when he ran a pharmaceutical company. But the big pile-on came on a major policy point that currently divides the Republican Party: the Russia-Ukraine War. After Ramaswamy declared that "just because Putin is an evil dictator does not mean that Ukraine is good," the candidates jumped on him.
"A win for Russia, is a win for China," Haley repeated numerous times.
"Vivek, if you let Putin have Ukraine, that is a green light for China to take Taiwan," Pence shouted over Ramaswamy.
Trump, the front-runner in the race, also took hits, but this time from someone other than Christie, who has made it his mission to run against Trump. In his first response of the night, DeSantis attacked Trump for being "missing in action" from the debate stage and blamed him for rising inflation.
"He owes it to you to defend his record, where they added $7.8 trillion to the debt that set the stage for the inflation that we have," DeSantis said.
DeSantis also attacked Trump for not being at the debate to defend his criticism of six-week abortion bans, like the one DeSantis signed into law in Florida.
"[Trump] should be here explaining his comments ... that pro-life protections are somehow a terrible thing," DeSantis said.
Haley also attacked Trump for his record on China. She claimed that Trump focused only on the issue of trade regarding China but ignored "that they were buying up our farmland," "stealing $600 billion in intellectual property," "put a spy base off our shores in Cuba" and "that all of our law enforcement drones in America are Chinese."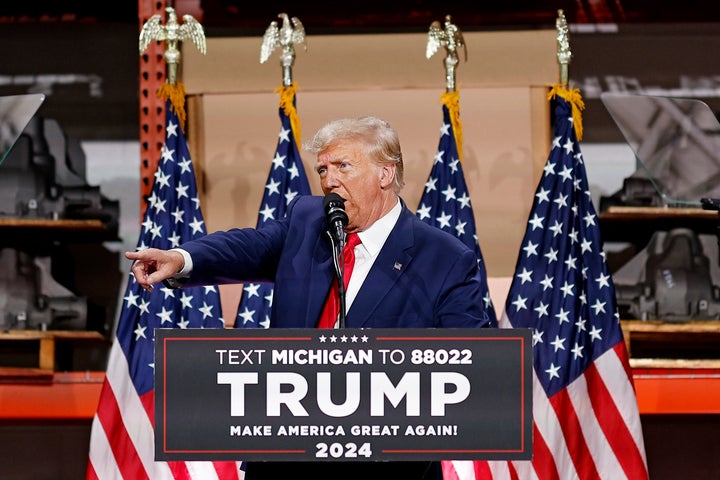 Who Cares?
"Who am I? What am I doing here?" That's what you might be asking yourself after watching this second GOP presidential debate.
The reason you may be questioning the point of all of this is that, for the second time, the GOP debate stage did not include the front-runner, Donald Trump. Despite the primary campaign raging for most of 2023, Trump has only gained ground in the polls. In February, he led DeSantis by just 2 percentage points in polling averages. Now? Trump leads all of the other GOP candidates combined by nearly 20 points.
Trump's position is so solid that President Joe Biden is already running ads attacking him, and Trump spent the night campaigning in swingy Macomb County, Michigan, rather than worrying about the debate in California.
So what is even the point of these debates? Here are seven candidates who think they should be the next president of the United States, but only one of them is cracking 10% in the polls. None of them have broken out with primary voters so far. In fact, DeSantis, that one candidate over 10%, has seen his poll numbers slide since the first debate. He may have had a solid night in the second debate, but neither he nor any of the other candidates did anything to answer the two main questions in this race: How are they different from Trump? And why shouldn't Trump be the party's nominee?
It's not all on them. This race is unique. There is no precedent for challenging a former president in an open primary since the adoption of the modern primary system in 1972. Trump has also reached a mythical status with the GOP base. He came out of the television, descended that escalator in 2015 and spoke directly to the anxieties and fears in the Republican soul.
So, what is left for these also-rans? In his speech at a non-union auto parts shop on Wednesday night, Trump declared that he will not pick any of his 2024 primary competitors as his vice presidential nominee. So that's out of the question, depending on how much you think Trump's words are worth. Some, like Ramaswamy, may be positioning themselves for future political campaigns.
But for the rest of them, what's the point? Perhaps it's that politicians are like sharks. They can only move forward. Once they've reached a certain point in their careers, running for president is the last forward move to make. But if you want to win, you have to be willing to bite. And none of these sharks have figured that out yet.
Support HuffPost
The Stakes Have Never Been Higher
Popular in the Community