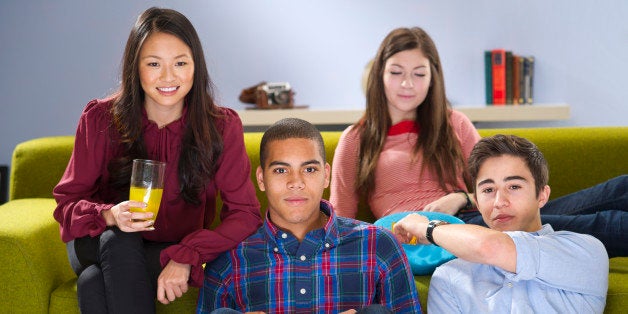 So you've made it through the first three-and-a-half years of college and you're finally at the finish line. The end is in sight, and with graduation quickly approaching we're sure you have a severe case of senioritis. But the last semester is filled with many highs, lows and scenarios only second-semester seniors can truly understand.
1. Your day is considered a success if you wear anything besides yoga leggings or sweatpants.
2. You start drinking out of glasses instead of Solo cups and bottles instead of cans, and you've replaced those nightly Red Bulls with home-brewed green tea.
3. You have a tough time believing that those prepubescent children on tours of your campus are seniors in high school.
4. You're on a first-name basis with the college bartenders and bouncers.
5. You suddenly feel creepy, old and out-of-place at frat parties.
6. You've procrastinated so much, you have literally run out of people to stalk on Facebook and Twitter.
7. The outcome on your BuzzFeed quiz is far more important to you than the grade on your econ midterm.
8. Roommate just got dumped? Chipotle. First date with your Tinder crush? Chipotle. Parents in town for the weekend? You may be at a fancy Italian restaurant ... but you're dreaming of Chipotle.
9. You realize you've completely run out of new dating prospects, making recycled hook-ups socially acceptable.
10. Weekend binge drinking with friends has been replaced with weekend binge watching "House of Cards." Alone.
11. Instead of going for that sixth shot of vodka at the birthday party, you grab a sixth slice of cake.
12. There are suddenly all these new four-day weekends the university knows nothing about.
13. The most important and stressful essays you'll write all semester will be your cover letters.
14. Everything you do is now qualified with a "last." Even if that means it's your second-to-last hot dog at the fourth-to-last basketball game.
15. Graduation, which once sounds like a beacon of light far the distance, is now a pit of darkness in the foreseeable future.
16. Facebook engagements are no longer high school jokes.
17. Unless it's your best friend, you don't want to hear how well anyone's interview went at J.P. Morgan/Bank of America/Goldman Sachs/Deloitte/Merill Lynch/Morgan Stanley.
18. You start weeding out the people you've been friends with out of pure convenience (i.e. everyone who lived on your freshman hall).
19. Each time someone asks you what your plans are after graduation, the self-assurance you've built up the past four years diminishes.
20. You actually expect all younger students to open doors for you, walk behind you on the street and let you cut to the front of them at the bar because, well, seniority.
21. While you love your seniority, deep down you're jealous of the freshmen who have only just begun the busiest, craziest, most significant adventure of their lives.
22. You come to find that the hardest part of college is living in the moment of your final semester without documenting the present ... and hectically planning for your future.
Related
Popular in the Community