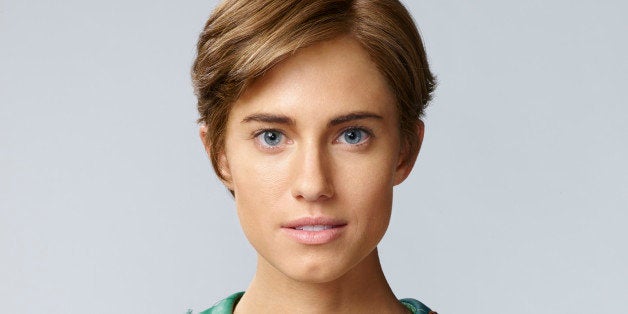 I clapped and I clapped and I wanted to believe in more TV musicals and I still do. I still felt very let down by NBC's latest live musical outing, this year's long-awaited revival of the 1954 classic Peter Pan, which for many adults was a TV perennial once upon a time.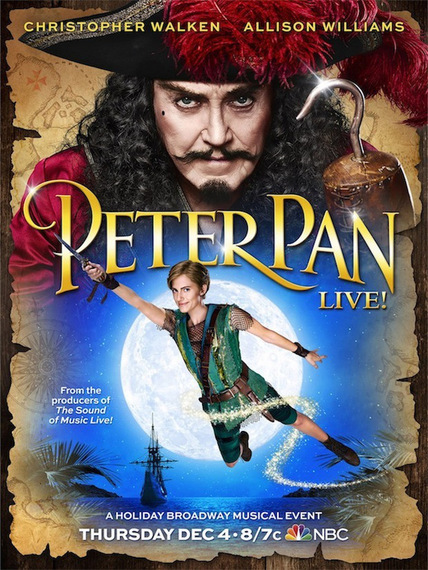 As a child I fell asleep watching Disney's Peter Pan on the big screen. Admittedly I generally wasn't interested if there wasn't a princess or a witch involved. My aunt told me that she thought I would enjoy the TV version better. So imagine my excitement when NBC aired it in 1989. My aunt tried to prep me by letting me know that J.R.'s (Larry Hagman from Dallas) mommy (Mary Martin) played Peter Pan. Of course that didn't faze me in the least. I liked to pretend I was Dorothy Gale, so why couldn't "J.R.'s mommy" pretend to be Peter Pan?! No sooner did she fly on screen did La Martin had me high on her fairy dust.
Now when I first heard that Peter Pan was next on NBC's list, my mind began to race. There was a short-lived rumor that tradition might be broken and a young man might be cast in the role. My choices for Peter Pan and Hook: Daniel Radcliffe and Hugh Jackman. Both have proven they are capable musical theater performers and they have that box office draw cache that the networks are so hell bent on using to promote these specials. How could they go wrong with Harry Potter and Wolverine?! Funny enough, Jackman will be playing "Black Beard" in the upcoming 2015 film PAN.
Alisson Williams bared the burden of slipping into the iconic flying harness of Marty Martin. Many have cried nepotism, as she is the daughter of NBC's own Brian Williams. I must say Williams has a lovely singing voice. She delivered a sweet and solid rendition of "Never Never Land." Also effective was Williams' rendition of "When I Went Home" (cut from the original Broadway show). Through such ballads, Williams showed her strength as an actress. However, Peter, as depicted in the infamous statue in Kensington Gardens, is no more than 6 years old. Unfortunately, as Peter,Williams comes off as a very responsible and proper young man, not a plucky 6-year-old. I do not blame Ms. Williams. I blame bad direction for not allowing her to be the youthful, joyful, free spirit Peter claims he is toward the end of the show. Williams simply needed more sprightliness and more cock-a in her doodle-doo.
For me Captain Hook will always be the great Cyril Ritchard. Christopher Walken simply seemed to be "Walken" through his performance altogether, devoid of fun, impishness and yes, lovable-ness. Most of Hook's potential wonderful moments all came off as throwaways. Okay, his tap number was charming to watch. Beyond that his performance in Peter Pan left me saying, "Get the hook!"
Broadway dynamo Kelli O' Hara was totally wasted as Mrs. Darling. She didn't even have the benefit of one moment to really shine as Audra McDonald did with "Climb Every Mountain" in The Sound of Music Live! last year. Perhaps that was a calculated move by the producers this time around, considering the fact that McDonald's solo garnered more attention and stole the evening away from the lackluster and totally miscast Carrie Underwood.
I have been a fan of Christian Borle since seeing him on Broadway in Thoroughly Modern Millie. His Smee was delightful and hunky, revealing quite a bit of bicep and, like many, I also marveled at Borle's guns. A sexy Smee works for me!
As Wendy, Broadway actress Taylor Louderman was superbly cast. She conveyed a lovely presence and won me over with her big solo, "It's Only Pretend."
Yes, The Lost Boys looked more like The Lost Men but I will say this: They all conjured up that essence of rakish little tots brilliantly and they danced their asses off! In fact the ensemble as a whole should be commended and applauded for shining brighter than Tinker Bell in all of the production numbers.
Those aerial shots combing over foggy London town set with twinkle lights in the distance made me feel as if I were riding Peter Pans Flight in Disney Land; having Tinker Bell as a CGI that the audience could actually see on screen was a nice touch, though not a totally new innovation, as the precocious pixie was depicted this way in the 1977 Mia Farrow version.
When Mary Martin and company go soaring skyward in the 1960 telecast it still gives me goose bumps. This time around they should have changed the lyrics from "I'm Flying" to "I'm Dangling." At one point everyone looked like they feared they might plunge into the London town miniature below.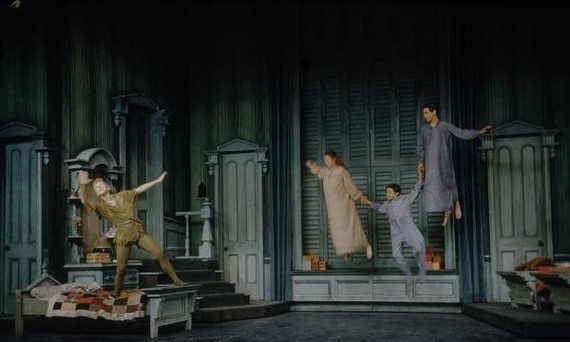 Most bothersome about this production was that it became monotonous. Many of my friends with kids said their little ones lost interest halfway through. A glutton for punishment, I went back and watched the show twice more before writing this piece. Then I went back and watched Martin's version and no contest, the latter still shines like a new penny and holds you captivated in its magical spell. It maintains a key ingredient the new incarnation was sorely lacking: whimsy. There was nothing whimsical about Peter Pan Live! at all.
At the helm I blame flawed direction by Rob Ashford. Let's call foul on the casting of the principals too. When will this trend of stunt casting end? When will directors be hired who understand this genre? Why not let a good show sell itself and draw the audience in? Why not cast an established Broadway star ? The possibilities are endless and would be far more entertaining.
In the end, Peter Pan Live! was, in my opinion, a missed opportunity and low on fairy dust. Every time a child tuned out from its viewing a renewed hope in live TV musicals fell down dead, and no amount of clapping could save Peter Pan Live! from not being magical.
Calling all HuffPost superfans!
Sign up for membership to become a founding member and help shape HuffPost's next chapter