As a hospital social worker, there's nothing quite like being "fired" by a patient's family. When it happened to me, I felt shocked and dismayed. When a comforting co-worker saw the distress on my face and listened to my story, he said, "It's hard on families when someone they love has cancer. They all get knocked down by it."
He was right, and I learned a good lesson: A cancer diagnosis for one member of a family really means that the whole family gets sick. The hard part is that there is only one identified patient in the group. Everyone else just has to limp their way through it. But make no mistake, they are all being affected. When one member of the family is terminally or traumatically ill, they are all ill. They don't have cancer -- they have what I call secondhand cancer.

Secondhand cancer is insidious. It makes people sick much as secondhand smoke does: stealthily, without their quite being aware of it. There is no medicine for this illness. The depression, anger, exhaustion, grief and anxiety of caregiving goes largely unnoticed in many medical settings.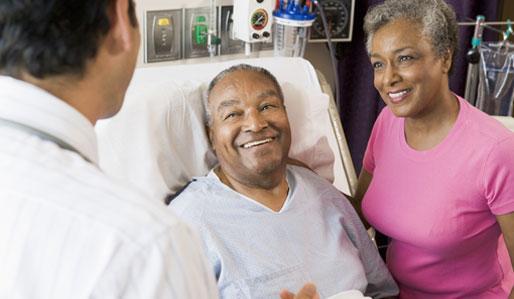 Caregivers, the dedicated friends and family members alongside their loved ones in the midst of a traumatic or terminal illness, are the ones most vulnerable to secondhand cancer. They're the people who stay when everybody else goes home. The "givers" hover over the beds of their loved ones or keep a serene vigil by their side while nurses, technicians, housekeepers, doctors, consultants, food trays and other visitors file in and out of the room to care for the patient. They keep watch. They leave only to call back home before they catch a quick nap in a waiting room chair.
Their love and sense of duty toward a sick or dying person has sucked the life out of them and left them virtually empty. They become patients in their own right -- but no one seems to notice.
You know that caregiving has taken its toll when you see their pale faces in the room, or watch them break down when, after long days and nights of giving care, they are met by bad or worse news from the physician they thought was going to heal their loved one. When off duty and relieved by another giver, those closest to the patient often walk the halls of the hospital like zombies, exhausted by long stints in the room, depleted from talking to so many different people in a medical language unfamiliar to them, wasted from continually holding up the banner of hope to the sick one, burdened from all that has been and haunted by all that may still be.
Unlike the patient, caregivers have to deal with their illness alone. Their desperation and fear has to be dealt with privately, away from their loved one, because these valiant folks have to, at all costs, protect their beloved from their own needs and from the sadness they carry that no one can help them with. It would be a horrendous violation of the unspoken code of givers to burden their patient with any more burdens.
In the medical field, we often recommend that patients recovering from surgery take some time off from work, lighten their duties and get lots of rest. The same is true for caregivers -- except no one tells them. So I will.
First, those experiencing secondhand illness can take care of themselves by simply acknowledging that they have been affected as much, if not more, than the patient has. The patient has an entire medical team caring for them, but the giver does not.
Second, talk to a trusted family member, friends or a counselor about your loved one's illness and its effect on you. A person who can listen and "hold" your story will lighten your load and help free you from the isolation of caregiving.
Third, pace yourself. Slow and steady wins the race. Try to keep things normal. Go for a walk. Don't forget to recharge with a nap or a funny movie. You need some R&R from the combat zone. Even nurses who are professional caregivers take time off.
Finally, utilize the abundance of technology that is available to manage the cumbersome tasks that can weigh you down, such as giving medical updates to faraway family and coordinating volunteers who want to help. Reimagine.me (which, full disclosure, is a company I work for), Caringbridge.org, Lotsahelpinghands.com and Takethemameal.com are just a few of the many websites dedicated to helping the families and friends -- the givers -- of someone who is sick.
Take advantage of these sources of help, and any others that come your way. Remember: The better you feel, the more you can help.
This article originally appeared on reimagine.me a new online magazine for those who have been touched by cancer, and an education resource that teaches a powerful set of skills to start feeling better immediately.