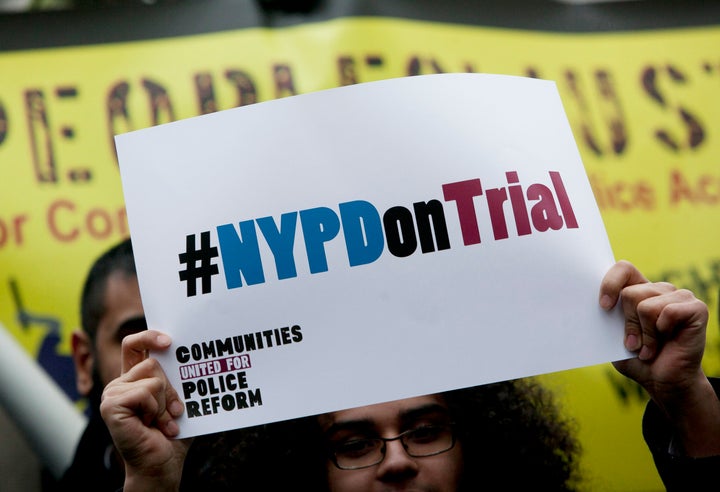 NEW YORK -- Lawyers behind a federal class-action suit brought against the New York Police Department and the practice known as stop and frisk are expected to introduce over the next month one of the few known recordings of "Stop, Question and Frisk" in action, community activists say.
The recording, made secretly by a 15-year-old Latino boy who was stopped and frisked on an East Harlem Street in 2011, according to activists, has the potential to become a key piece of evidence in the proceedings that began last week to determine whether the NYPD's stop-and-frisk policy relies on racial profiling.
As the trial continues, a litany of audio records have been played in court. Plaintiffs' lawyers with The Center for Constitutional Rights have offered another secret recording, made by a Bronx police officer, which reveals NYPD Deputy Inspector Christopher McCormack talking about reducing robberies by targeting black teens for stop and frisk. Lawyers defending the NYPD and representing New York City have also played a recording of police radio traffic in which officers indicate the description of a wanted man fits that of a man they stopped and frisked.
Yet in an era when judges sometimes have to include a ban of Facebook and Twitter contact in orders of protection and text messages have helped to send politicians to jail, it is not far-fetched that the teenager's stop-and-frisk cell phone recording could impact the ongoing federal class-action suit.
The Center for Constitutional Rights, the left-leaning non-profit legal organization that brought the class-action suit, would not confirm or refute what its legal team plans to introduce into evidence Wednesday. The center never speaks about evidence before it is introduced or speculates about the timing because plans can and often do shift based on courtroom events and schedules, said Jen Nessel, a spokeswoman for the organization.
Anti-stop-and-frisk activist Jose LaSalle brought the recording to the attention of The Huffington Post, after it was given to him. A longtime activist opposing stop and frisk, LaSalle says he is familiar with the details of the pending case and plans to introduce the recording in court this month. The recording, he says, captures just one experience of the millions of mostly black and Latino men and boys who have been subjected to the stop-and-frisk program after its introduction in the 1990s.
"The good thing about a [recording] is you can prove if it's been edited or altered. If it hasn't you really can't deny what is said," LaSalle said. "And what these officers say to this kid, it's shameful."
(Click here or scroll down to listen to the recording first made public by The Nation magazine.)
The recording captures police telling the 15-year-old that he was stopped by police two times while walking three East Harlem blocks because he was wearing a hoodie and glancing over his shoulder suspiciously. Officers can be heard yelling, cursing and possibly pushing the boy. One officer even refers to the boy as a "mut," and a "wise ass," and threatens to break the boy's arm.
LaSalle described the use of the term "mut" as a sort of ethnic epithet aimed at disparaging the mestizo (mixed racial) heritage of Latinos.
Just on Wednesday, an officer under questioning by the center's lawyers said that his decision to tell a 13-year-old boy he stopped and frisked to "stop crying like a little girl" was not appropriate.
These kinds of exchanges between NYPD and minorities are what activists like LaSalle hope to highlight.
Of the 4.4 million people stopped and frisked by NYPD officers since the
program began in the 1990s, 86 percent were black or Latino, according to a New York Civil Liberties Union analysis released this month. And of these, 88 percent of stops did not lead to an arrest or even a citation requiring a court appearance.
Defenders of the program – including Mayor Michael Bloomberg, Police Commissioner Ray Kelly and some crime control advocates – say that Stop, Question and Frisk has helped push New York's crime rate to record lows. Other cities experienced a dip in crime but none have watched crime numbers slide as long and as low as New York, advocates of the policy say.
Any concentration of stops involving blacks or Latinos is really a reflection of the fact that the city's highest crime and most heavily policed neighborhoods also happen to be home to mostly people of color, said Heather MacDonald, a fellow at the Manhattan Institute, a right-leaning think tank. In fact, minorities may be "understopped," because 98 percent of shootings last year occurred when a black or Latino perpetrator fired a gun, MacDonald said.
Those claims and figures inspired a stop-and-frisk-like program in Los Angeles, not long after former New York City Police Commissioner William Bratton took the Los Angeles Police Department's top job in 2002. Bratton has since retired. New York also inspired a frequent traffic-stop and warrant-search program in Nashville and later, New Orleans, where former Nashville police chief Ronal W. Serpas, a New Orleans native, took over that city's top cop job in 2010. (The New Orleans Police Department became subject to a four-year federal monitoring plan last year, due in part to accusations of rampant racial profiling and police brutality).
When Bratton, the former police chief in New York and Los Angeles, was hired to advise the Oakland, Calif. police department and said that cities without stop-and-frisk are "doomed," large crowds appeared at city meetings to protest. Bratton's firm also has consulting contracts with Detroit and Baltimore.
Watch this 13-minute documentary about stop-and-frisk produced by The Nation magazine to see the teenager describe his experience:
Popular in the Community