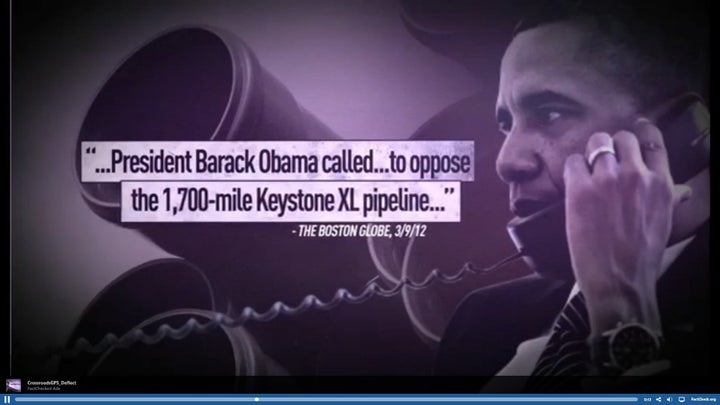 WASHINGTON -- Advocates of unlimited secret political spending say it leads to a more informed electorate, but according to a new study, in reality it spreads more lies.
An examination of presidential-election advertising spending by the top four secret big-money political groups -- all of them right-wing -- found that 85 percent of their money over a recent six-month period went to ads that independent fact-checkers determined were in some way deceptive.
According to the research:
Crossroads GPS, the secretive 501(c)(4) political group co-founded by Karl Rove, spent $10.3 million on deceptive ads during that period, the study found.
The American Future Fund, a conservative organization based in Iowa, spent $6.4 million broadcasting such ads.
Americans for Prosperity, funded by the right-wing Koch brothers, spent $5 million on them.
The American Energy Alliance, a group that fights energy taxes, spent $3.3 million.
None of the groups discloses their donors because each claims not to be a political organization, but rather "social welfare groups" operating under section 501(c)(4) of the tax code.
The center noted that as of June 1, no Democratic-leaning 501(c)(4) paid for advertising in the presidential race.
To be counted as deceptive, an ad had to include at least one statement that at least 1 of 4 fact-checking groups determined was false. Those four groups -- some of which have credibility problems of their own -- were Annenberg's own Factcheck.org, the Washington Post, the Associated Press, and Politifact.com.
The Annenberg Center tracks deceptive claims on its Deception Log.
Kathleen Hall Jamieson, who heads the center, discussed the study on Wednesday at a conference on "Shadow Money" hosted by the Center for Responsive Politics.
She described its results as a symptom of what happens when so much money is being spent by groups that aren't directly associated with a candidate or a political party. "As you become more removed from the candidate," she said, "the level of attack tends to go up, as does the level of deception."
Popular in the Community