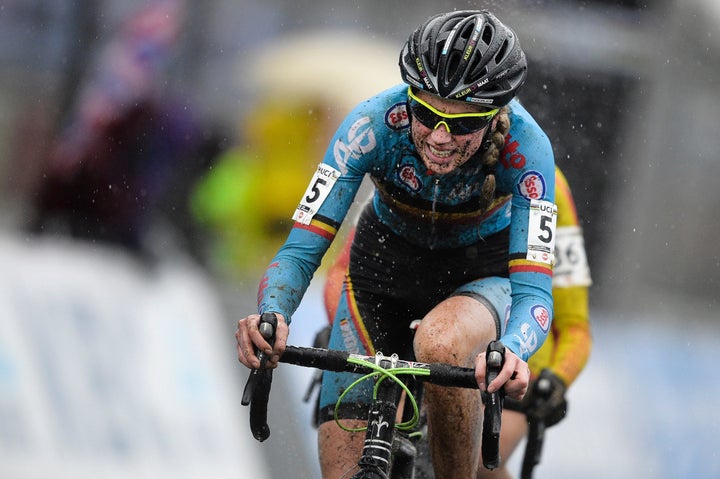 (Reuters) - Cycling was being forced to confront a new controversy on Sunday after the sport's head confirmed the first top-level case of "technological fraud" with a hidden motor being found on a Belgian cyclist's bike.
The motor was discovered inside the frame of the machine being used by teenager Femke Van den Driessche at the world cyclo-cross championship in Zolder, Belgium, Bryan Cookson, the president of the International Cycling Union (UCI), said.
"It's absolutely clear that there was technological fraud. There was a concealed motor. I don't think there are any secrets about that," Cookson told a news conference.
Yet the 19-year-old Van den Driessche denied suggestions she had deliberately used a motorized bike in the women's under-23 race and was in tears as she told Belgian TV channel Sporza: "The bike was not mine. I would never cheat."
Van den Driessche said the bike looked identical to her own but belonged to her friend and that a team mechanic had given it her by mistake before the race.
The bike was later seized after she had withdrawn from the race on Saturday with a mechanical problem.
"It wasn't my bike, it was my friend's and was identical to mine," Van den Driessche told Belgian TV channel Sporza.
"This friend went around the course Saturday before dropping off the bike in the truck. A mechanic, thinking it was my bike, cleaned it and prepared it for my race."
Van den Driessche said she feared her career could now be over but she still hoped for a second chance and was not afraid of any investigations into the case.
"I'm aware I have a big problem. I have done nothing wrong," she said.
In a sport that has long battled with a major doping problem, suggestions and rumors of 'motorized doping' have long floated around too but nothing has been proved in major competition until this case.
It prompted Cookson, who confirmed the case would be investigated by the UCI's disciplinary commission, to say: "We've heard some stories for a long time now about the possibility of this.
"We have been alive to a potential way that people might cheat and we have been testing a number of bikes and a number of events for several months.
"I am committed and the UCI is committed to protecting the riders who do not want to cheat in whatever form and to make sure that the right riders win the race."
(Reporting by Ian Chadband; editing by Martyn Herman)
Related
Popular in the Community