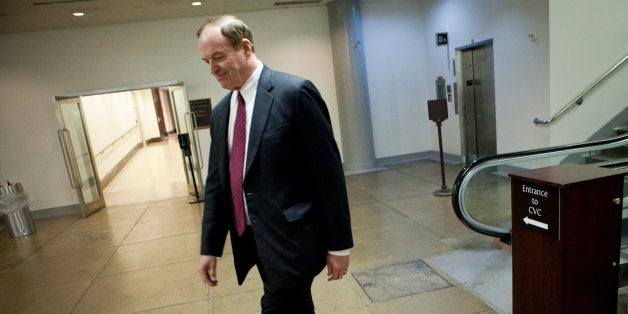 This is the second in a three-part series. Read the first story here.
The conservative "secret science" campaign harkens back nearly twenty years.
In late 1996, industry was trying to fight the Environmental Protection Agency's first efforts to set a fine particle pollution air quality standard of "PM2.5," the abbreviation used for particulate matter less than 2.5 microns in diameter.
Citizens for a Sound Economy (CSE), an astroturf lobbying group founded by the petrochemical industrialist brothers Charles and David Koch in 1984, warned that the "effects of the new air quality standards on the economy would be devastating," based in part on economic analyses conducted by the Center for Study of Public Choice at George Mason University – a group also funded by the Koch brothers. The CSE co-founder and president was Koch Industries vice president Rich Fink, a George Mason economist who has sat on the board of the school's public choice center.
CSE, the precursor to the Tea Party groups FreedomWorks and Americans for Prosperity, was then led by C. Boyden Gray, an heir to the Reynolds tobacco fortune and GOP kingmaker. In addition to running the tobacco-and-polluter-funded "grassroots" CSE, Gray also managed the Orwellian-sounding "Air Quality Standards Coalition," an industry coalition coordinated by the National Association of Manufacturers to fight EPA limits on soot and smog pollution.
As industry was not getting much traction with the "it's going to cost too much" argument, Gray's group employed street theater as a political tactic.
In January 1997, attendees of a Senate hearing on the proposed EPA rules encountered a group of people wearing white lab coats holding signs saying, "Harvard, release the data!" The supposed scientists in fact came from CSE. In addition, CSE took out ads in the Chicago Tribune attacking the Harvard brand, and writers in the libertarian-industrial network questioned the legitimacy of the studies and demanded the release of the private medical records at their core.
"The unwillingness of the study's authors to allow access to basic data is troubling; such secrecy is incompatible with the modern scientific process," complained a CSE publication in June 1997.
CSE also found an ideological hook for the economic-damage attacks, spinning pollution limits as an assault on freedom. "Imagine that – a new government regulation that takes away our freedom to celebrate our freedom," said a CSE radio advertisement in the summer of 1997. The ad claimed that the proposed air pollution regulations would ruin Independence Day by outlawing barbecues, lawn mowers, and fireworks.
The outcome of the campaign was threefold: a weakening and delay of ozone and particulate-matter rules; a $50 million taxpayer-funded project to reconfirm the results; and legislation compelling that the data generated by federally funded research be made available to industry and the public.
Fast forward to last year.
"The data in question have not been subjected to scrutiny and analysis by independent scientists," Rep. Lamar Smith (R-Texas) charged in a recent Wall Street Journal op-ed.
Yet Smith's claim that the studies and the underlying patient data did not undergo independent analysis is false. In fact, in 1997, while Smith was serving his sixth term, Congress appropriated $49.6 million for a major research program into fine particulate matter, including a reanalysis of the Harvard and ACS studies by the Health Effects Institute. Smith voted for the bill.
"When we got the medical records from Harvard, I personally signed a confidentiality agreement, as did the investigators at University of Ottawa. The data was conveyed to a locked room with limited access," said Health Effects Institute president Dan Greenbaum in an interview.
In 2000, the group issued a 297-page report entitled "Reanalysis of the Harvard Six Cities Study and the American Cancer Society Study of Particulate Air Pollution and Mortality." The explicit goal of that study was "to conduct a rigorous and independent assessment of the findings of the Six Cities and ACS Studies of air pollution and mortality."
In short, the HEI assessment confirmed the studies' results. So did a separate HEI analysis of public records from 90 cities known as the National Morbidity, Mortality, and Air Pollution Study.
A charitable interpretation is that this multi-year, multi-million-dollar taxpayer effort advanced epidemiological methodologies. Others might say that polluters knowingly gamed the system by unfairly casting doubt on well-founded science.
Following these EPA battles, Sen. Richard Shelby (R-Ala.) drafted the Data Access Act, better known as the Shelby Amendment, in response to his inability to get the underlying medical records from the Harvard Six Cities and American Cancer Society studies.
The Shelby amendment mandated that "all data produced under a [federally funded] award will be made available to the public through the procedures established under the Freedom of Information Act [FOIA]." The Office of Management and Budget drafted rules to implement the Shelby amendment that limited the scope to research "used in developing an agency action that has the force and effect of law" and carved out exceptions for confidential data.
Efforts to repeal the Shelby amendment in 1999 led tobacco and oil industry consultant Steve Milloy to coin the term "secret science." In February, Milloy launched the "Stop Secret Science" sweepstakes, offering a Wall Street Journal subscription to people who sent a comment to OMB on the "secret science" rule. Soon, the Washington Times and the New York Post published "secret science" editorials, and an oil executive attacked the "secret science" of the EPA rules. But the term failed to catch on, perhaps because most politicians couldn't claim with a straight face that confidential medical records should be made public on industry's behalf.
The Shelby amendment had little actual impact on the Harvard and ACS studies. The ACS data is not funded by federal or public dollars, and is not subject to the Data Access Act. Essentially all of the non-confidential records and data from the Harvard Six Cities research has been made public, a process that was underway before the passage of the amendment.
Whatever the intent, the Shelby amendment marked an important shift in the balance of power between industry and the public, as corporate researchers could get access to federally funded work without any expectation of a quid pro quo.
Forcing a Document Release
Fifteen years later, Rep. Lamar Smith was ready to go further.
After two years of fishing expeditions begun during Ralph Hall's chairmanship, Smith was fed up with the idea that the federal government wouldn't –- or couldn't –- force Harvard and the American Cancer Society to turn over private medical records to his committee.
"If the administration does not provide this data by the end of July, the science committee will force its release through a subpoena," he warned.
Although the EPA complied with Smith's previous demands, turning over all of the records under its control, Smith pushed the subpoena forward. On Aug. 1 of last year, the committee authorized subpoenas against the EPA, Harvard University, and the American Cancer Society on a party-line vote. That day, Smith issued a subpoena to the EPA.
A month later, Smith expressed his anger at the EPA's limited response, challenging the agency to force Harvard and the cancer society to turn over the medical records so that his Committee can "analyze the health effects of exposure to certain air pollutants."
In a Sept. 3 letter to EPA administrator Gina McCarthy, Smith claimed that the OMB's implementation of the Shelby amendment means the EPA's power to compel private institutions to turn over records is without limit, no matter what confidentiality agreements exist between the researchers and their subjects, or between the government and the researchers.
A March 2013 Congressional Research Service report on the Shelby amendment notes that its scope "excludes personal and business-related confidential data."
When Rep. Eddie Bernice Johnson (D-Texas) asked Smith who he wanted to pass along the research data to, he said, "Dr. James Enstrom."
It turns out that Mr. Smith's preferred expert for more than two decades has been closely connected to the American tobacco industry, reviled for its promotion of deceptive marketing and faux-science.
'I Understand Science Better'
Enstrom, an epidemiologist, is perhaps best known for his work on tobacco industry-funded studies, including studies on the health effects of tobacco and second-hand smoke.
His first published work as an epidemiologist, which wasn't funded by the industry, "Cancer Mortality Among Mormons" (1975), found that Mormons' low consumption of tobacco and alcohol seemed linked to lower cancer rates than the general population.
That said, Enstrom's attempts to be funded by the tobacco industry go back to the beginning of his career, as communications as far back as 1975 indicate. Enstrom received $233,500 from 1992 to 1998 from the tobacco industry-sponsored Council for Tobacco Research. In 1997, as anti-tobacco lawsuits were leading to the dissolution of CTR, Enstrom solicited and received $150,000 directly from Philip Morris for research based on his idea that "there may indeed be a threshold below which tobacco use is not related to mortality."
Given the tobacco industry's widespread campaign of deliberate deceit about the health risks of smoking, tobacco-funded research is now considered tainted.
In a 2007 essay, Enstrom accused the entire field of epidemiology of "science McCarthyism." He finds the move to restrict tobacco-industry funding for research into the health effects of tobacco to be the equivalent of the Soviet government's efforts to create a "regime of truth" by outlawing research into genetics.
Enstrom has argued depictions of him as a "tobacco industry consultant," including the one made by Johnson, are "defamatory."
As the tobacco money dried up, Enstrom switched over to industry-funded studies of air pollution.
In a 2005 study funded by Electric Power Research Institute, Enstrom failed to find a "relationship between fine particulate pollution and total mortality in elderly Californians," in contrast to conclusions reached in previous work by the American Cancer Society.
In a telephone interview from his home in Los Angeles, Enstrom said he's not biased towards industry but towards the science, and is so often at loggerheads with other researchers because he's smarter than epidemiologists with medical or other backgrounds. "I'm saying I understand science better," he said.
Whether or not Enstrom's views on science are better, many are unusual.
For example, Enstrom had no explanation regarding how fine-particulate pollution could have been found to be deadly at various points in the past, as multiple studies around the globe have found, but are not now in California, as he hypothesizes. He told me that the burden of proof should be on the mainstream medical community, because there isn't medical research that explains how soot causes cardiopulmonary diseases.
"We don't have a mechanism," he said.
But just to cite one of many well-regarded studies on the topic, a decade-old report from the National Research Council noted that there is "growing clinical and epidemiological evidence that ambient air pollution can precipitate acute cardiac events, such as angina pectoris, cardiac arrhythmias, and myocardial infarction."
Enstrom said he believed that there are potential benefits to exposure to air pollution and radiation. He cited the concept of "hormesis," a controversial scientific concept that hasn't gained widespread acceptance among scientists and is generally reviled by environmentalists. He said hormesis posits that "below a certain level of pollution there's a loss of natural immunity; if the air is too clean the body doesn't necessarily protect itself."
"I believe there's a lot of evidence supporting the validity of hormesis," he told me.
Unsolicited, Enstrom then made a point to defend the rampant climate-science denial among the Republican members of the House Science Committee. "We should be all thankful that we live in a country where freedom of speech is allowed," he said.
One of the main concerns from environmentalists, science advocates, Democrats and others about Smith's demands for the Harvard and American Cancer Society data is that the data includes confidential, personal health information from participants who were promised confidentiality. Such a disclosure of the data would violate their trust, they maintain.
Yet Smith and his aides (and Enstrom) insist there are ways that participants can be "de-identified."
"Even if you were unable to de-identify the documents, you were still required to produce them," Smith wrote in a September 3 letter to EPA administrator Gina McCarthy. "We are confident the data can be de-identified with relative ease."
But many, including the author of the Six Cities study, argue Smith's position is faulty.
"Anonymizing doesn't work," said Frank Speizer. "To know enough from the medical records to be able to replicate the results gives you enough information to personally identify individuals."
Speizer added that the specter of being forced to disclose private data is a "stigma" on new research. "How do you get investigators to do this work?" he asked. "How are you going to get people to participate?"
"The data included in Harvard Six Cities includes detailed medical records, tests, visits on 8,000 individuals," explained Greenbaum of the Health Effects Institute. "There are sworn signed statements that we will not disclose this information in any way."
"One of the principal rules that goes throughout science," said Greenbaum, is that "you are really constrained from presenting the data in more than aggregated form."
For example, Greenbaum noted, when the studies were first done, researchers relied on having one or two air monitors in each city and estimating that the exposure reflects everyone in that city. There are now improved methodologies that are based on where people live. "If you know where somebody lives, and when they died, you know who they are," he explained.
When I presented Greenbaum's points to Enstrom, he conceded that Greenbaum could be right. "You're raising concerns that I don't want to deal with in this phone call," said Enstrom.
The Secret Science Reform Act
The August subpoena authorized the committee to directly mandate that Harvard University and the American Cancer Society turn over their confidential records. Despite Smith's rhetoric about the multi-trillion-dollar importance of getting access to the patient records, his committee has only gone after the EPA.
Since the EPA doesn't actually have the confidential medical records, he has changed course, with a new and much broader line of attack.
On February 6, Smith and Rep. David Schweikert (R-Ariz.) introduced the Secret Science Reform Act.
The bill is less than a page long, but it is breathtaking in scope. It forbids the EPA from taking any kind of action – regulatory, advisory, or enforcement – unless the action relies entirely on scientific research that has had all of its data made public.
Unlike the "secret science" subpoena effort, the bill doesn't try to force the disclosure of confidential data. Instead, it calls for the exclusion of any such research in EPA actions.
"Virtually every regulation proposed by the Obama administration has been justified by nontransparent data and unverifiable claims," said Smith in his press release announcing the bill. "The American people foot the bill for EPA's costly regulations, and they have a right to see the underlying science."
Environmental advocates say it would have been difficult to launch a more potentially devastating attack on the EPA and its stated mission, "to protect human health and the environment."
"Anyone who understood anything about EPA and the myriad responsibilities and legal authorities it has to undertake at the direction of Congress could not have written a two-paragraph bill that more thoroughly disrupts the agency's ability to protect the public," said clean-air advocate John Walke of the Natural Resources Defense Council. "One gasps at how oblivious it is to a vast array of unintended and absurd consequences."
The potential public health implications go beyond preventing the EPA from regulating air pollution.
One example: In June, 2010, the Gulf Coast was reeling from the BP Deepwater Horizon disaster. Millions of barrels of crude were gushing into the gulf, treated with millions of gallons of deep-sea chemical dispersants. In Jackson, Mississippi, state legislators convened a series of hearings on the disaster, which BP officials refused to attend. Legislators – even Steven Palazzo, now a member of the House Science Committee and a co-sponsor the Secret Science Reform Act – asked if the dispersants could make made Gulf seafood toxic.
The chemical composition of those dispersants was and remains confidential.
Another example: Walke noted that the Elk River chemical spill in West Virginia earlier this year involved one chemical the EPA knew about but was shrouded in secrecy, and another they didn't know about at all. More than 100 people were made sick by exposure to the chemical, and about 300,000 residents were warned not to use their tap water in any capacity.
The Smith bill, if in effect, in both cases would have prevented the EPA from acting on known dangers that it learned about from confidential information – so therefore, had the law been in place, the agency could not have acted to prevent the circumstances that led to either spill, nor could they have assisted in the spills' aftermath.
Said Walke: "That is ridiculous!"
Smith hasn't used his perch as committee chairman only to try to make life miserable for environmental regulators. He's got a thing for scientists, too.
The bookish-appearing Smith, who wears round rimless glasses and generally has a quiet, respectful demeanor, has cast his agenda regarding the $7 billion National Science Foundation with Texas-sized swagger. "I'm going to have a little fun with them," he told the San Antonio Chamber of Commerce February 5. "I'm going to change the way the grants are awarded if I have my way."
On April 18, 2013, Smith introduced a draft of the High Quality Research Act, which would compel the NSF director to certify that every grant is for "groundbreaking" research that "solves problems that are of utmost importance to society at large."
Inasmuch as the grants come before the results of the research are known, the proposed act was rightly considered absurd.
Smith and other GOP members of the committee argue that the NSF awards far too many grants on topics of an unserious nature, which do little but allow left-leaning scientists to travel to often-exotic locales on the federal dime.
He and the other committee Republicans looked at the most recent crop of 164 NSF grants issued the month before he introduced his NSF bill for examples. Looking at titles alone, and not the substance of the proposals -– which is what one prominent Democrat says Smith did -– questions might understandably be raised about whether taxpayers should be paying for the studies.
One of the grants 164 the NSF announced in March, 2013, was titled, "Picturing Animals in National Geographic, 1888-2008."
Soon after, the Washington Times asked, "[C]an the government really afford to spend $227,437 to study pictures of animals in National Geographic magazines?"
A month later, Rep. Bill Posey (R-Fla.) challenged John Holdren, President Obama's top science advisor, to justify that and other NSF-funded studies, saying "it's just hard to conceive how those are important to our national security or our national interest."
Smith sent a letter to acting NSF director Cora Merritt listing the abstract titles for five grants, including the one regarding National Geographic, questioning their "intellectual merit." The other grants, which ranged from $152,000 to $435,000, were titled "Comparative Histories of Scientific Conservation: Nature, Science, and Society in Patagonian and Amazonian South America"; "The International Criminal Court and the Pursuit of Justice"; "Comparative Network Analysis: Mapping Global Social Interactions"; and "Regulating Accountability and Transparency in China's Dairy Industry."
Yet put in context, it's clear that these studies could be defined as being in the national interest, using a wide range of definitions. According to the NSF Award Abstract, Megan Tracy, an anthropologist with James Madison University, is studying, in part, "how individuals, motivated by global scandals and the pressure to prevent future incidents, transmit and transform food safety regulations and best practices across international borders."
And Maxine Kamari Clarke, a Yale-based anthropologist, will be studying the arrest warrants the International Criminal Court has pursued against African national leaders, as it pertains to "international justice and human rights as these concepts have been interpreted by the [ICC] and the African Union Commission."
All five grants were issued by the NSF Directorate for Social, Behavioral, and Economic Sciences.
During his tenure as chair, Smith has attacked a total of 20 different NSF grants by name, 18 of which are in the social sciences. (The other two were related to climate change.)
Remarkably, two-thirds of these grant recipients are female scientists. Smith's attacks on research conducted by women took some effort, as females represent only about 30 percent of practicing scientists.
Democrats suspect that Smith's filter doesn't appear to go beyond reading the names of the abstracts. "It has been my experience that some members read the titles of the research grants but seldom read the substance behind the headlines," said Science Committee member Rep. Donna Edwards, (D-Md.), referring to Smith.
Just as she did when Smith tried to subpoena the Harvard and American Cancer Society data, Johnson, the panel's top Democrat, again issued a harsh rebuke to Smith after he introduced the High Quality Research Act.
"This is the first step on a path that would destroy the merit-based review process at NSF and intrudes political pressure into what is widely viewed as the most effective and creative process for awarding research funds in the world," Johnson wrote April 26 of last year. "In the history of this Committee, no Chairman has ever put themselves forward as an expert in the science that underlies specific grant proposals funded by the NSF."
Washington-based advocates for scientific research say the peer-review process by which NSF grants have been funded works well and is accepted as the best available system –- and that allowing politics to be interjected into the process would be potentially disastrous.
"The veiled attack on the merit review system is a serious concern. Scientists come together to volunteer their time and evaluate your competitors' research. You're only going to fund the best ideas. It's not a perfect system, but it's the best system we do have," said Erin Cadwalader of the Association for Women in Science, herself a biomedical scientist. "It's important science remain separate from partisan politics."
"It's hard to predict what ideas are going to yield what's useful and fruitful," said Cadwalader. "You can't study heart development without understanding how heart cells communicate with each other. It's tedious and not very sexy, but it's what has to be done to understand how to treat heart disease."
Barry Toiv, a spokesman for the American Association of Universities, which represents top public and private research universities, agreed. "Some of the most extraordinary results have come from research that sounds completely uninteresting, funny, weird, irrelevant," he said.
After months of criticism, Smith slightly watered down the HQRA language into a provision in the FIRST Act, which stands for Frontiers in Innovation, Research, Science, and Technology. The bill is a 2-year reauthorization of NSF programs that still requires NSF officials to certify every research grant as "in the national interest."
On May 1, Holdren told attendees of a forum sponsored by the American Association for the Advancement of Science that the FIRST Act "would have an extraordinarily unfortunate effect" on the NSF's grantmaking process, according to an account from ScienceInsider.
"I think that NSF's peer-review process has proven itself over the years in a manner that has made it the envy of the world," said Holdren. "Everybody else is trying to mimic the success NSF has had from funding research. I don't think we should be trying to fix something that isn't broken."
In a question and answer session after his talk, Holdren got to the heart of the matter. The bill, he said, "appears aimed at narrowing the focus of NSF-funded research to domains that are applied to various national interests other than simply advancing the progress of science."
Facing Draconian Funding Cuts
"If you look at where we are as a nation, the greatest need is more jobs, to get our economy started," Rep. Sherwood Boehlert, (R-N.Y.), the chairman of the House Science Committee from 2001 until his retirement in 2007, said in a telephone interview from his home in upstate New York. "Most jobs come from the development of new technology, which come from government investment, especially in the basic science enterprise."
At the request of Boehlert, the National Academy of Sciences developed a 2007 report, Rising Above the Gathering Storm, that set goals for greatly expanding the science workforce to ensure America's future economic competitiveness. The first authorization of the bipartisan Competes Act was 2007, with initial reauthorization in 2010. The goal was to double funding for key agencies in seven years.
The economy tanked and that didn't happen. Today, the U.S. scientific enterprise is in retreat.
Since the Republican takeover of Congress, the gap between the goals of the 2010 Competes Act and actual science funding has widened into a chasm, with the cuts mandated by sequestration in 2013 adding insult to injury. Only the engineering and computer science directorates at NSF have enjoyed funding in line with inflation, while the other directorates have remained flat or fallen into decline.
"In science, when you cut research funding, you're cutting the research as well as the training of the next generation of scientists," said Toiv. "Training researchers occurs at the same time as you get the research done. You're sending a message to potential young scientists: get out while you can."
The FIRST Act not only calls for funding that doesn't even keep up with inflation, it intends to cut funding for the social and economic sciences by 45 percent. Social sciences have never been a major portion of NSF funding. This bill suggests even that is too much.
Smith's war on social science spells doom for his professed goals for American science in general.
Policy Objective D of the FIRST Act is "expanding the pool of scientists and engineers in the United States, including among segments of the population that have been historically underrepresented" in the STEM (science, technology, engineering, and mathematics) fields.
Yet, "it seems like a contradiction to say we're going to prioritize doing these things without providing the funding to answer the questions of how to do this," said Cadwalader.
The House Anti-Science Committee
The salvos against soot regulations and social science are examples of extreme rhetoric with potentially disastrous consequences to the scientific enterprise in return for relatively small gains to corporate polluters.
But the existence of climate change represents an existential threat to the fossil-fuel industry, and the Republican Party has become, as political historian and former GOP operative Kevin Phillips writes, the vehicle for "petroleum-defined national security." It's global warming that sparks the Science Committee's most aggressive language.
The March 26 hearing before the Science Committee to review the President's proposed science budget was a typical display.
After Smith gaveled in the hearing, he launched directly into an attack on climate science. "Unfortunately, this administration's science budget focuses, in my view, far too much money, time, and effort on alarmist predictions of climate change," he said.
After the likes of Posey, Rep. Dana Rohrabacher (R-Calif.) and Rep. Randy Weber (R-Texas) took turns trying to mock and belittle White House science advisor John Holdren, it became clear that by the time Smith called on the last committee member, Rep. Eric Swalwell, a Democrat from California, Swalwell had had enough. He had listened to more than his fill of climate denial, science-bashing and general hostility toward the witness.
Swalwell, at 33 the committee's youngest member, warned Holdren about where Republicans might try to lead him the next time he's called to testify.
"At this rate, frankly, I'd say you should be prepared to address whether the earth is round or flat – that might come up – or whether indeed gravity is happening," said Swalwell. "You never know what could fly at you from what we've seen already."
This story was supported by The American Independent Institute.
CORRECTION: A previous version of this story misstated the meaning of "PM2.5," which refers to the diameter of fine particles, not their prevalence.
Popular in the Community