Businesses take on sustainability for all sorts of reasons.
If they get it right, though, it becomes ingrained throughout the corporation, according to a new survey of CEOs by Accenture, which asked business leaders about their commitment to sustainability.
A sustainable business balances the profit-seeking part of its operation with the goal of operating using fewer resources and solving global problems.
Generally, according to the study, companies take on sustainability out of some obligation ("motivated by compliance pressures, or even by moral obligation") but as the dedication to sustainability initiatives grows, the commitment to them becomes more entrenched.
"At their most mature, [sustainability initiatives] are a non-negotiable part of the organization's DNA anchored in societal purpose," says the report. The steps for getting there are in the infographic below, and on the website created for the Accenture survey results.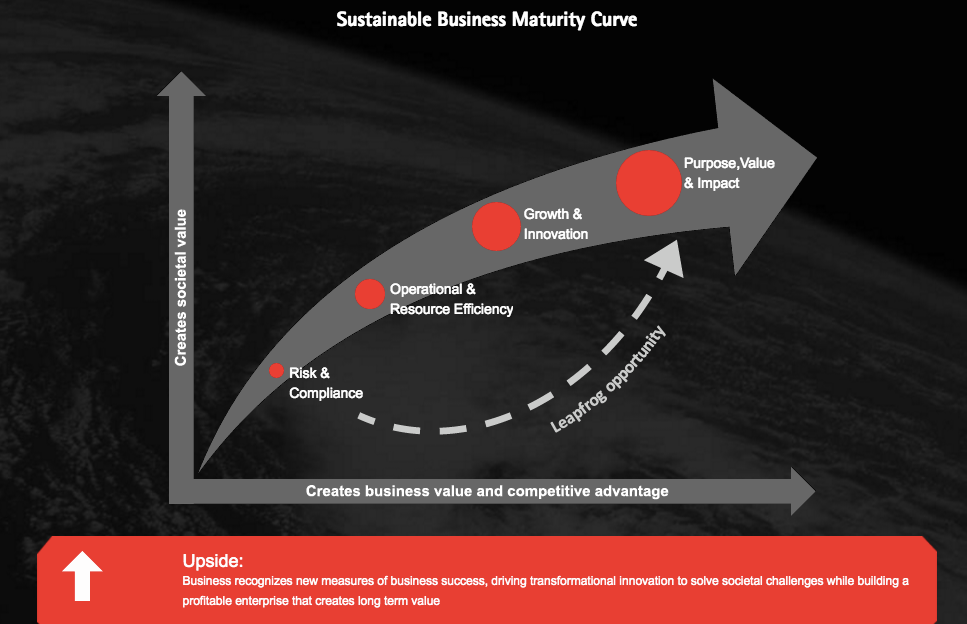 "Understanding these levels of maturity can help companies to recognize disruptive approaches, refocus strategies, innovate to solve global challenges, and leapfrog to high performance," the report goes on. Leapfrogging basically means that companies interested in sustainability can learn from what others have done and do it faster.
Accenture says that there has been a big shift in CEO views on sustainability since its last report in 2013: "[F]rustrated ambition has given way to optimism as CEOs see a mandate to solve societal challenges as a core element in the search for competitive advantage," the report says.
A full 59 percent of CEOs said they knew how to accurately quantify sustainability's value to their business, up from only 38 percent in 2013.
Accenture asked the CEOs who participated about the United Nations' 2030 Agenda for Sustainable Development, which sets out 17 sustainable development goals and 169 targets to make the planet more sustainable. A full 88 percent of the polled CEOs said they found the sustainable development goals relevant to their businesses.
Related
Popular in the Community