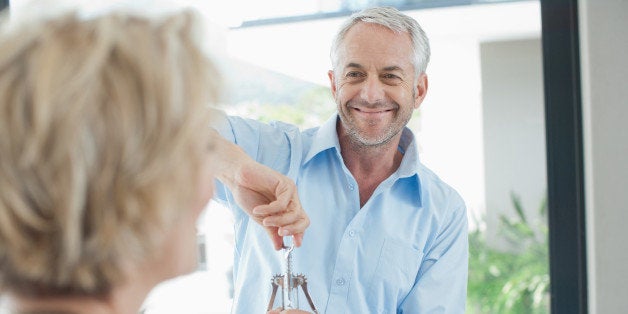 While we fully ascribe to the idea that you are only as old as you feel, some of us still engage in behaviors that hurt our chances of feeling good as we age. Topping out the calendar at 100 may not be a personal goal, but how about staying healthy and active as you age gracefully? Who doesn't want that? How many of these 10 statements have you said?
2) I drive down the driveway to the curb to get the mail.
Exercise is your friend, and while you may not feel like joining the 20-somethings at the gym, looking for ways to get your heart rate up while you do everyday tasks counts. Walk the dog instead of just letting her out in the yard. Take the stairs instead of the elevator. At lunch, leave your desk and walk around the block. It all adds up. The average person takes about 2,000 steps to walk one mile, so taking 10,000 steps is close to 5 miles. A sedentary person averages 1,000 to 3,000 steps a day. Wear a pedometer and see how much you are doing.
3) I hate water and never drink it.
Soda isn't a substitute for water. In fact, nothing is a substitute for water. Every system in your body depends on water.
Lack of water can lead to dehydration. As for how much water to drink every day, well, the old "drink 8 glasses of 8 ounces of water" has been amended to "of fluids" to accommodate stress on our kidneys. But carbonated diet drinks -- loaded with sugars or artificial sweeteners, colors, flavors -- just isn't the same as the pure stuff.
4) Salt is the only seasoning I ever use.
The amount of salt you eat has a direct effect on your blood pressure. Salt causes your body to store extra water, which raises your blood pressure. The higher your blood pressure, the greater the strain on your heart, arteries, kidneys and brain. This can lead to heart attacks, strokes, dementia and kidney disease.
8) I don't go to doctors because I feel fine and why go looking for trouble.

Preventative medicine is a good thing. Acting like an ostrich and keeping your head in the sand isn't. Colonoscopies, mammograms, pap smears -- they remain important to your well-being. So are regular blood tests and cholesterol checks. Early detection for some kinds of cancers greatly improves your chances of surviving them and may allow for less invasive treatment options.
9) My hearing is fine, it's just that restaurants are so noisy nowadays.
Your hearing may not be fine. You may be one of the 36 million Americans who suffer hearing loss as they age. Just a reminder that hearing aids today are barely visible and are technologically refined to the point where the wearer sees improvement in just about every social situation -- noisy restaurants included. Now how does ignoring deafness impact your health? While no one ever died of deafness, your quality of life suffers mightily when you start to avoid parties and going out because you can't hear the conversation.
10. It's not that I need reading glasses; I need longer arms.
It's been said that by our mid-50s, everyone needs reading glasses. Why fight it? Reading glasses are available at every drugstore and optometrist. When it's time, it's time. Again, a quality of life issue.
Calling all HuffPost superfans!
Sign up for membership to become a founding member and help shape HuffPost's next chapter
BEFORE YOU GO
PHOTO GALLERY
11 Easy Ways To Shorten Your Life